Tunis, Final Day: Egypt's Elsayed signs off with record at African Championships
Egypt won three more titles at the African Championships in Tunis, including both the men's and women's super-heavyweights, to round off a week when their top athletes boosted their standings in Olympic qualifying.
There was a surprise in the men's event, a battle between the Olympians Walid Bidani from Algeria and Abdelrahman Elsayed from Egypt.
Bidani, going for his seventh senior African title, made a good start with a first snatch of 192 kilograms but then bombed out with five straight no-lifts.
Elsayed, who competed at Beijing 2008 and took a long, doping-related break from the sport in 2011, broke his own continental record in clean and jerk as he made 185-243-428 to become African champion for the first time. He failed with a final attempt at 245kg.
Elsayed finished 88kg clear of second-placed Bilal Bouamr from Morocco on 340kg, with another 10kg back to bronze medallist Lahamadi Maik from Tunisia.
The host nation had a popular winner when Aymen Bacha, much to the delight of a very noisy band of his friends from the Tunisian military, won at 109kg – the weight at which he finished ninth at the delayed Tokyo 2020 Olympic Games.
"There was a big crowd when I competed at the Mediterranean Games but I have never had support like that," said Bacha.
He joined the army at the start of the year and will be in long-term. 
The Tunisian Weightlifting Federation helped him to plan his future as it seeks to find employment for athletes after their lifting days are over.
Two South Africans made up the field of three and their big team – which included athletes aged 43 and 40 – were able to celebrate on the stage after the final podium presentations.
Antony Swanepoel was second on 123-147-270 and Johannes Beukman, who was 34 this week, third on 120-145-265.
It was not a good day for Egypt's women's super heavyweight star Halima Sedky, who had to make her final clean and jerk to post a total.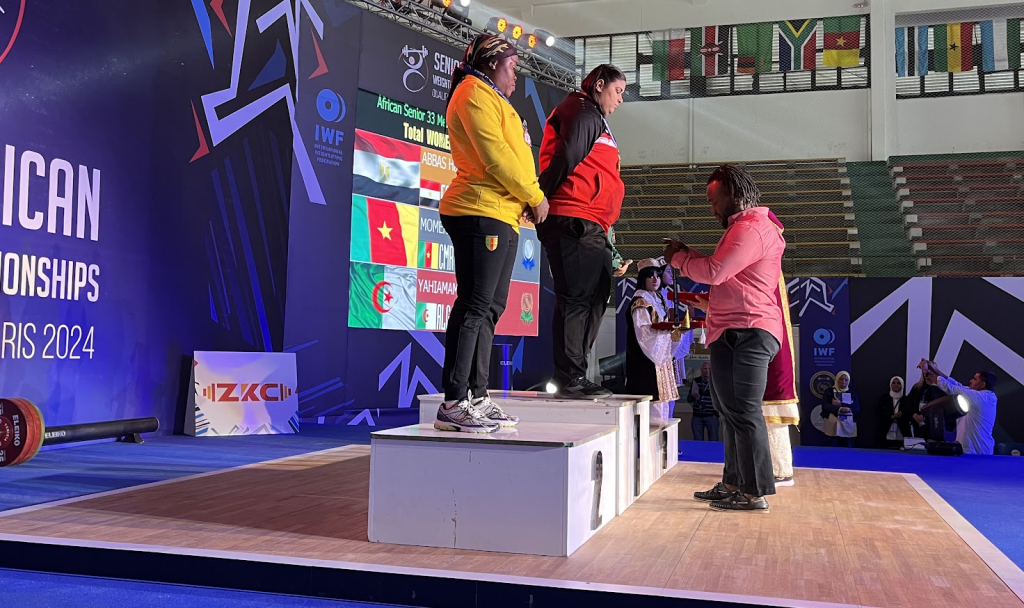 She did it, after two failures on 145kg, to win on 115-145-260, which was 15kg down on her first Paris qualifying effort.
Estelle Momeni from Cameroon was second with a total of 176kg and Amina Yahiamamoun from Algeria third on 175kg.
Egypt had a 1-2 in the women's 87kg, where Samar Hussein made 105-124-229 and Fatmn Mohamed 97-125-222. 
Marie Sunee from Mauritius was third on 85-106-191.
Tunisia, the only nation with a maximum team of 20, won the most medals by far but Egypt, who sent 11 lifters and did not compete in the lighter weight categories, won all the seven Olympic categories they contested.
This was the third continental championships within five weeks, all of them qualifiers for Paris 2024.
Among some outstanding performances in Tunis, Sara Samir led the way with her sweep of African records on Wednesday in totalling 268kg at 81kg, taking her up to second place in the Paris rankings. 
Another Egyptian, Karim Abokahla, went into the top 10 at 89kg after his 375kg total a few hours later and Yasser Usama went up to the top 25 in winning at 102kg.
Rafiatu Lawal from Nigeria also hit the top 10 in winning the women's 59kg.
By Brian Oliver, Inside the Games
Check the updated Olympic Qualification Ranking here
Complete coverage of the event:
Tunis, Day 4: Egyptian weightlifter Samir "can win in Paris" says IWF President after her Tunis triumph – International Weightlifting Federation
Tunis, Day 3: Egypt, Tunisia and Nigeria make moves in Paris weightlifting rankings – International Weightlifting Federation (iwf.sport)
Tunis, Day 1 & 2: Azerbaijan weightlifter claims continental championships victory – in Africa – International Weightlifting Federation (iwf.sport)