Tunis, Day 4: Egyptian weightlifter Samir "can win in Paris" says IWF President after her Tunis triumph
Sara Samir made a significant move in the Paris 2024 ranking lists when she won her third continental senior title at the African Championships in record-breaking style.
If the Rio 2016 medallist continues to build on her 117-151-268 performance at 81 kilograms, China may opt out of this category, especially with Norway's 87kg world champion Solfrid Koanda dropping down to join in at the next Olympic qualifier in Cuba next month.
The IWF President Mohammed Jalood, interviewed on the stage after he presented the medals, told the audience at La Goulette Hall: "It is going to be very difficult for anyone to beat Sara.
"I believe she will win the gold medal in Paris for Africa and the Arab nations."
No African woman has ever won Olympic gold in weightlifting, and until Samir's 69kg bronze medal at Rio 2016 no woman from the Arab world had ever won a weightlifting medal of any colour.
While Samir did not displace China's world champion Liang Xiaomei at the top of the rankings, she moved up to second place ahead of Olympic 87kg gold medallist Wang Zhouyu with a six-from-six performance.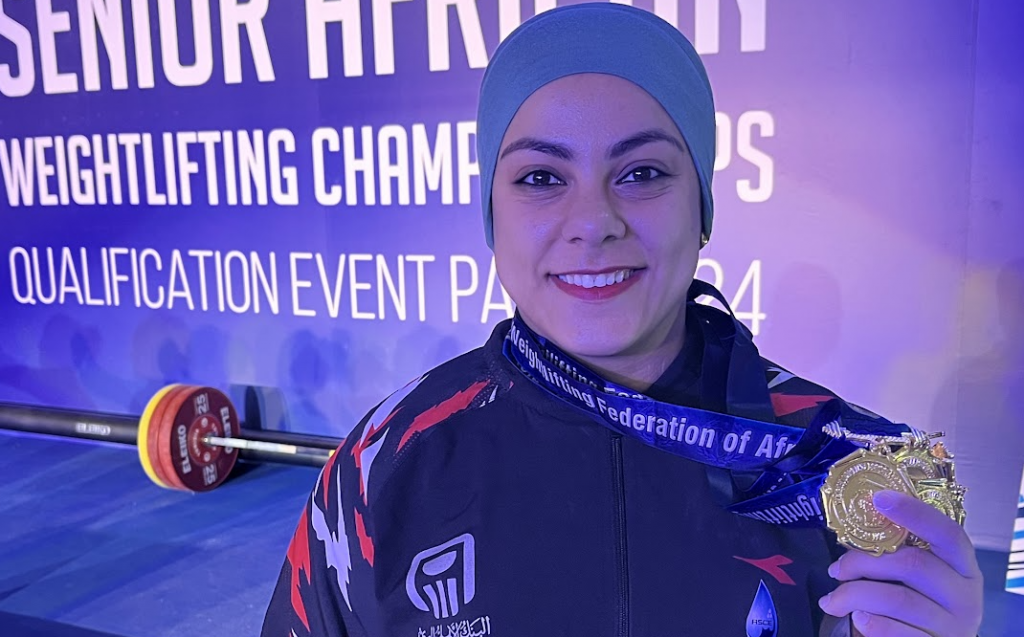 Samir, 25, made it very clear that she is capable of making up the seven kilograms needed to match Liang's best total to date, made at the Asian Championships in Korea a week ago.
Her first chance to do it could come at the IWF World Championships in Saudi Arabia in September, as she said she will not compete next month in the IWF Grand Prix in Cuba, which Koanda has targeted for her first try at 81kg.
With a dominant performance at the Asian Championships, Chinese lifters moved to the top of all five women's Olympic weight categories and had the top two in three of them, including this one, until today.
The maximum quota for Paris is three men and three women, so China will be wary of categories where there is a good chance they can be beaten.
Samir was fourth in the rankings before today even though her 261kg total was made in the lighter 76kg category at which she won the world title in December.
"When you put on weight you feel more power," Samir said after her victory, in which she set a sweep of continental records.
"At 76kg I was always having to lose about two kilograms before a competition, but now I feel stronger – and I can eat breakfast before weigh-in!"
There were plenty of entries in the categories below and above 81kg but only one other competing against Samir – Cameroon's Jeanne Eyenga who made 96-121-217.
The Seychelles had a rare victory in the women's 76kg when Bouchra Hirech from Algeria failed with her final attempt to overtake Joelite Coloma, who made 85-100-185.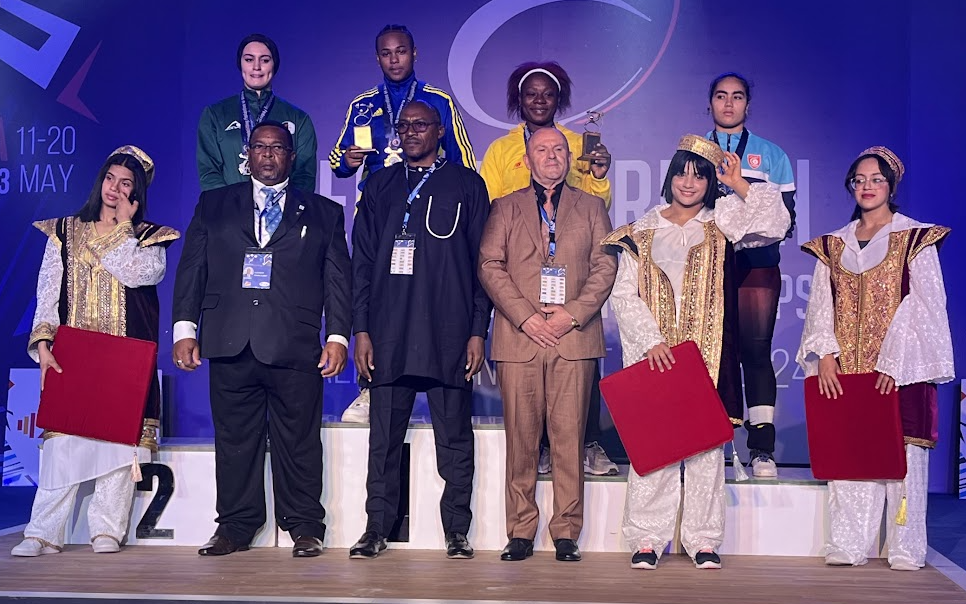 Hirech was second on 81-103-184 and Rayssa Djifack from Cameroon was third on 77-103-180.
There was more good news for Egypt to come in the later sessions.
Last year's 96kg champion Karim Abokahla went straight into the Paris top 10 with his first qualifying effort at 89kg, making five from six for 167-208-375.
There could be more to come because Abokahla, 26, made 7kg more at this weight at the Mediterranean Games last year.
Faris Touari from Algeria was a distant second on 160-192-352, which will take him up 10 places to 25th, and another Egyptian, Islam Aboelwafa, was third on 161-190-351.
The age range among the nine athletes was 27 years, from the impressive 16-year-old Cameroonian Tanga Onana, who made a 320kg total, to the 43-year-old South African Andre Gadney on 259kg.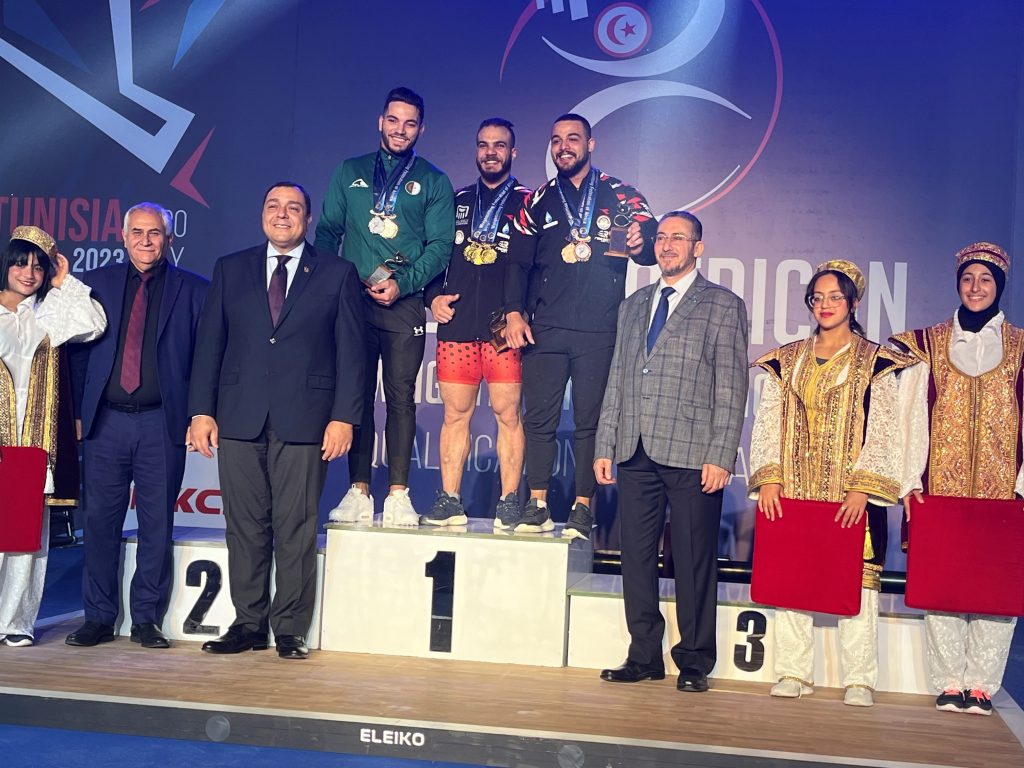 Egypt had a third win on the day when Yasser Usama, third in last year's IWF World Junior Championships at 96kg, took the 102kg title with a six-from-six 168-208-376 – which will put him into 32nd place in the Paris rankings.
The 24-year-old Algerian Aymen Touari, 24, who won the African youth title as a 13-year-old 10 years ago, came close to making his final attempt at 211kg but failed and finished second on 166-203-369 ahead of another Egyptian, Mahmoud Selim, on 164-200-364.
Salim Albagor from Algeria won the men's 96kg on 152-180-332.
By Brian Oliver, Inside the Games