Guadalajara, Day 3: Second gold for Armenia, and USA's Morris gives his Paris 2024 hopes a huge boost  
Armenia displaced the United States at the top of the medals table when Gor Sahakyan claimed his nation's second World Junior Championships victory at the Guadalajara Weightlifting Forum.
Sahakyan won the men's 67kg ahead of the pumped-up American Hampton Morris, who roared his way to a career-best total and boosted his confidence in his quest to qualify for the Paris 2024 Olympic Games. The other winner on day three was Svitlana Samuliak from Ukraine at 59kg, despite her preparations being disrupted during the war in her homeland.
Sahakyan has excelled in senior competitions this year and he looked on course for a wide-margin win after making 140kg in the snatch, which was 15kg more than Morris down in seventh place at halfway.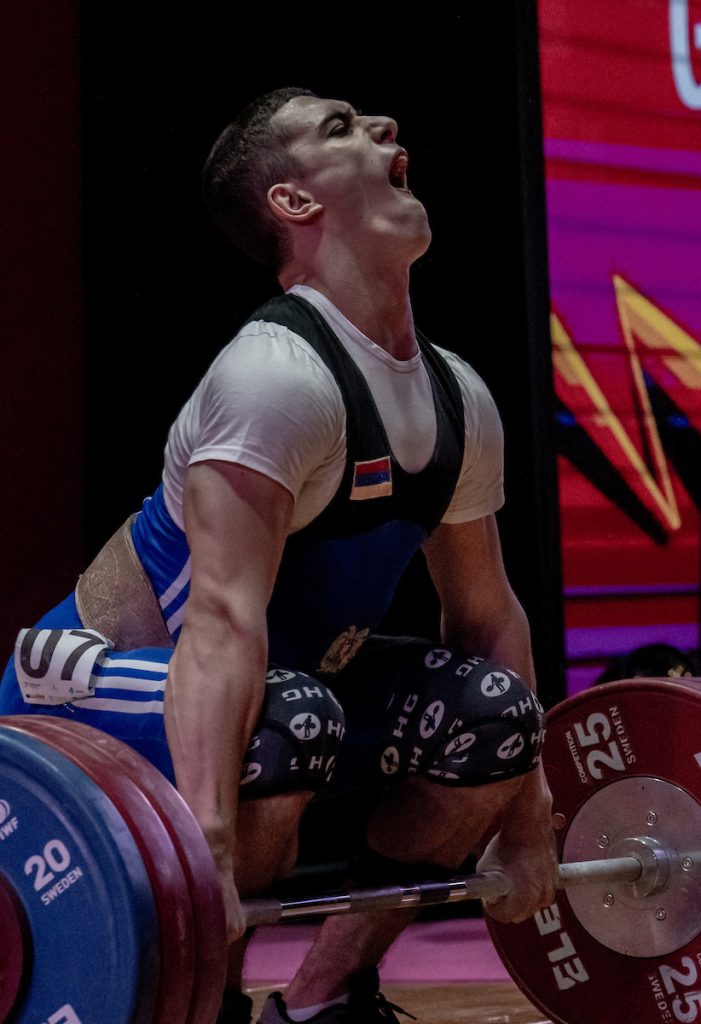 Gor Sahakyan (ARM)
But Morris, lifting at 67kg for the first time internationally, smashed his personal best in clean and jerk by 10kg, broke the 300kg mark for the first time and finished only 2kg behind Sahakyan.
"I wasn't expecting a gold medal, that's for sure," said Morris as he clutched the clean and jerk gold.
"It was really exciting, competing out of my weight class while I'm also trying to lose weight for the Grand Prix in Qatar in two weeks. I wasn't really sure what to expect."
Morris, 19, had set a junior world record at 61kg with his last international lift in September, making 168kg in clean and jerk at the senior World Championships. He had failed with all three snatches, though, and did not make a total.
With the Paris qualifier in Qatar starting on December 4, and a world junior title already secured last year, Morris could have skipped this event. His father and coach, Tripp, decided it would be a good idea for Morris to lift in Guadalajara at a heavier weight to gain confidence for Qatar and, hopefully, improve his snatch.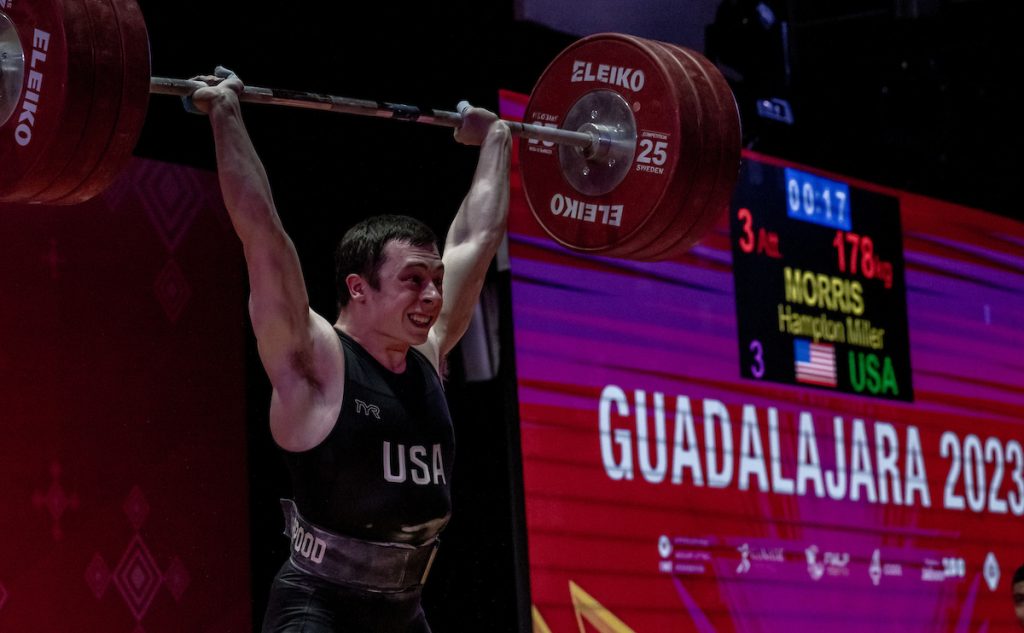 Hampton Morris (USA)
It worked out well. Morris failed with his final snatch attempt at 130kg but 125kg was still a career high. "I definitely have a lot of catching up to do in snatch," said Morris, who will do intensive work in that respect in January.
Morris stands 11th in the Paris 2024 rankings on 290kg. If the January work pays off and he maintains his progress, he could be a few places higher when qualifying ends next April.
"I have to lose a few kilos in the next two weeks but everything's going to plan right now, I'm on track," he said. Asked what numbers he hoped to make when he is back at 61kg, he said, "Better than today – in a perfect world."
He went for, and made, an American record with his final lift of 178kg, which was up 8kg on his second lift. Could he have gone even further and made 181kg for victory on total?
"Probably – but an 11kg jump is a lot. This heavy, I'd never even done an 8kg jump."
While Morris had never totalled 300kg before, Sahakyan did it for the seventh time despite missing his last two clean and jerks. He won the European 67kg title in his home country in April and finished third in the senior World Championships in September.
Sahakyan made 140-165-305, Morris 125-178-303 and third-placed Yahor Papou, an Individual Neutral Athlete, 136-158-294. Yahor Hrynko, another Individual Neutral Athlete who, like Papou, is from Belarus, took clean and jerk bronze on 163kg.
The host nation had a medallist from the B Group. Herseleid Carrazco, a 19-year-old who won a World Youth medal last year, took snatch bronze on 130kg. Carrazco, who has yet to lift in a senior competition, made all six lifts and finished fourth on 130-162-292.
"Honestly no, I didn't expect to win a medal," Carrazco said. "I was focused on making all six lifts, and because I did it I won this medal."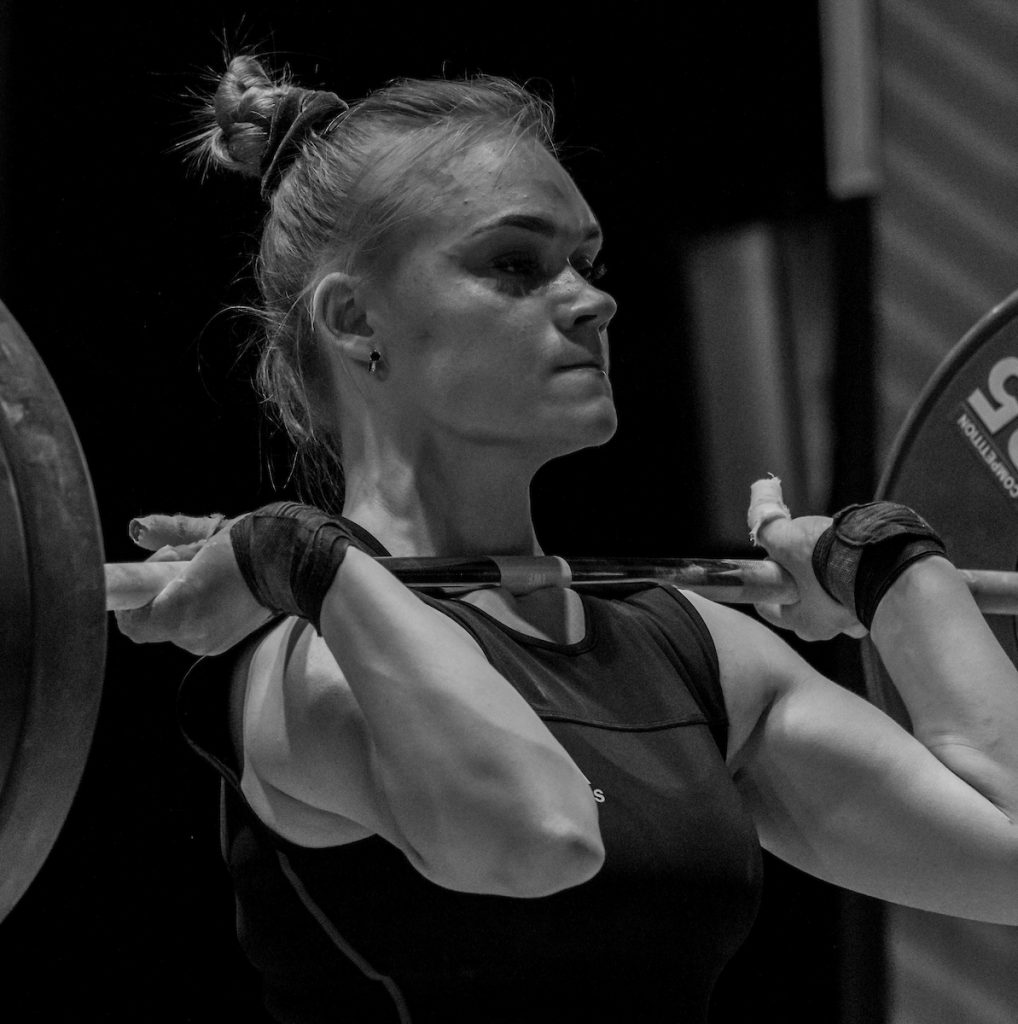 Svitlana Samuliak (UKR)
Samuliak, 20, also made six from six in her 98-116-214, ahead of 17-year-old Jessica Palacios from Ecuador on 92-115-207 and the Japanese debutant Sei Higa on 90-106-196. Chiu Yu Ling from Chinese Taipei took clean and jerk bronze on 108kg.
The war in Ukraine has forced Samuliak to train at a small, four-platform gym in the Carpathian mountains near the border with Slovakia. "There is much more equipment and better facilities in Kyiv but it is too dangerous there," she said.
"Our soldiers are fighting at the front. For me, the platform is my front, the place where I can show the world that Ukraine is strong."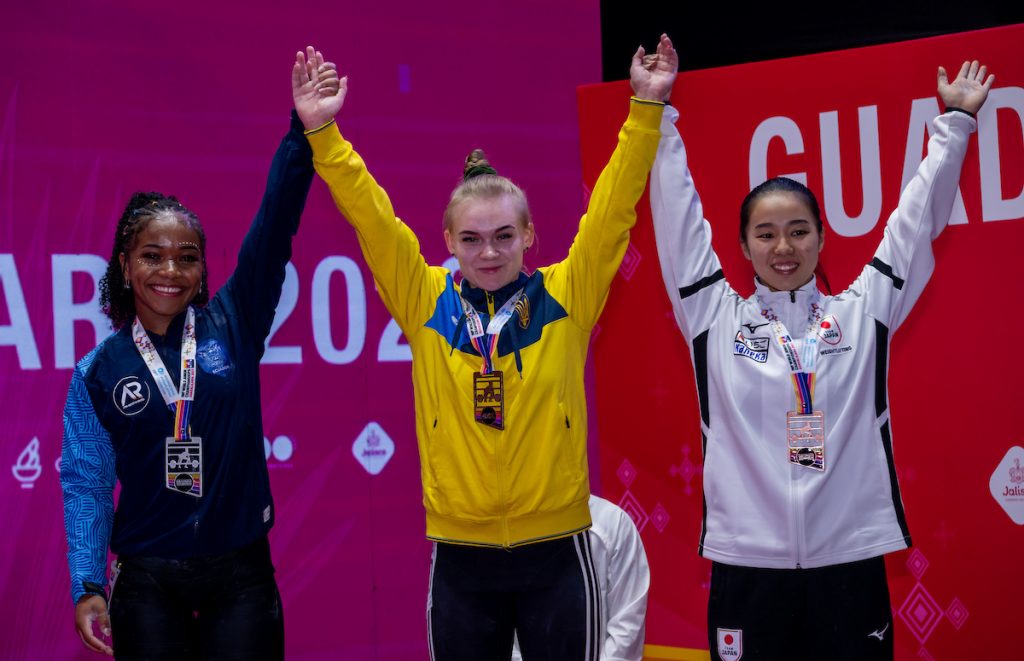 The women's 59kg podium
Her father was a weightlifter who encouraged Samuliak and her younger brother Stepan, who made his international debut at this year's European Juniors, to take up the sport.
Palacios also had family support. Her elder sisters Neisi (Dajomes) and Angie are respectively Olympic champion and world record holder, and her 20-year-old brother German is a continental junior champion.
By Brian Oliver
Photos by Giorgio Scala/Deepbluemedia