Riyadh, Day 11: Liu's strong finish gives China 102kg gold ahead of B Group Korean Jang 
The Chinese anthem was played for a sixth time at the IWF World Championships after Liu Huanhua won an epic 102kg contest and went to the top of the Paris 2024 rankings.
On an exciting evening there were junior world records for Garik Karapetyan from Armenia, an Olympic champion down in seventh place, and Liu was the only A Group lifter to overcome a phenomenal effort from the B Group by the Korean Jang Yeonhak, who posted a total of 399kg.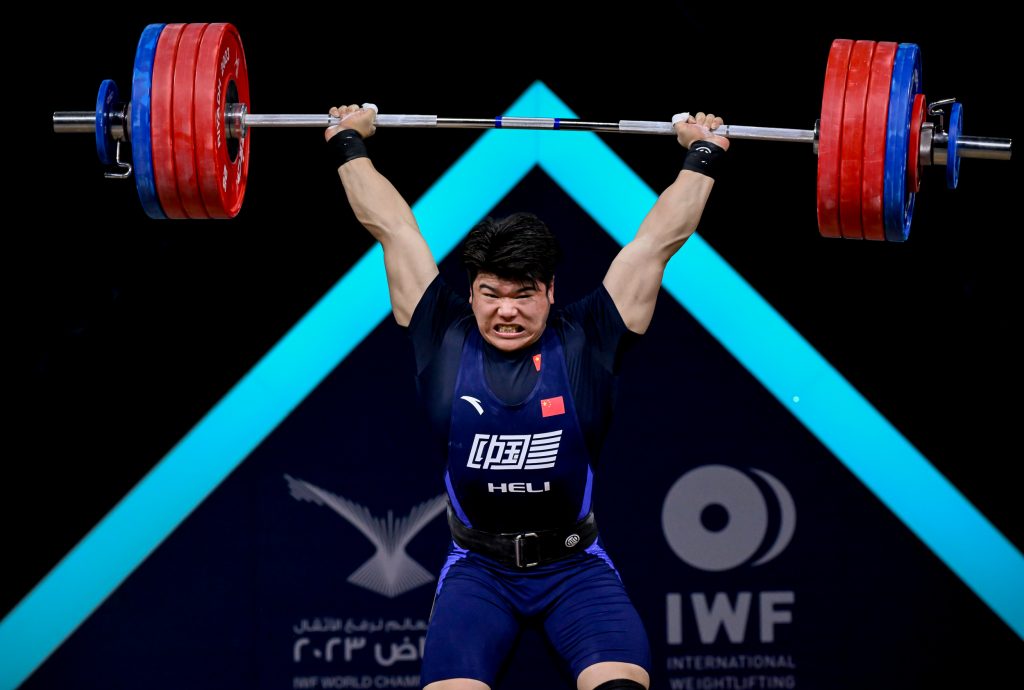 Liu Huanhua (CHN)
Two other B Group lifters made the top 10, along with the Colombian Jhonatan Rivas from the C Group.
Jang made 182-217-399 to take bronze in snatch and clean and jerk, and silver on total behind Liu, who made 180-224-404. The only other man to have made 400kg in qualifying, Nurgissa Adiletuly from Kazakhstan, is out of the race after a doping violation.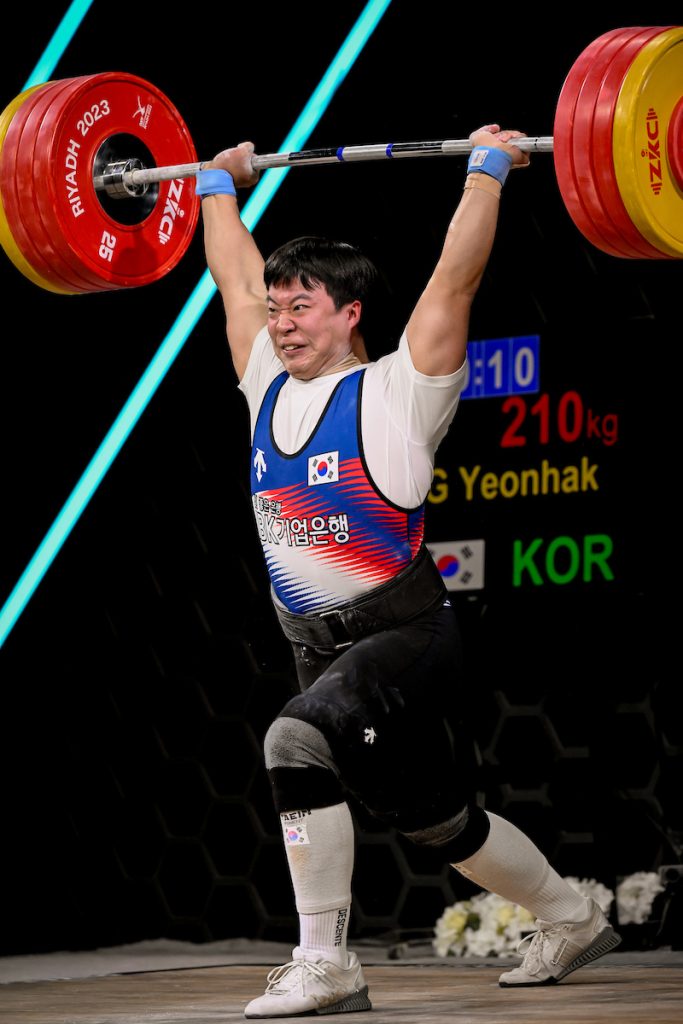 Jang Yeonhak (KOR)
Liu, 22 last month, was making only his third international appearance. He has gone from making 381kg at 89kg in last year's IWF World Championships to 385kg at 96kg in winning the Asian title in May to 404kg at 102kg tonight.
"It was very exciting – I was watching from the seats and to be honest I thought I would win a snatch bronze and nothing more," said Jang.
Neither he nor anybody else expected so many red lights at the end of the A session. While the others failed, Liu made his last two clean and jerks.
After four qualifying events, Liu is the only eligible lifter to have breached the 400kg barrier, largely because Karapetyan, his team-mate Samvel Gasparyan and the Individual Neutral Athlete Yauheni Tsikhantsou, from Belarus, all missed lifts five and six. Any one of those six attempts, if successful, would have registered a 400kg total.
Tsikhantsou had won the snatch and finished 183-211-394 in third place, while Karapetyan set junior records in snatch and total on 183-210-393, finishing 1kg behind team-mate Samvel Gasparyan on 178-216-394.
Reza Dehdar from Iran had been hitting big numbers in training but made only two good lifts, as did 96kg Olympic champion Meso Hassona from Qatar.
Meso's 170-218-388 earned a clean and jerk silver but the total was bettered by two B Group lifters, Jang and Irakli Chkheidze from Georgia on 175-216-391. Meso will be expected to go bigger when Qatar hosts the next qualifier in December.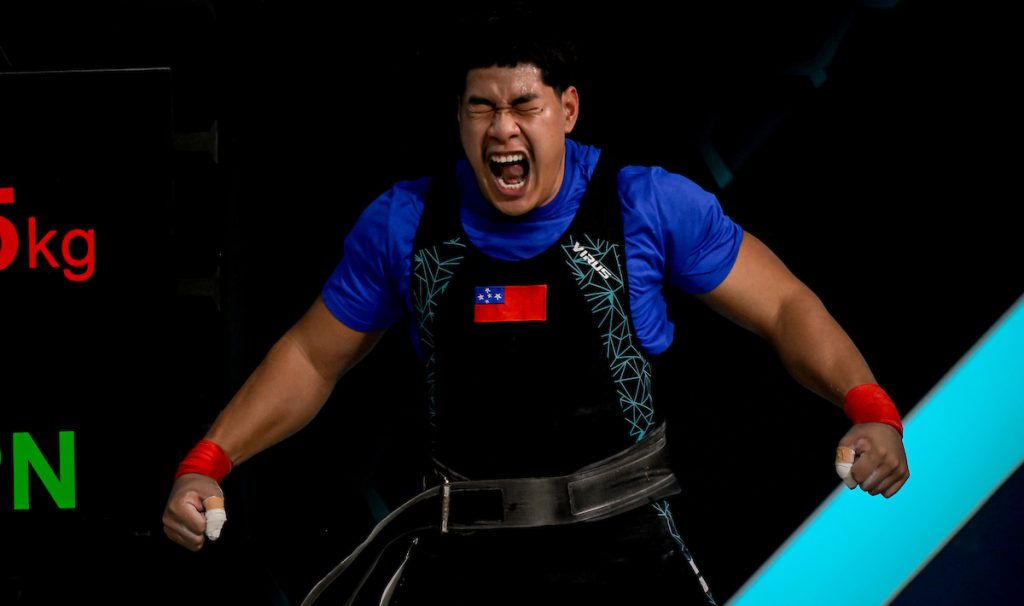 Don Opeloge (SAM)
Don Opeloge from Samoa was one place behind Meso on 171-215-386, a career best and also the outstanding performance by an Oceania lifter at these Championships.
"We have been training in Samoa since the lockdown," said national coach Jerry Wallwork.  "It's been a great camp this year and we are not done yet. We expect better results in Doha at the IWF Grand Prix."
That means a busy three-week period in November and December for Opeloge, who will be "going all out in the Oceania Championships and Doha, and pushing for the 400 total mark".
Medallists and even world records from B Groups have been commonplace in Riyadh, where one of the winners came from the C Group.
"I prefer lifting in B because it's calmer, easier, you can control the timing," said Jang. "The A Group can be rushed, too stressful."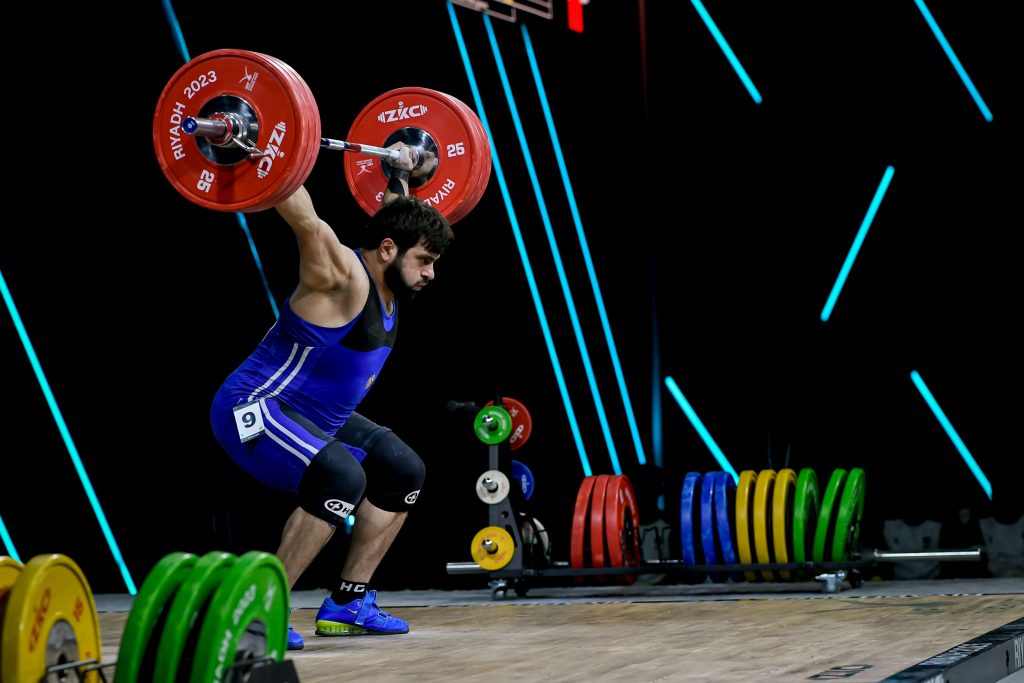 Garik Karapetyan (ARM)
His team-mate Jin Yunseong, who sat out this contest with a minor knee injury, is only 1kg below Jang in the long list so a place in Paris is far from certain for Jang. "We train together, push each other – it's good," he said.
Egypt had its second winner in two days when Sara Samir outclassed the opposition in the women's 76kg despite being below peak fitness and making only two lifts.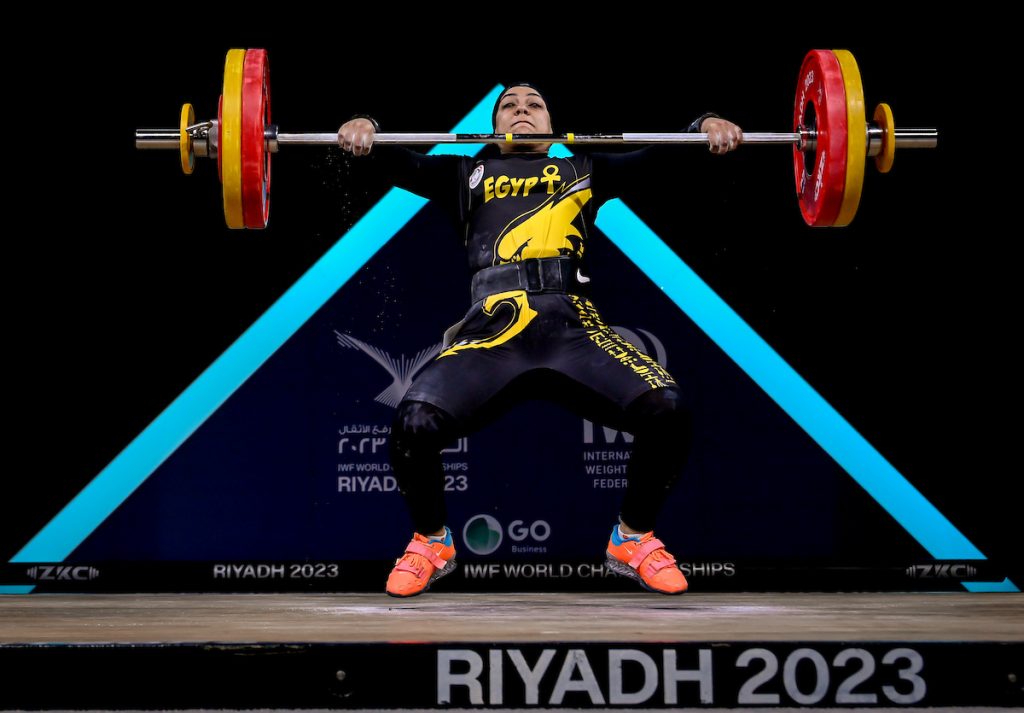 Sara Samir (EGY)
Samir, ranked second at 81kg for Paris 2024, dropped down to 76kg to claim her second world title on 108-138-246, her lowest total in more than five years. It was good enough for gold, adding to the success of Karim Abokahla in the men's 96kg last night.
Samir declined her remaining attempts after making her openers and left the platform in some discomfort, having suffered a back injury only a week ago.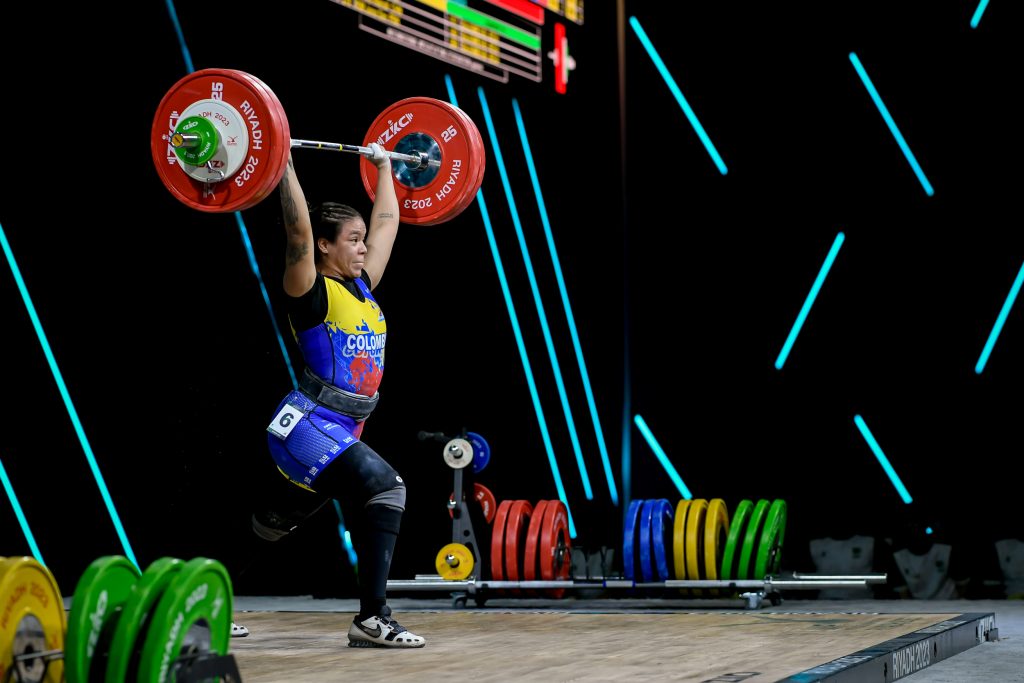 Hellen Escobar (COL)
The battle for silver and bronze was fought out between Hellen Escobar from Colombia, Bella Paredes from Ecuador and Kim Suhyeon from Korea. All three contenders missed their final attempts, leaving Escobar second on 106-136-242 and Paredes third on 105-135-240.
None of the medallists would have made the podium in the lighter 71kg Olympic category on Wednesday night with those numbers.
Brian Oliver, Inside the Games
Photos by Giorgio Scala/Deepbluemedia