Riyadh, Day 2: World records for China's Jiang, and place on podium for USA's Delacruz
China began their campaign with a 1-2 finish and two world records on the second day of the ÏWF World Championships in Riyadh.
Jiang Huihua made six from six and took her record to 16 good lifts from 18 attempts in Paris 2024 qualifying when she won the women's 49kg. In second place was her team-mate Hou Zhihui, the Olympic champion who has been beaten by Jiang three times since winning in Tokyo.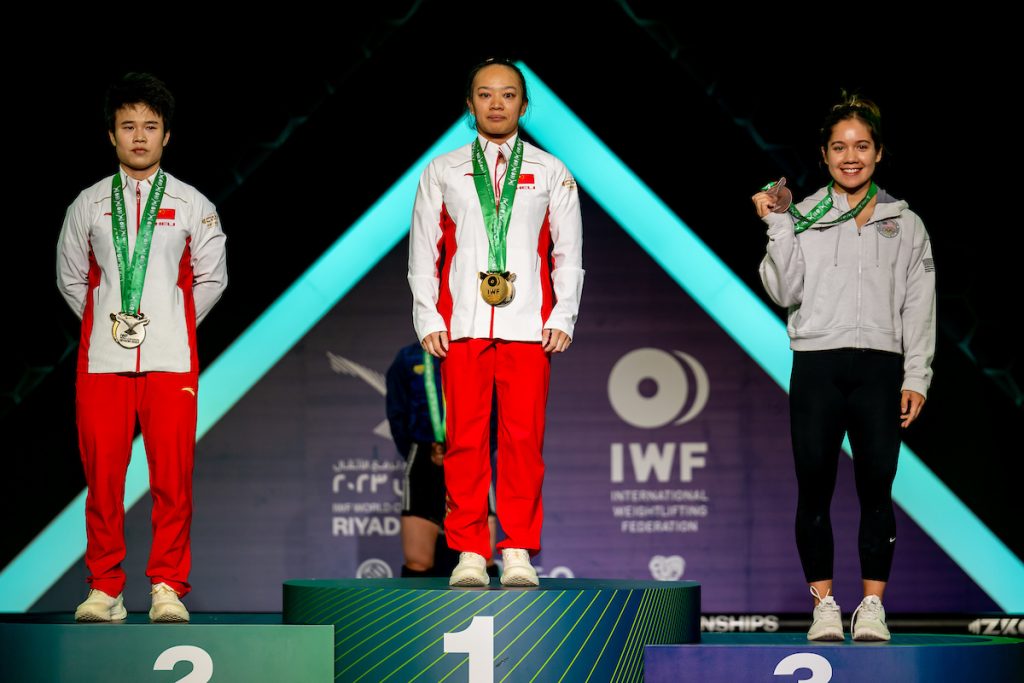 By ending with a good lift at 120kg Jiang, 25, set world records in clean and jerk and total. By making 95-120-215 she moved 4kg clear of Hou at the top of the long list in the rankings, and 15kg clear of her nearest rivals in the simplified list.
Hou, who made 95-116-211, had tried to better her own world record on total a minute earlier but failed on 119kg.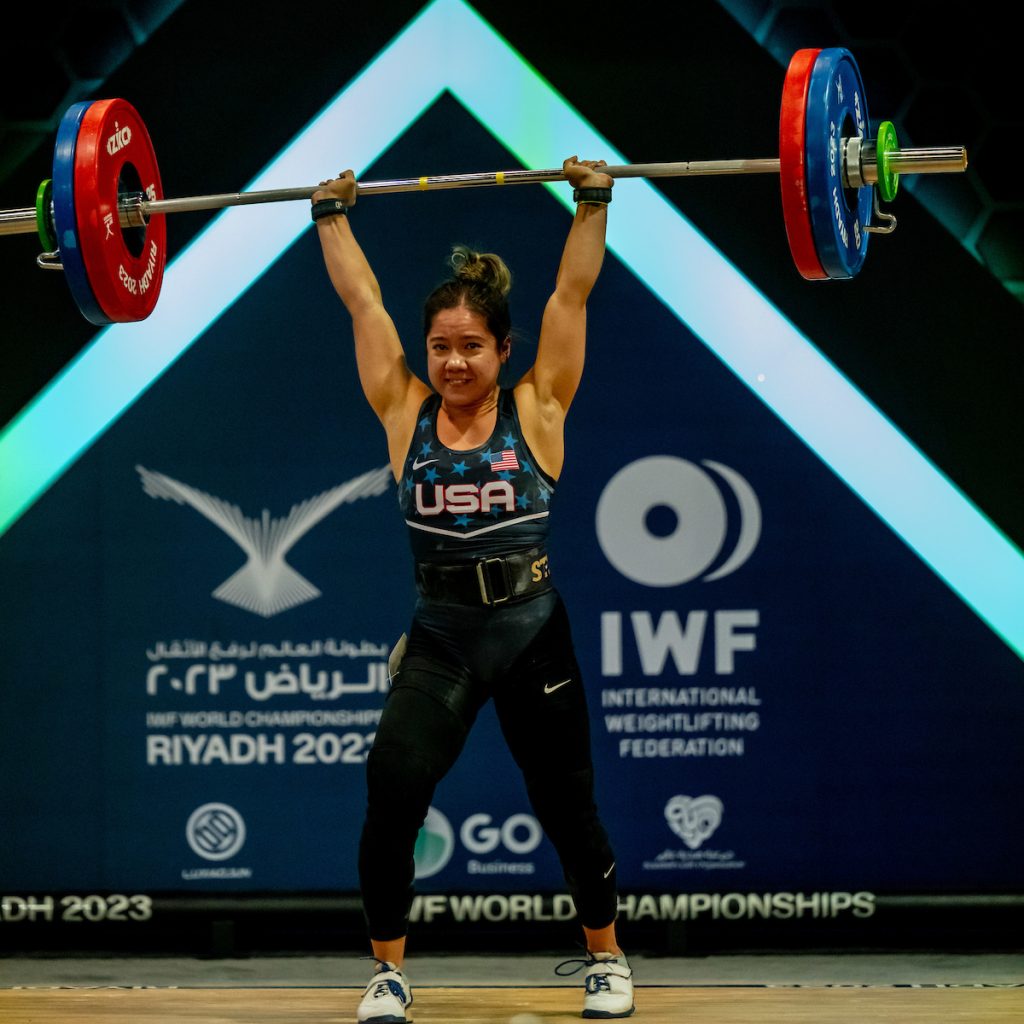 Jourdan Delacruz (USA)
"The good news for us is that China can only take one athlete to Paris," joked Mike Gattone, a very happy United States performance director after Jourdan Delacruz finished third and joined three others on 200kg in the long list.
All three are Asian, Mirabai Chanu from India – who weighed in without lifting in Riyadh and lost her clean and jerk record to Jiang – and the Thailand pair Surodchana Khambao and Thanyathon Sukcharoen. That is no surprise, because nobody from outside Asia has been on the podium in the lightest women's category in the past four Olympic Games.
Delacruz, who failed with her first attempts in snatch and clean and jerk, recovered to make 88-112-200, taking bronze in clean and jerk and total. She is the only non-Asian ever to have totalled 200kg in the 49kg category, a feat she first achieved in winning the Pan American title in 2021.
Did it feel better second time around?
"Oh yes," said Delacruz, "because these are my first world championships medals.
"I was disappointed to miss my openers but there were a lot of successes there and I'm really proud of myself.
"I love competing, but what really gives me the biggest buzz in weightlifting is reaching my personal goals and to keep improving – it's a long-term thing for me and it's going well."
There were some big moves in the Olympic rankings, led by 19-year-old Rosegie Ramos from the Philippines.  Ramos went from 49th in the long list, where she was behind team-mate Lovely Inan, to the top 10 on the simplified version by making a five-from-six 86-102-188. Inan failed to make a total.
Mihaela Cambei (ROU)
Mihaela Cambei from Romania was only 2kg short of 200kg when she won the European title in April and it was looking good for her when she came out last in the snatch – a rarity with two Chinese lifters in the field – and made 90kg, which won her the snatch bronze.
But two failures followed, the second of them when she dropped the bar off the front of the platform, and there was a repeat in clean and jerk when Cambei opened with 105kg before two missed attempts.
Cambei is entered for the IWF Grand Prix in Qatar in December, when she will have another chance to become the first European to breach the 200kg mark.
Khambao aws fourth on total on 87-109-196, and Hayley Reichardt of the United States was a place behind Cambei in sixth, making only two good lifts in a total of 189kg.
While other medal contenders saw red lights, there were none for the Chinese until Hou's failed world record attempt.
In the second medal event of the day, the men's 55kg, Lai Gia Thanh struck gold at the fourth attempt after failing to make a total at the World Championships in 2018, 2019 and 2022.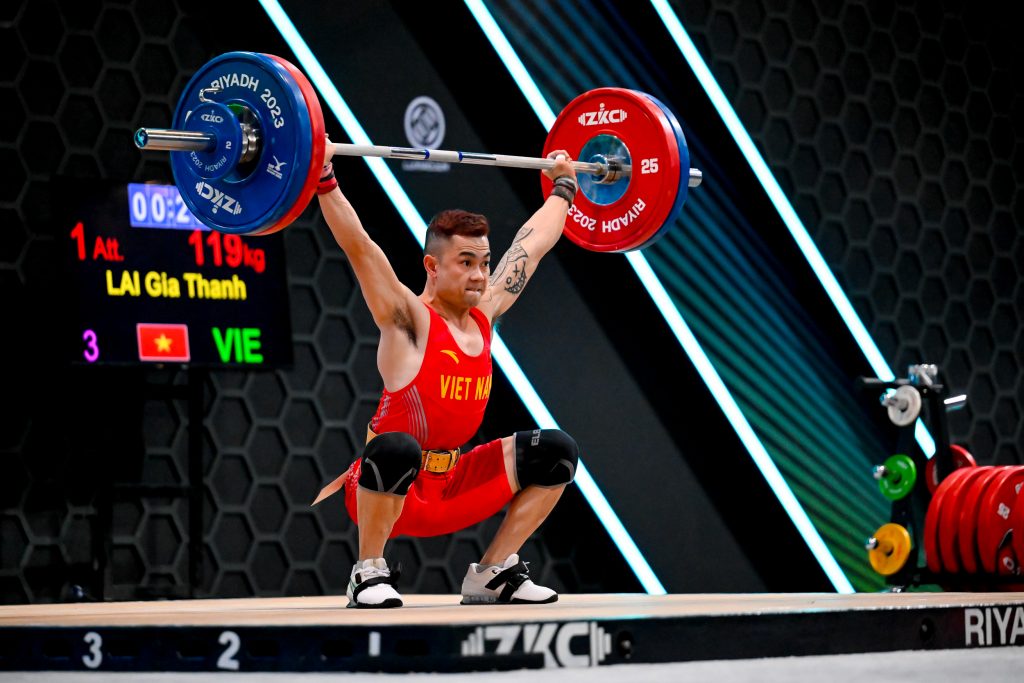 Lai Gia Thanh (VIE)
The 2018 junior world champion made a career-best 123-146-269. He has now won seven of his past 10 competitions, and failed to make a total in the other three.
Lai Gia's team-mate Ngo Son Dinh had a sweep of silvers on 117-144-261, with Natthawat Chomchuen from Thailand third on 116-143-259.
Saudi Arabia came desperately close to a medal when Mansour Al Saleem made the same numbers as others in snatch, clean and jerk and total but finished fourth in all three. The snatch bronze went to Thada Somboon Uan from Thailand, and the other two bronzes to his team-mate Chomchuen.
Al Saleem, 35, had plenty of support from the home crowd, who cheered him off after his brave attempt to win a medal.
After making his second clean and jerk, Al Saleem fell to the floor and screamed in pain. He was suffering severe muscle spasms and had to be carried off the platform – but a few minutes later he was back, trying in vain to make 147kg for clean and jerk gold.
By Brian Oliver, Inside the Games
Photos by Giorgio Scala/Deepbluemedia