Loa Dika Toua (PNG): "I broke a lot of barriers in this sport"
At only 16, after only two previous presences at international events, Loa Dika Toua made history at the 2000 Games in Sydney (AUS). It was the inaugural women's weightlifting competition ever in the Olympic arena and the young athlete from Papua New Guinea was the first one to lift the bar in Australia. "I was of course very nervous. I was young, and I knew this was a historical moment". From writing history, she became a legend, in her own tiny nation, but also in the widest world of weightlifting.
Today, at 39 – she was born on June 23, 1984 – Toua was again in action on the initial day of the IWF World Championships in Riyadh (KSA). Competing in Group C of the women's 49kg, Toua made a valid snatch at 69kg, and then a clean and jerk of 92kg, for a total of 161kg. Her goal: to compete at what would be her sixth Olympic Games, next year in Paris – an unprecedented feat both among men and women!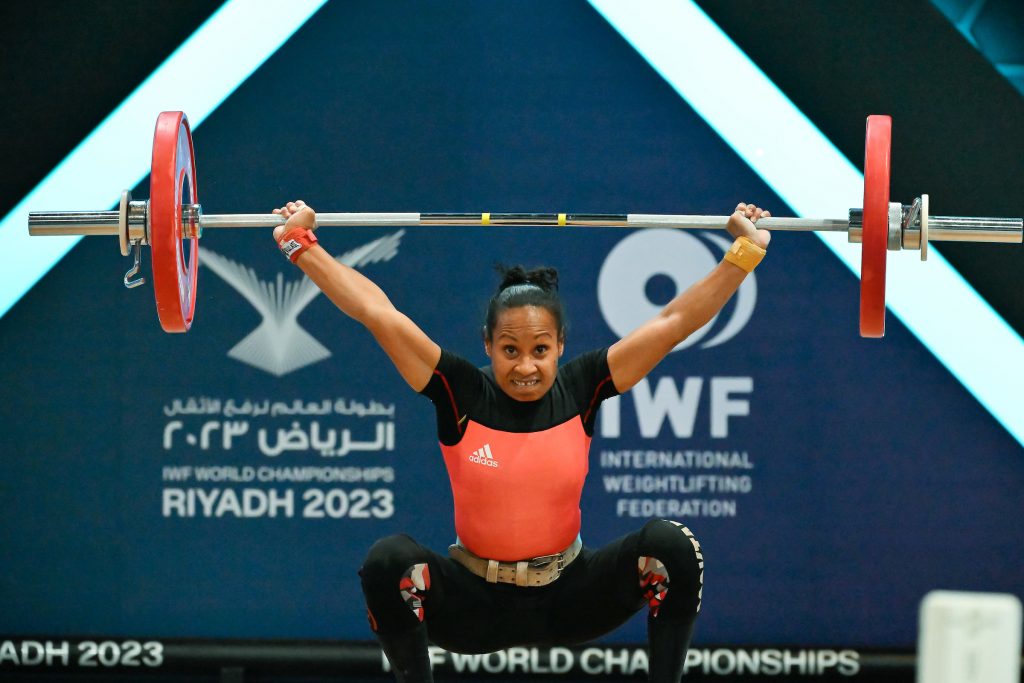 Since that glorious start in Sydney, the PNG hero only missed the 2016 Games in Rio. After a 117.5kg total in Australia, Toua has progressed to a best of 184kg at the Beijing 2008 rendezvous – her highest ranking was however a sixth place at the 2004 Athens Olympics. "If I manage to go to Paris next year, I won't definitively be so nervous… I have now some experience!" she says laughing.
Disappointed with her total in Saudi Arabia – "I was aiming at least 170kg" -, she recalls the tiredness of the long travel since Papua New Guinea and some logistical difficulties at her arrival in Riyadh. "I definitively wanted to do better, but I am already happy that I have a total here. I still have opportunities to improve – I intend to compete at the IWF Grand Prix in December and in the IWF World Cup in April 2024. My goal is to qualify through the Olympic ranking, but if this is not possible, I still can hope for a universality place".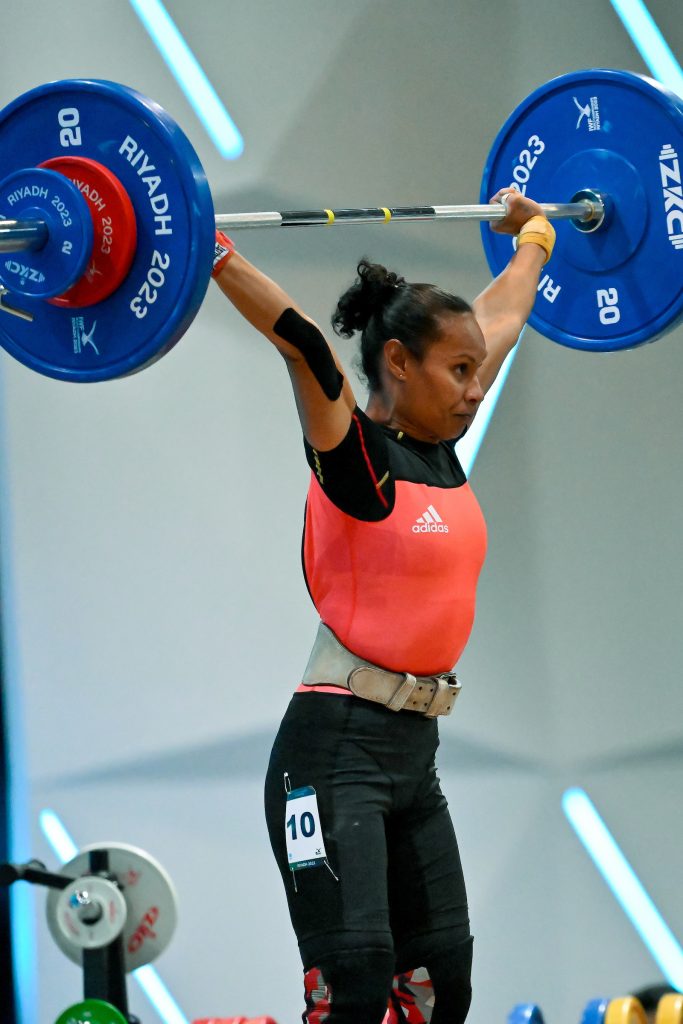 Mother of two children, she gave birth for the first time in 2006. One of the athletes competing with Toua in her group was from 2005 and she naturally laughs: "Yes, I could be the mother of some of them… But they are all extremely talented and motivated!" Elected some months ago as the President of the PNG Weightlifting Federation, Toua conciliates the daily two-training sessions with all the "official and administrative duties associated with the Federation".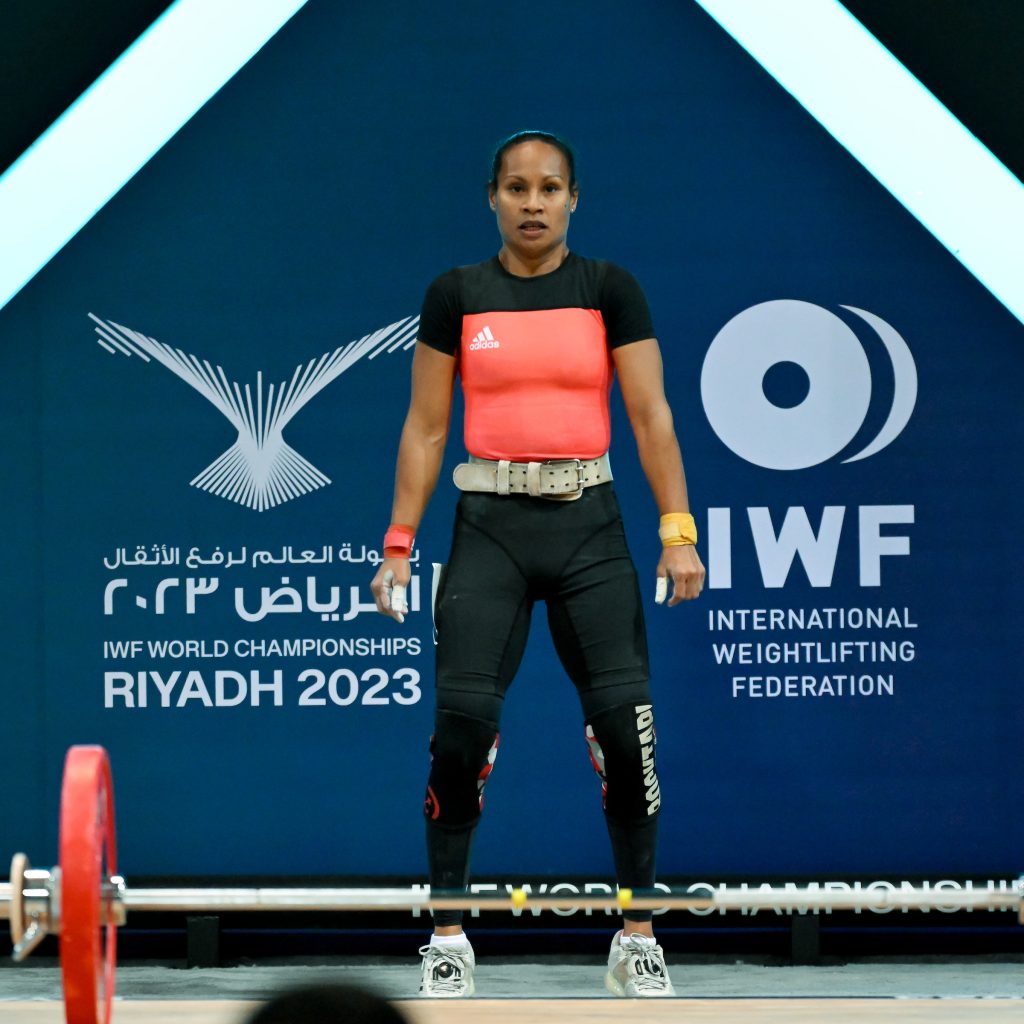 And there is a lot to do in Papua New Guinea. "We lack many resources, especially financial and equipment ones. I am trying to get more interest from our government in our sport so that more lifters from my country can reach an acceptable level. But, it's a huge challenge. Sometimes, we still train under the mango trees, so to say". Aware of her ambassador role in the sport, Toua confesses that she "broke a lot of barriers throughout her long career". The fundamental one was the perception that weightlifting was not an activity fit for women. "They told me: you won't grow up, you won't have children… I had a perfectly normal life, I had two children and I am still here to prove that they were wrong! Also, I am happy to see that many women having kids can return to competition".
After more than 20 years at the highest level – she won several medals at the Commonwealth Games, Pacific Games, and Oceania Championships – Toua's longevity is also proof that age can be challenged. "It may look like I'm forcing a bit, but I love competing and meeting so many people inside the weightlifting family. And if I can write another page of history, why not?"
By Pedro Adrega, IWF Communications
Photos by Giorgio Scala/Deepbluemedia