Havana, Day 7: World record for Palacios continues stunning success for weightlifting's special family
Angie Palacios claimed a world record to continue a remarkable run of success for a special weightlifting family from Ecuador.
Palacios jumped and screamed after making a 121kg snatch to better the 71kg world record set by Liao Guifang of China at the Asian Championships last month. On the seventh day of competition, it was the first world record at the IWF Grand Prix here in Havana.
The record lift helped Palacios to post 121-140-261, moving her up from fourth place to second behind Liao in the Olympic rankings.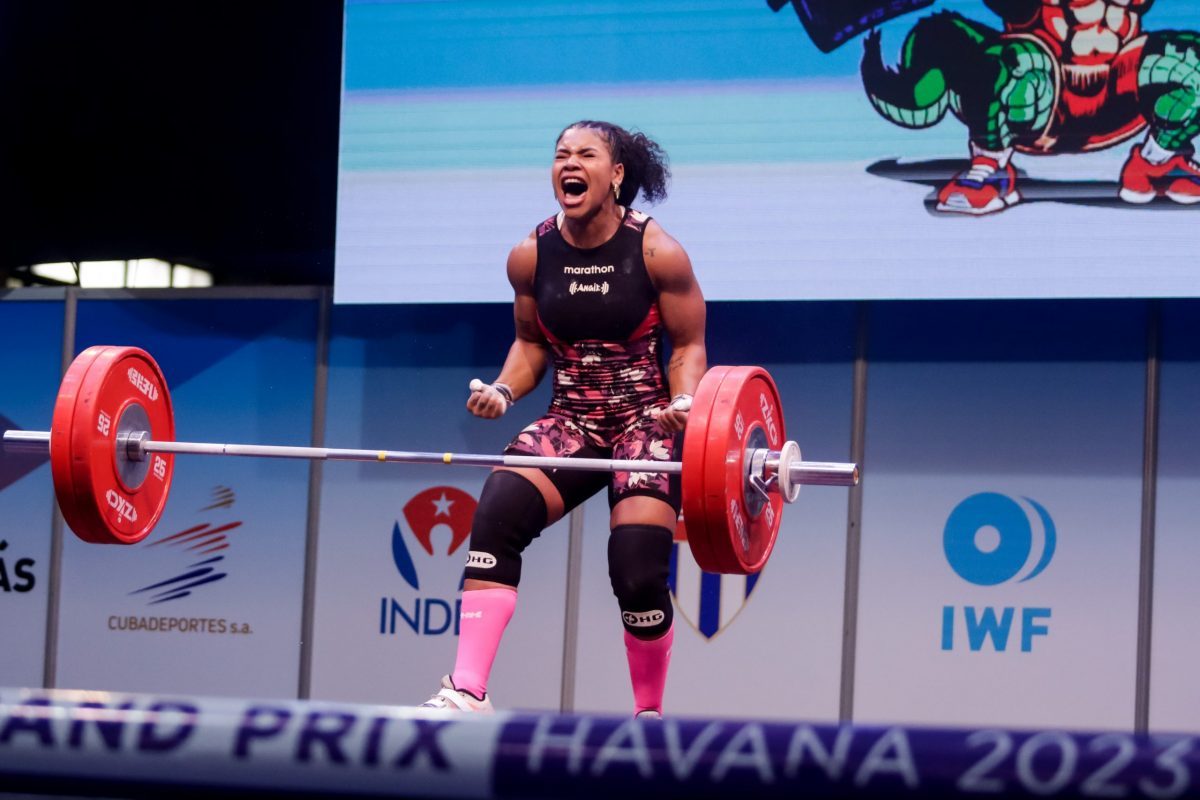 Angie Palacios (ECU)
Her older sister Neisi Dajomes, who lifts here at 81kg on Friday – "she will win, of course," said Palacios – won Olympic gold at 76kg in Tokyo and took the Pan American 81kg title this year.
Their younger brother German became Pan American junior champion at 81kg last month and youngest sister Jessica, 17, has won silver medals in the World Youth and Pan American Junior Championships this year at 59kg.
Remarkably, neither of their parents had a sporting background.
"It was our older brother Javier, who sadly passed away, who got Neisi started in weightlifting. He passed on his passion to all of us, gave us our love for weightlifting," said Palacios after listing the achievements of her siblings.
Palacios, 22, almost made it look easy when she completed her third successful snatch.
"It was a comfortable movement," she said. "I prepared well for this competition, put myself in a good position to make it happen. I have made 120kg plenty of times in training."
The biggest move in the rankings came from the Individual Neutral Athlete Siuzanna Valodzka, who had never totalled 200kg before today and had not lifted since she was a teenager.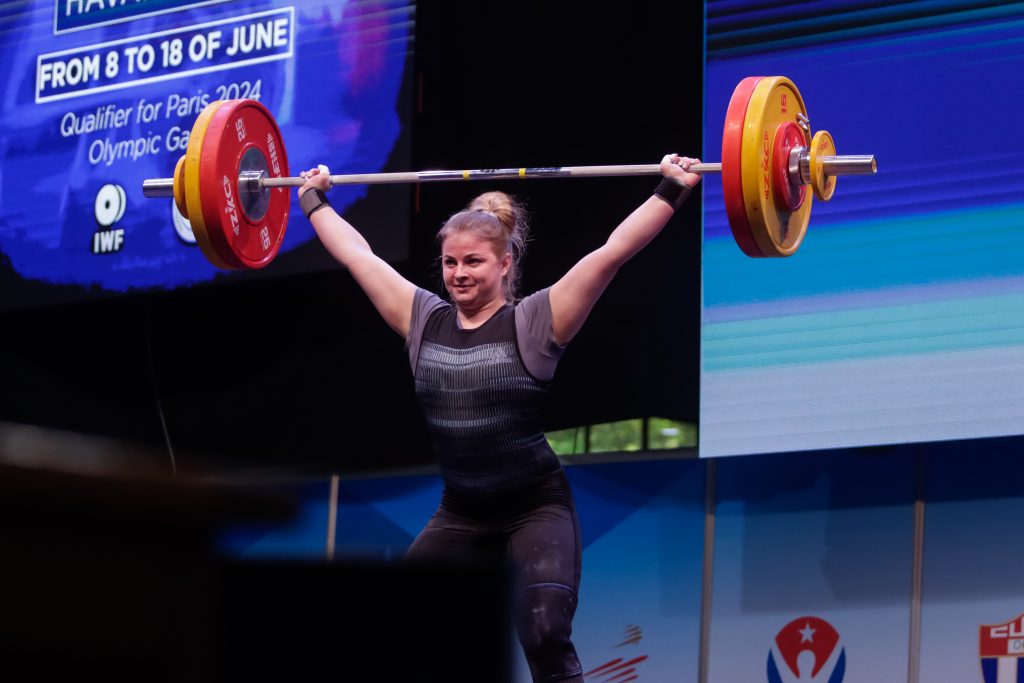 Siuzanna Valodzka (AIN)
Valodzka, 23, made 108-134-242, improving her best by 44kg in her first international competition since December 2018. That leaves her sixth in the simplified rankings.
Olivia Reeves fared better of the two Americans in the contest, finishing third on 108-133-241, which was 6kg lower than her best qualifying total. Her team-mate Meredith Alwine failed to make a total after three snatch failures, as did the Italian Giulia Miserendino despite making all three snatches.
Chen Wen-Huei, the 64kg Tokyo bronze medallist at 64kg, was fourth on 102-127-229, which was 3kg down on her best qualifying effort.
There was a shout of joy from Eyglo Sturludottir in the B Group when she became the first Icelandic woman at any weight to snatch 100kg, which she managed on her third attempt.
Eyglo Sturludottir (ISL)
"People have been asking me for a while 'When are you going to do it?' so it was nice to do it here on a big stage," said Sturludottir, 21, who combines weightlifting with studying to be a doctor.
An American and an Individual Neutral Athlete were on the podium in the men's 89kg too.
Four men withdrew from the A Group, and by the time the remaining seven had finished the scoreboard was a sea of red: 13 no-lifts in the snatch and 10 more in clean and jerk.
Petr Asayonak, who lifted at Rio 2016 for Belarus, won on 162-206-368, which will put him in the top 10 in the Paris rankings.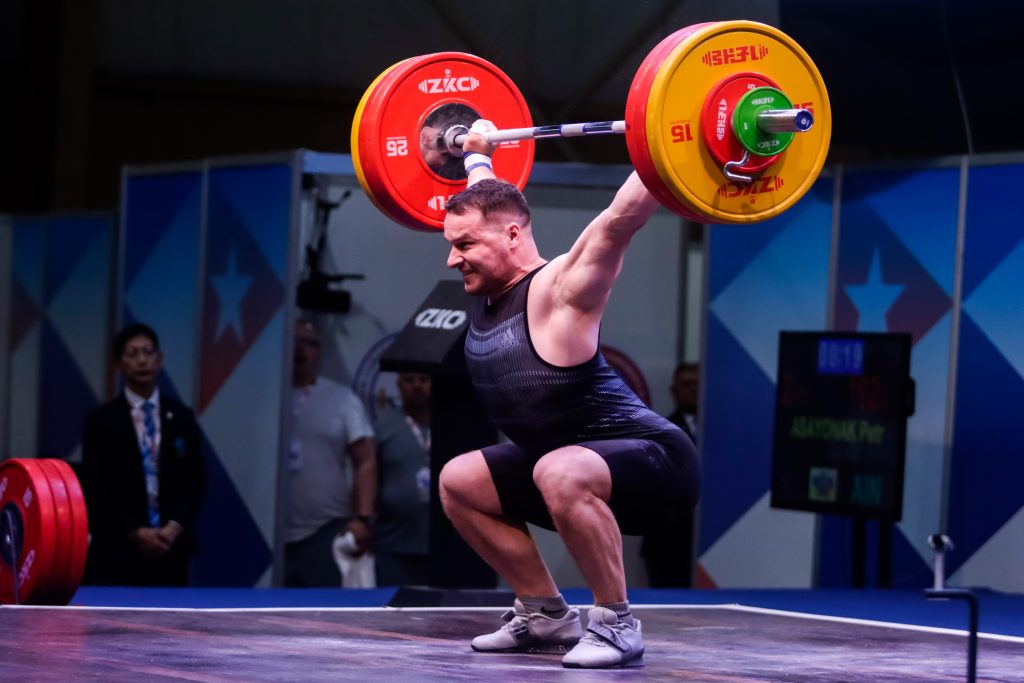 Petr Asayonak (AIN)
The American Nathan Damron got the bar above his head when he went up 10kg for his final lift at 210kg, but he could not control it and lost his chance of victory. Damron would have improved his best qualifying total by 5kg if he had held on for a good lift.
Damron finished second on 165-200-365 and Safaa Aljumaili from Iraq was third on 161-200-361 – a great effort after a long and tiring journey from his homeland.
The Tokyo Olympic bronze medallist Antonino Pizzolato from Italy was among those who withdrew. He has yet to make a total in qualifying because of a back injury, and is expected to be fit for action at the IWF World Championships in Saudi Arabia in September.
Two Colombians weighed in without lifting, the World Championships silver medallist Brayan Rodallegas and multiple youth and junior champion Yeison Lopez Lopez, who has never been beaten in his 11 international appearances.
In the B Group, the American Clarence "CJ" Cummings made his first lift in international weightlifting since the Tokyo Olympic Games and spoke afterwards of his battle with depression.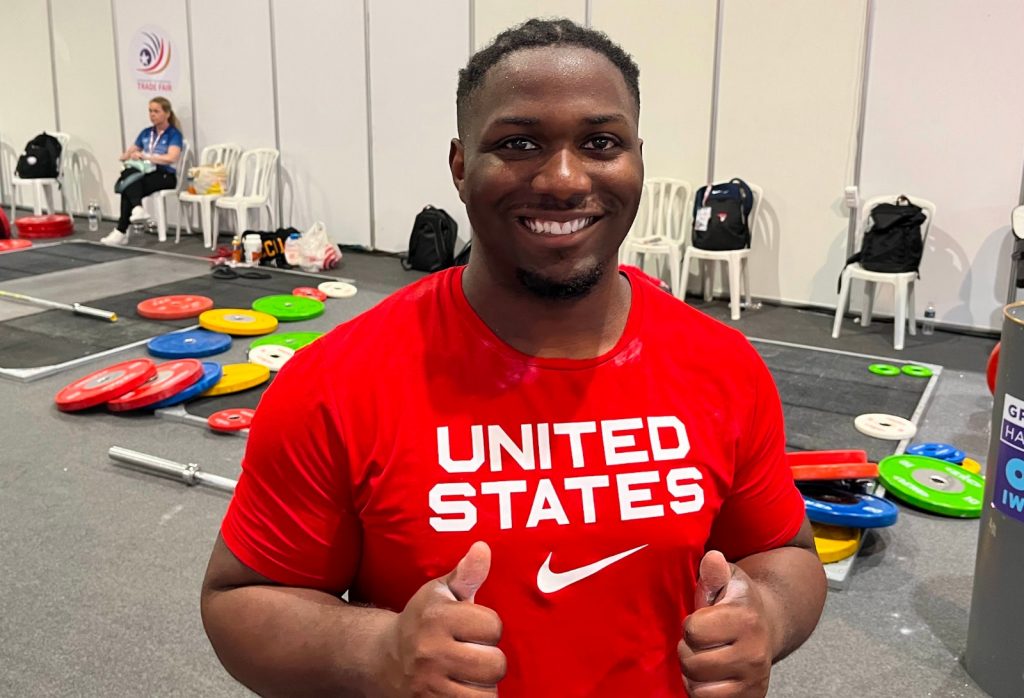 Clarence "CJ" Cummings (USA)
"I didn't get the numbers I wanted today but it feels good, I'd actually say it was nostalgic," said Cummings, 23, who has had to move up from 73kg to 89kg because of weight problems during his illness.
He weighed in at 88.95kg today, an increase of 22.02 per cent on his 72.90kg body weight for his last competition in Tokyo nearly two years ago, and made 143-180-223 from two good lifts.
"I was battling with depression for a long time, I had injuries too and I put on all this weight," he said. "Since I got the help I needed I've been able to deal with it.
"I feel like I'm back in the right place today."
Cummings, 23, was a superstar of American weightlifting in his teenage years, winning four junior world titles and lucrative sponsorship deals.
The trouble started for Cummings when he gained and then had to lose weight in the build-up to the Olympic Games. On the platform in Tokyo he underperformed, and depression hit him "a few months after the Olympics".
He said, "I was not proud of my performance. It was my first Olympic Games and it kind of got in my head. Looking back, the depression sort of got the best of me a few months later but I didn't tell anybody.
"I thought I could deal with it myself but it hit me bad. About three or four months ago I told everybody and I got the help I needed."
USA Weightlifting provided a psychologist, Cummings had family support, and he decided to get back on the Olympic pathway. Cummings is aiming "to get down to 73 again" in the coming months. "There's no rush," he said.
"It's been such a long time. I was nervous but it was great to be back on the platform."
By Brian Oliver, Inside the Games