Ine Andersson (NOR): Overcoming adversity with determination
On a normal day, Ine Andersson should have been the winner of the women's 64kg, whose A session took place today at the IWF Grand Prix in Havana, Cuba. But in sports, one cannot expect to have normal days all the time. This is what happened to the Norwegian lifter in the clean and jerk segment of the final. With a solid 92kg snatch, she started the two-movement section at 118kg, so that she could approach her 212kg personal best, established at this year's European Championships in Yerevan (ARM). After failing the first two attempts, the 33-year-old couldn't hold the bar and violently fell on the platform, with a strong pain in her right thigh. Immediately assisted by the medical team in the venue, she had to leave the platform accompanied by two doctors.


Ine Andersson (NOR)
Some minutes later, mainly walking only on her left foot, she manages to climb onto the podium to collect her bronze medal in the snatch. "More than the intense physical pain, I feel extremely disappointed," Andersson admits, seated on a chair, with her right leg extended and an ice pack on her thigh. "I have done this weight many times, so my body can perfectly stand it," the Norwegian recognises. Having decided to compete last, with three consecutive lifts in clean and jerk, this succession of attempts could have played a role in this outcome. "This is also not a reason. I'm used to it. When training, I have very little recovery time, and I am perfectly OK. The second lift, I felt it a bit 'heavy', but then all got worse with the third one. Now, we can maybe say that trying the last attempt was not a good idea. But you never know these things before they happen! Coming here to Cuba, my goal was to increase my total and I believe I was in good shape to make it. The snatch went quite well, but things just didn't work in the clean and jerk". 
Born in August 1989, Andersson was the oldest competitor in the field. Arrived on the international scene only in 2016, at 27, she was involved for many years in gymnastics, before switching to weightlifting. "Until I was 20, I was a gymnast. After that, I start going to gyms to stay in good shape and I started a school to become a personal trainer. A teacher spotted me there and wanted me to try weightlifting – I didn't know much about it… In the beginning, I was just practicing to do something new. After some years, I start doing competitions in Norway and I eventually ended up in the national team. I took part in my first international events and from there on I never stopped".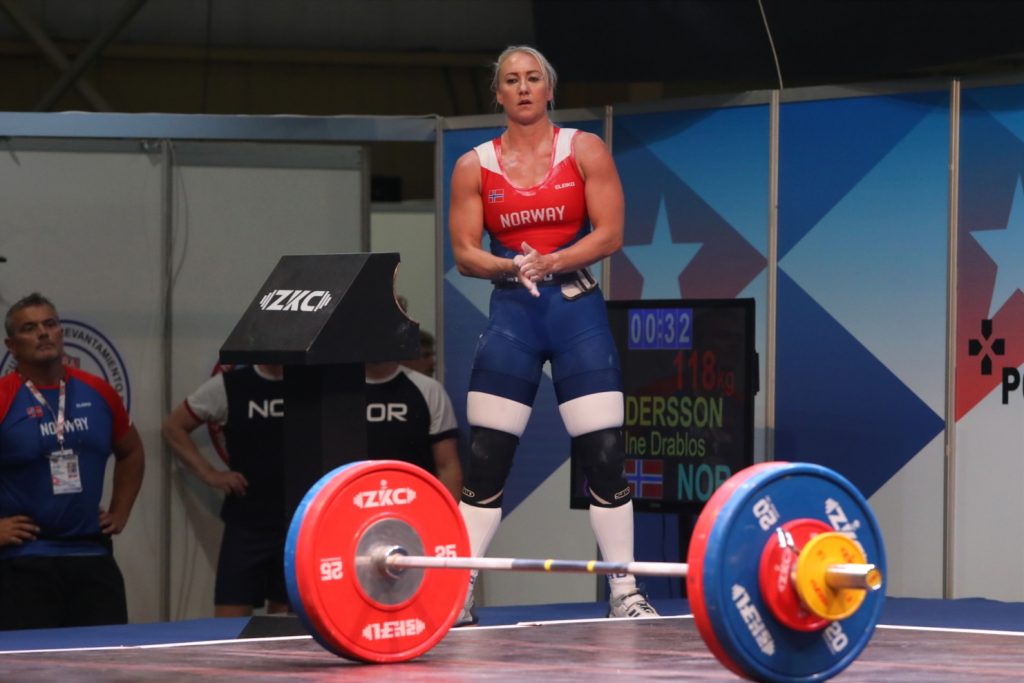 Normally competing in the Olympic 59kg category, Andersson naturally assumes her ultimate goal – to qualify for the Games. Her 212kg best is of course short to enter in the top-10 of the 59kg ranking (the cut will be around 220/225kg), but the Norwegian star is confident that she still has room for improvement. "It's of course very tough, but I am not ready to give up". Extraordinary words after such a dramatic lift some minutes earlier. "I have the strength to increase my snatch quite a bit, and I am working on how to technically improve my jerk. I think I have the physical capacity to do at least 220kg. It may be enough… It will require hard work, but I don't see it as an impossible mission".
Recognising having gained some weight "on purpose, in order to play around", Andersson believes she can easily reverse the situation. "It's not very hard for me to be back to the 59kg category". The next step in the qualification process for Paris 2024 is clearly identified: "The Worlds in Riyadh! I hope I'll be more successful than today…"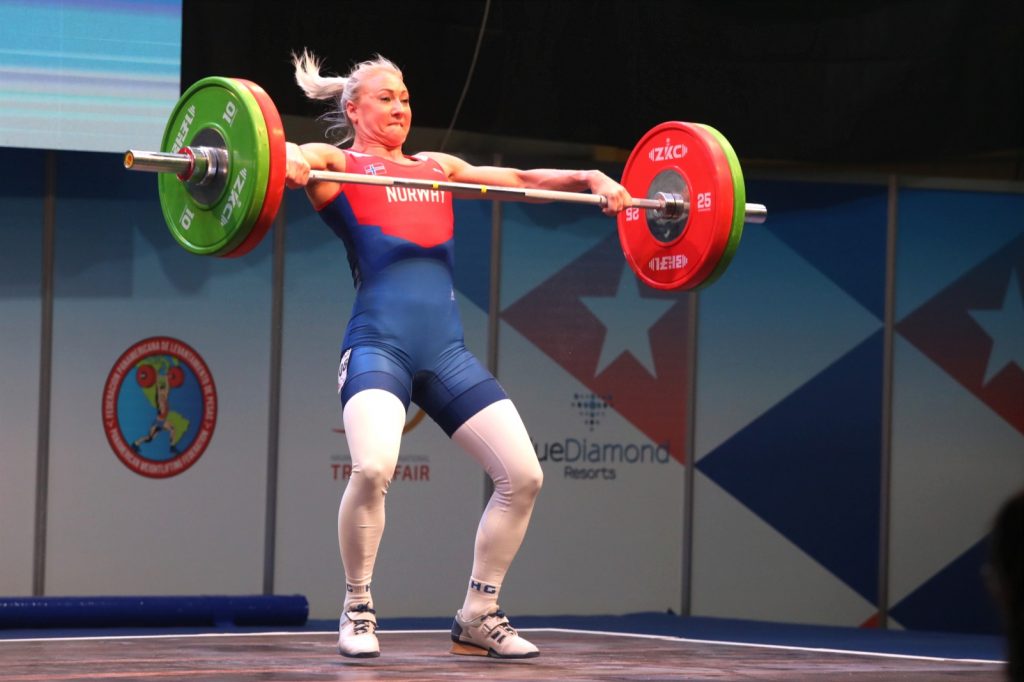 In two years' time, in 2025, Norway will host the IWF showcase and the obvious question is if Andersson will still be among the participants, at 36. With a smile, she says: "It will be most probably my last competition. I started in the sport in Norway, so I would like to end my career also in my country. I cannot think of a better place and occasion to officially retire". Since 2016, Andersson has lifted in four IWF World Championships (her best result being a seventh place in 2021, in the 59kg) and seven European Championships (in 2022, she got a bronze, also in 59kg).
With almost 66k followers on Instagram, she hasn't still the status of the undisputed star of the sport in the country – Solfrid Koanda -, but her social media success is quite considerable in a nation more used to winter sports. "It's true that the place of weightlifting in Norway is not very important compared to other sports. But I want to show that even if you are in Norway, you can do something else. Moreover, you can do it successfully, reaching a good position in the world hierarchy".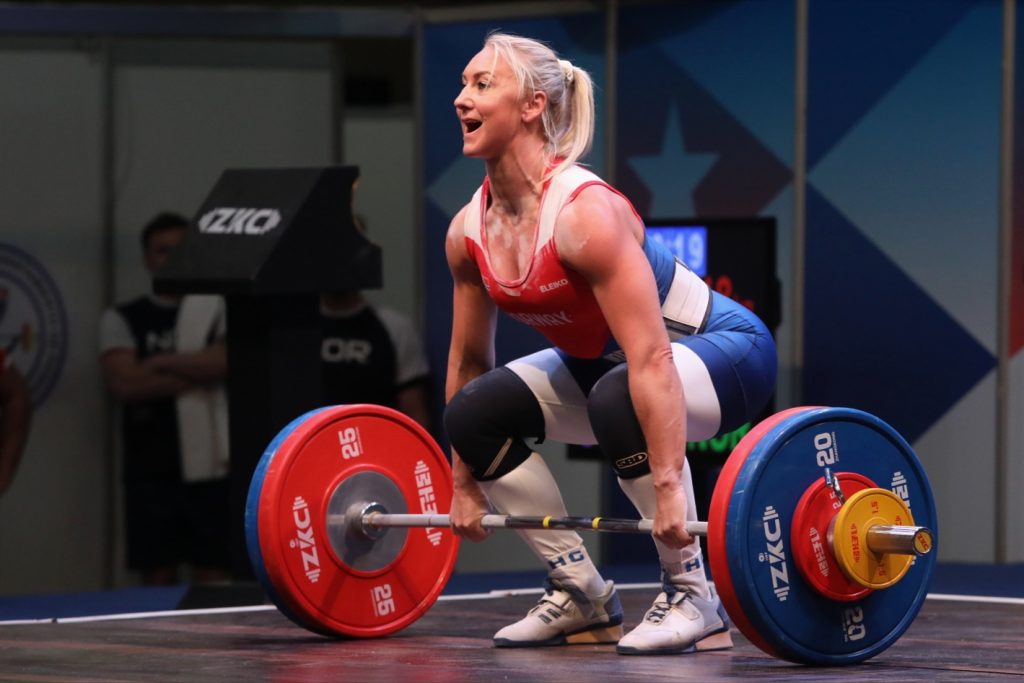 On the specific messages she likes to transmit to her fans, the Nordic lifter explains it in a simple way: "On my posts, I want to show that everything is possible if you put enough determination and work into it. I am a living example of that determination. I started late in the sport and I am still here to prove that with passion you can reach good results. Not everyone has to be a professional weightlifter, but the message is that everyone should do things with motivation – in sport or in any other activity in life". 
By Pedro Adrega, IWF Communications