The weightlifting clan from Amazonia
Located in the eastern part of the country, on the border with Peru and with no sea access, Pastaza is the biggest Ecuadorian province in terms of surface. But if its 83'000 inhabitants enjoy an immense territory, situated in the Amazonian jungle, they are also proud of the most famous weightlifting family in the South American nation: the Palacios Dajome clan, whose four children are all shining at the international level.
There is Neisi, 24, Olympic champion in Tokyo 2020ne in the women's 76kg, a national hero. There is also Angie, two years younger and bronze medallist at the last IWF World Championships in the women's 71kg. The third one is German, born in 2003, and fifth at the 2022 Junior Pan-American Championships in the men's 81kg. Finally, we have Jessica (17), who got three silver medals on the fourth day of the IWF World Youth Championships here in Durres (ALB), in the women's 59kg. After a third place last year in Leon (MEX), Jessica upgraded the colour of the medal, after a personal best of 88-107-195. She was slightly worse than the winner, Turkmenistan's Medine Amanova (90-109-199).
The result was even more impressive after a thrilling final, where two athletes "broke" under the nerves' pressure, Egypt's Hanin Elsayed and Kazakhstan's Altynay Tanibergenova. "I stayed focused on my lifts, but it's obvious that it was a bit disturbing. In these moments, I try to remain concentrated and control my breath. In the end, my performances were quite good," recalls a smiling Jessica after her successful result. "Before coming here, the number one goal was to improve my personal bests. I did that, but I believe I could even do better… I am quite grateful to all my entourage for these medals!"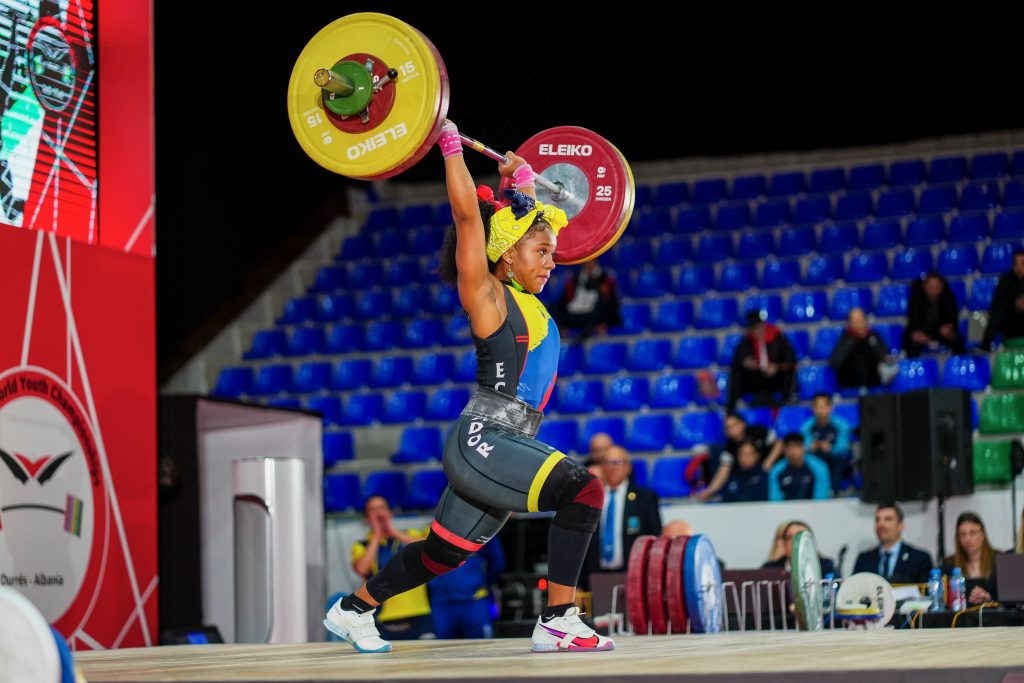 Talking about the family connection to weightlifting, the 17-year-old Ecuadorian star recalls: "It all came from my brother Javier [deceased], who got my sister Neisi to the sport. Our parents were not connected with it, but he got hooked and 'pushed' the others to weightlifting. I started at 11 and from the very beginning my coaches were saying that I was good at it. As I had all the family involved, I continued to train hard and I am doing my own way in the sport".
With an Olympic champion at home, Neisi is obviously the "idol" of her younger sister. "My goal is to compete at the Olympic Games. Whatever comes next is a bonus. And given my age, the most realistic opportunity should be the 2028 Los Angeles Games. I am of course very confident that weightlifting will be at those Olympics. And I'll continue training hard with that precise objective," she admits.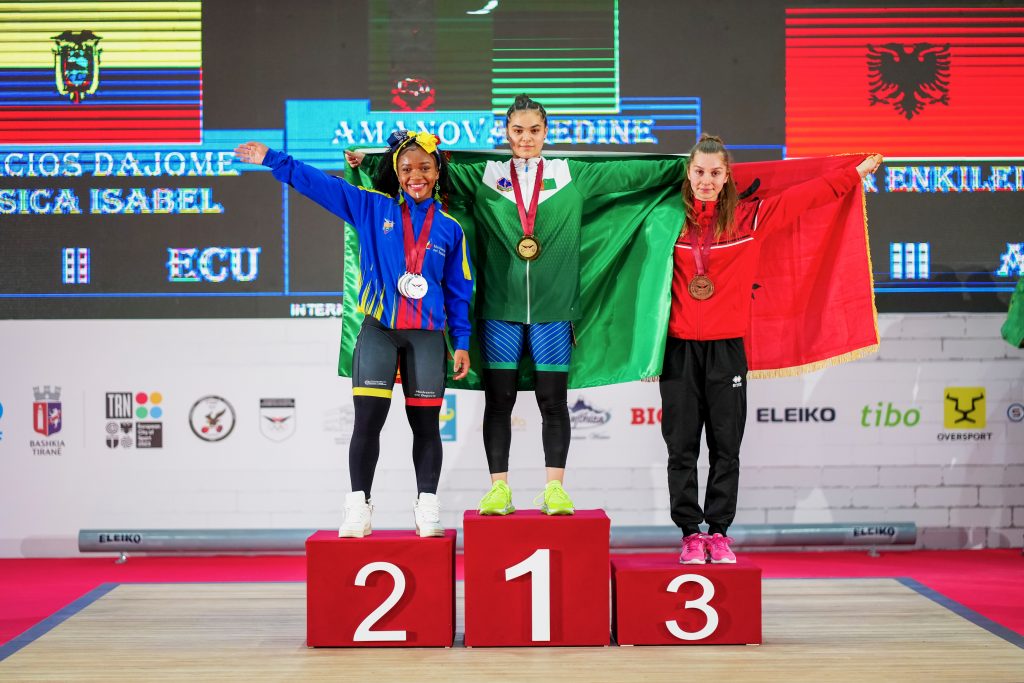 To reach this competitive level, Jessica has a double training session on Mondays, Wednesdays, and Fridays and a single session on Tuesdays, Thursdays, and Saturdays. "It's a bit complicated to conciliate with the school, but as I am in a high school with a huge sport component the environment there is quite sensitive to my training schedule and travel pogramme," she concedes. "We have a very good relation between students, as other schoolmates are competing in several sports".
Jessica is living with Neisi and German with Angie, so the question is obvious: when the four siblings are together, what are they talking about? "You could expect that we only discuss weightlifting, but it's not true. We have other topics, we are young people like all the others. For example, I still didn't call them. When I am competing, they want to leave me in my 'world', in my own space," confesses Jessica, whose next competition will be the Pan-American championships in her age group. Her older sisters – Neisi and Angie – are currently competing in Bariloche (ARG), at the continental senior showcase, trying to get a "ticket" for the Paris 2024 Olympics.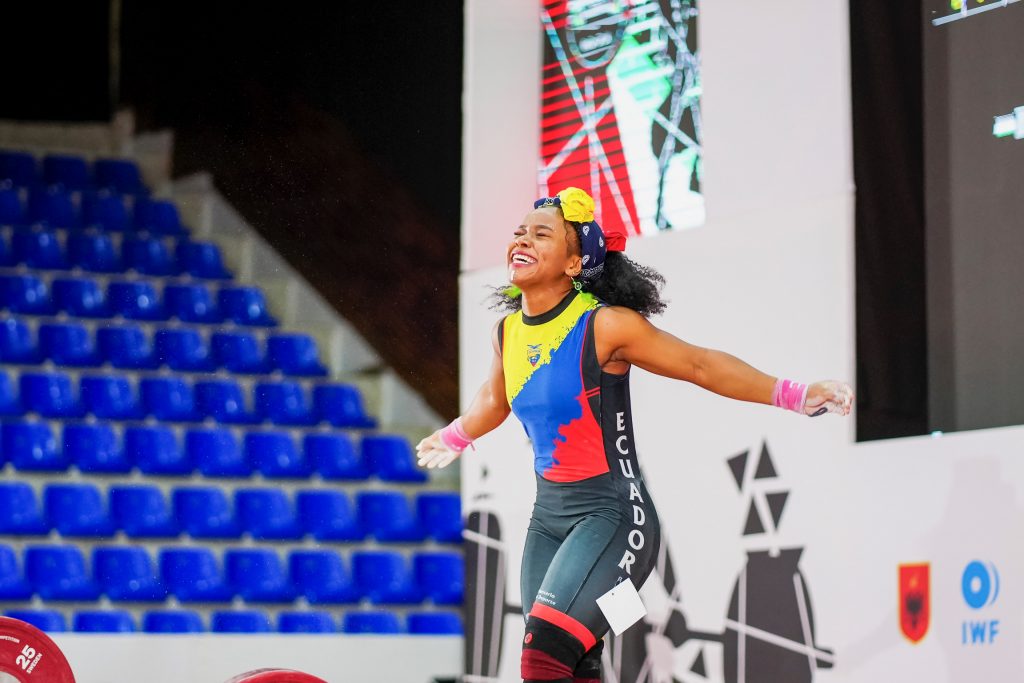 After successfully competing in Albania, Jessica will try to see something of the country, as it is the first time she visits the Balkan nation. "Now, I will go out and visit a bit Durres. I am relaxed and happy, so it will be even more pleasant!"
By Pedro Adrega, IWF Communications
Photos by Dejni Trebicka