Durres, Day 2: World records for Vietnam – and "Tokyo effect" spurs on Philippines and Turkmenistan
Turkmenistan and the Philippines both had champions and runners-up on a busy second day of the IWF World Youth Championships in Durres, Albania, showing that "the Tokyo effect" is working in their favour.
The winner of the women's 45kg was from Turkmenistan and second place went to the Philippines, while in the following men's 61kg it was the other way around, with a Filipino winner ahead of a Turkmenistan athlete.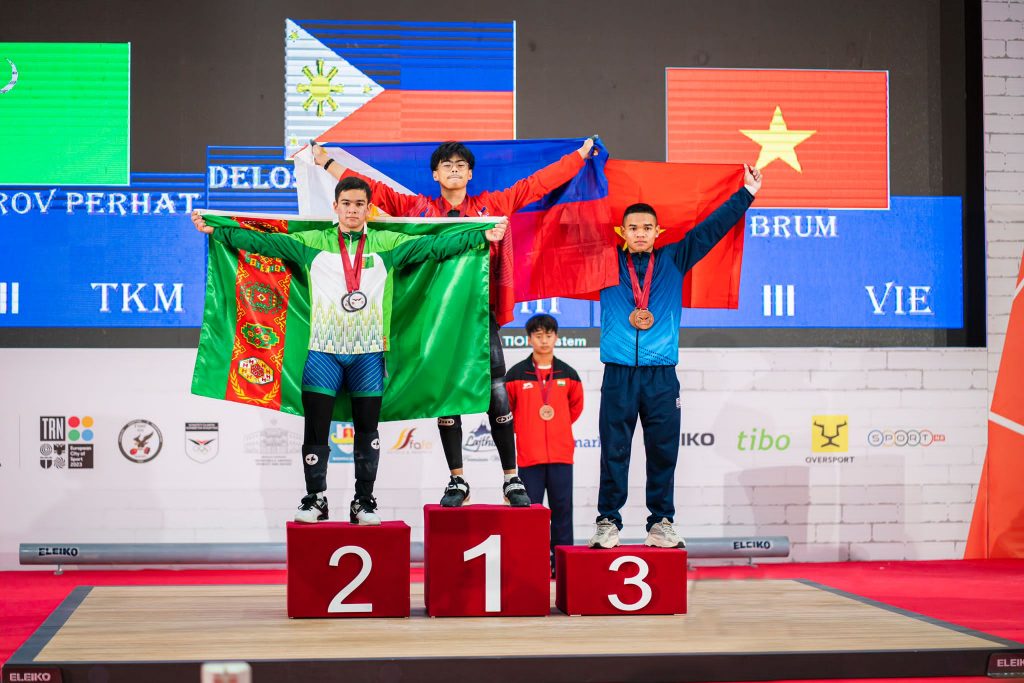 In the other medal event of the day, the men's 55kg, K Duong (VIE) broke all three of his own youth world records when he finished 24kg clear of his nearest rival.
Young athletes from the Philippines and Turkmenistan have been inspired by national heroes at the Tokyo Olympic Games. Hidilyn Diaz was the first Olympic champion for the Philippines when she won at 55kg and Polina Guryeva, a silver medallist at 59kg, is the only Turkmenistan athlete in any sport to have stood on the Olympic podium.
Mohammed Jalood, president of the IWF, pointed out that India, who have won at least one medal in every contest so far in Durres, and Canada have also prospered at these Championships after good results at the Tokyo Olympics.
"They are getting more support from the government," Jalood said. "We are seeing the new generation in weightlifting here, not just the individuals but a new generation of nations winning medals."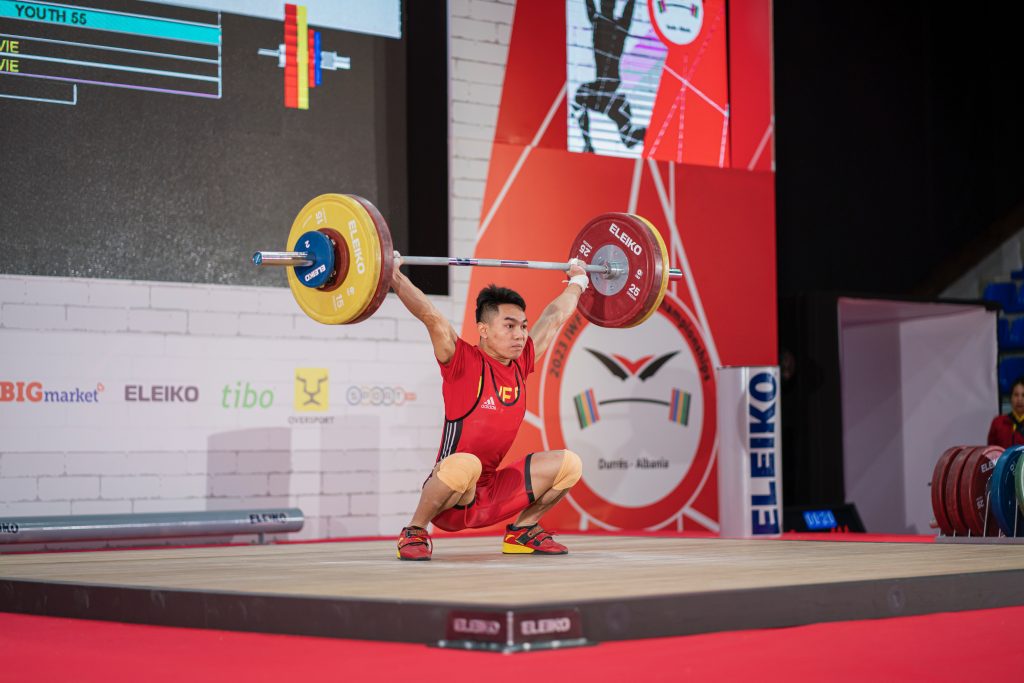 Albert Delos Santos, whose mother Diwa is the Philippines team coach, said after winning the men's 61kg with a successful last lift, "Hidilyn Diaz is an inspiration to us all, her victory gives us motivation, gives us hope.
"I was born into this sport because my mum and dad were both international weightlifters, and I was lucky enough to train with Hidilyn for the summer. She and her coach taught me about having the right mindset. They gave me their wisdom."
Delos Santos, 16, won with 110-149-259 ahead of Perhat Bagtyyarov (TKM) on 114-144-258. Bagtyyarov won the snatch gold and Delos Santos was a winner in clean and jerk and total. Third place on total went to K Brum (VIE) on 113-142-255, and Tinku Golom (IND) took the snatch bronze with 112kg.
Angeline Colonia (PHI), the only current world record holder in the women's entries, was in the lead right until the end of the women's 45kg, but was beaten into second place by the impressive 13-year-old Ogulshat Amanova (TKM), who made six from six and never looked like missing a lift.
There have been world champions aged 13 and 12 – Ivy Buzinhani Brustello (CAN) – on the opening weekend of the Championships. How come girls so young can win world titles?
"No relaxing, no let-up, just hard training every day," said Amanova, whose father Gurbandurdy Amanov is coach of the national youth team. "My father is very strong, he helps me so much."
Amanova joked, "I am very strong too and everyone at my school know it, so they don't mess with me." She said she felt she was "flying high like a bird" after her 71-85-156, a personal best by 20kg in international competition.
Amanova's sister Medine competes at 59kg on Tuesday and could make it a golden double for the family, as she has the highest entry total by 10kg. 
Guryeva has been an inspiration for young athletes, Amanova  said. The Olympic medallist has not competed since December 2021 after marrying, and is expecting her first child next month.
Colonia, whose older brother Nestor competed at the Rio 2016 Olympic Games and is coached by her uncle Gregorio, a 1988 Olympian, won the snatch and finished 72-83-155.
Akshanka Vyavahare (IND), a snatch gold medallist at 40kg last year, was third on 68-82-150 and her team-mate Asmita Dhone (IND) made 83kg to take the clean and jerk bronze. Lawren Estrada (COL), the winner on total in last year's 40kg contest, was way behind in the snatch but made 84kg to finish second in clean and jerk and fifth on total.
Within three weeks of his 16th birthday, K Duong (VIE) broke all three of his own youth world records in winning the men's 55kg. Duong, who was the only current world record holder among the men's entries here, has made only 11 attempts in his international weightlifting career and he has already set six world records.
Last July Duong broke the world and continental youth records on his debut at the Asian Championships in Uzbekistan when he made 113-143-256. He declined his final clean and jerk and finished 8kg clear of his nearest rival.
Today at the Ramazan Njala Sport Complex in Durres he missed his first snatch attempt at 107kg because of a press-out, made it next time to secure the snatch gold and then went up 7kg to better his world best by 1kg.
His first clean and jerk of 132kg gave him a sweep of golds. He then jumped 12kg, just failed with the jerk, and came back to make the lift with his final attempt.
Duong will be old enough to compete as a junior next year and will no doubt be targeting the world records at that level, which stand at 122-148-265.
His team-mate A Tieu (VIE) was second in the snatch on 106kg but dropped away to finish fifth on total. Meetei Tomchou (IND), third in the snatch and second in clean and jerk, took silver on total with 103-131-234, and Burak Aykun (TUR) was third in clean and jerk and total on 102-125-227.
By Brian Oliver, Inside the Games