Toma takes 71kg gold and a makes a rare world record for Europe
By Brian Oliver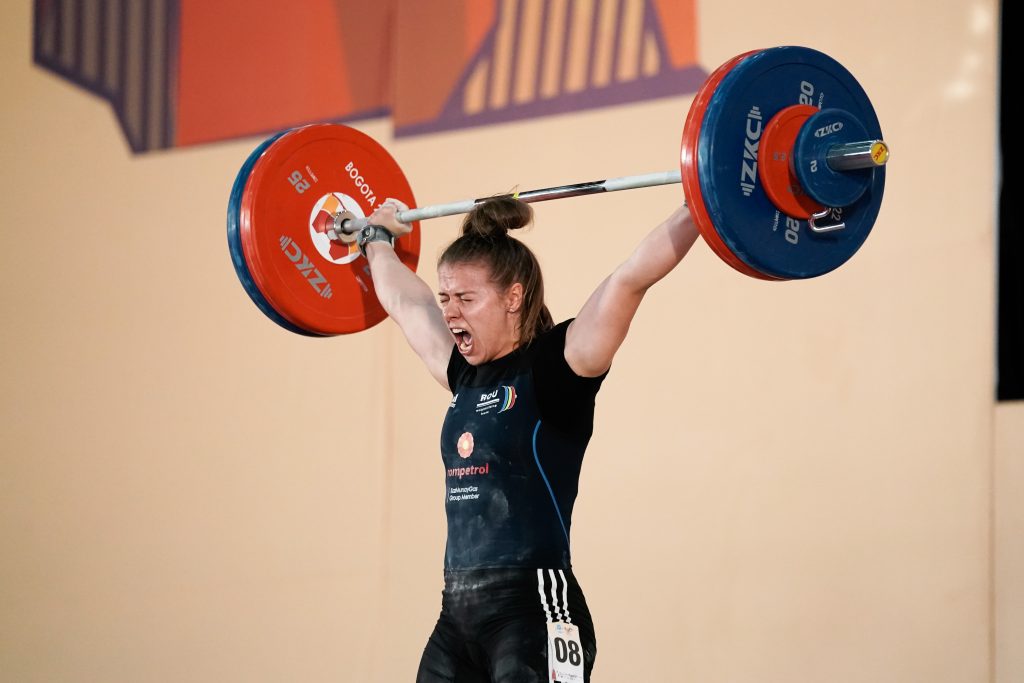 Loredana-Elena TOMA (ROU) won her second world title when she took the 71kg at the IWF World Championships in Bogotá, and in the process she became the only non-Asian holder of a current world record in women's weightlifting.
In the other medal event of the day, Lesman PAREDES (BRN) won at 96kg to give Bahrain its  first ever world title. Paredes had won at the same weight in last year's IWF World Championships for Colombia, his homeland, before switching nationality.
In a tense finish to the women's 71kg, Toma had to wait for victory. She had built a big lead by making her first five attempts – including a snatch world record of 119kg – but she looked frustrated when she missed the last clean and jerk.
Two Chinese lifters had not finished yet. First, 23-year-old ZENG Tiantian (CHN), in with a chance of a gold medal in her first international competition, failed at 144kg.
Next was LIAO Guifang (CHN), the 2019 junior world champion, who had two attempts at 147kg. She failed both times and Toma had her second world title. When she won the first, in Anaheim, California in 2017, neither China nor North Korea had been there.
Toma had been excluded from the Tokyo Olympic Games because of a doping-related ban on her national federation.
Asked what it meant to finally prove herself the best in the world by getting the better of Chinese opponents, Toma struggled for words and said, "I wish I could explain it…" before disappearing to pose with fans for some photos.
While she was doing that, a friend revealed that Toma had had her phone stolen by a monkey while she was training in Bali earlier this year. Had she got it back?
"No," Toma said, "I had to win here tonight to be able to buy a new one." She may not smile very often, but Toma has a sense of humour.
She finished on 119-137-256, ahead of Zeng on 113-140-253 and Angie PALACIOS (ECU) on 116-136-252.
Liao won the clean and jerk on 140kg, from Zeng also on 140kg and Olivia REEVES (USA) on 138kg,  but was fourth on total after missing two of her snatch attempts.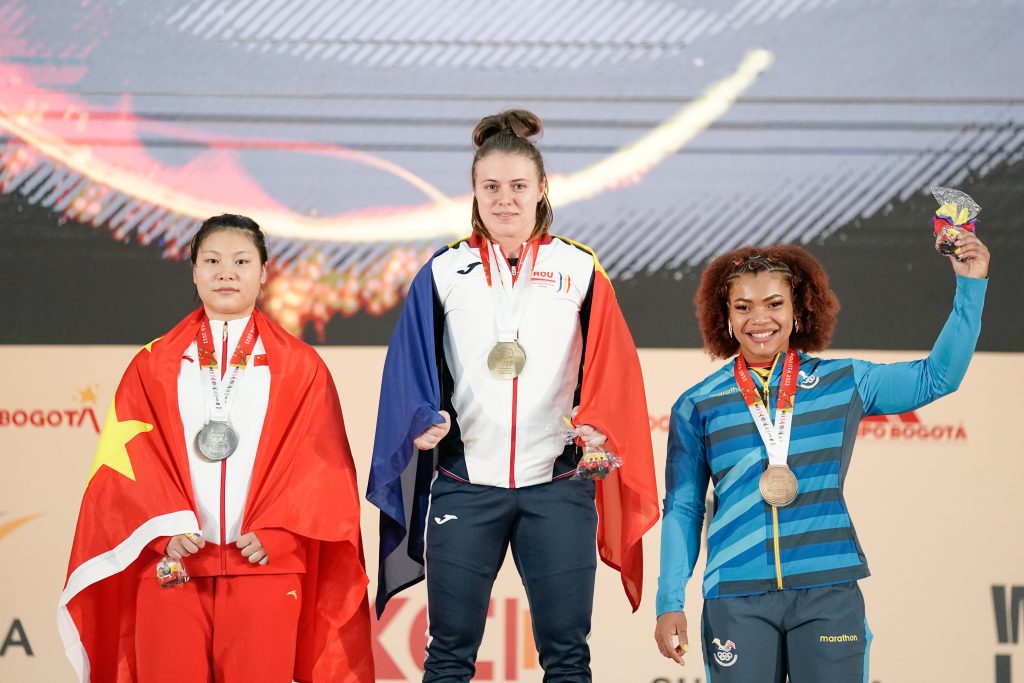 Paredes, who set a snatch world record when he won for Colombia a year ago this week, was a clear winner of the men's 96kg for Bahrain, which persuaded two top international lifters to switch nationality in August – Paredes and Gor MINASYAN (BRN), from Armenia.
Both Paredes and Minasyan won at the Asian Championships to earn Bahrain its first continental successes in October, and there was little doubt that a first world title would follow when Paredes made all three snatches to lead by 11kg at halfway.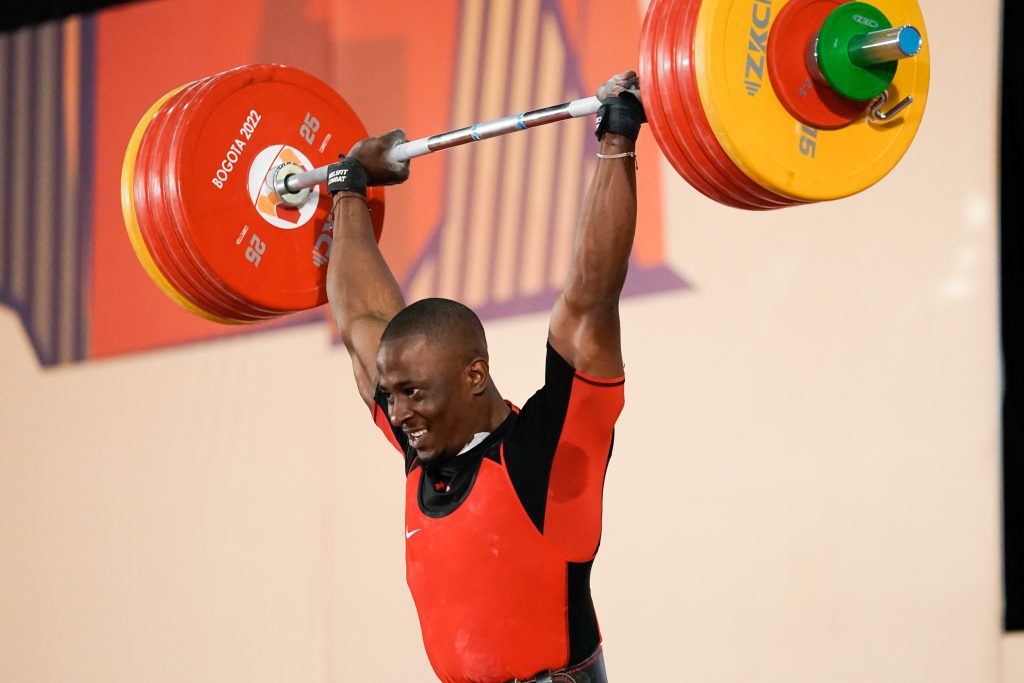 "There was a lot of pressure competing here, but I was very happy with the performance," he said – happy enough to do a little dance on the stage.
Before every lift Lesman, 26, stands tall above the bar and slowly sweeps his hands wide in a calming motion.
"I do it to clear my mind of energies, to help me focus only on the bar, like meditation," he said. "I did it for the first time at last year's World Championships in Uzbekistan."
So the calmness has helped him to two world titles and an Asian Championships victory.
"Yes, it works, doesn't it!" he said.
Paredes, who was second in the clean and jerk, made 185-212-397 to finish 14kg ahead of Nurgissa ADILETULY (KAZ), the snatch silver medallist, on 174-209-383.
The host nation had a sweep of bronze medals when Jhor MORENO (COL) made 171-209-380.
The clean and jerk gold was won by Romain IMADOUCHENE (FRA), who celebrated wildly after making 213kg. Imadouchene, whose preparations were hampered by a knee injury, was the first World Championships gold medallist for France since Venceslas Dabaya in 2006.
Forrester OSEI (GHA), who chairs the IWF Athletes Commission, injured his elbow while lifting in the C Group. He was taken to hospital and later released without any broken bones.