A world title at last for Olympic champion Hidilyn Diaz – and world record for Li Fabin
By Brian Oliver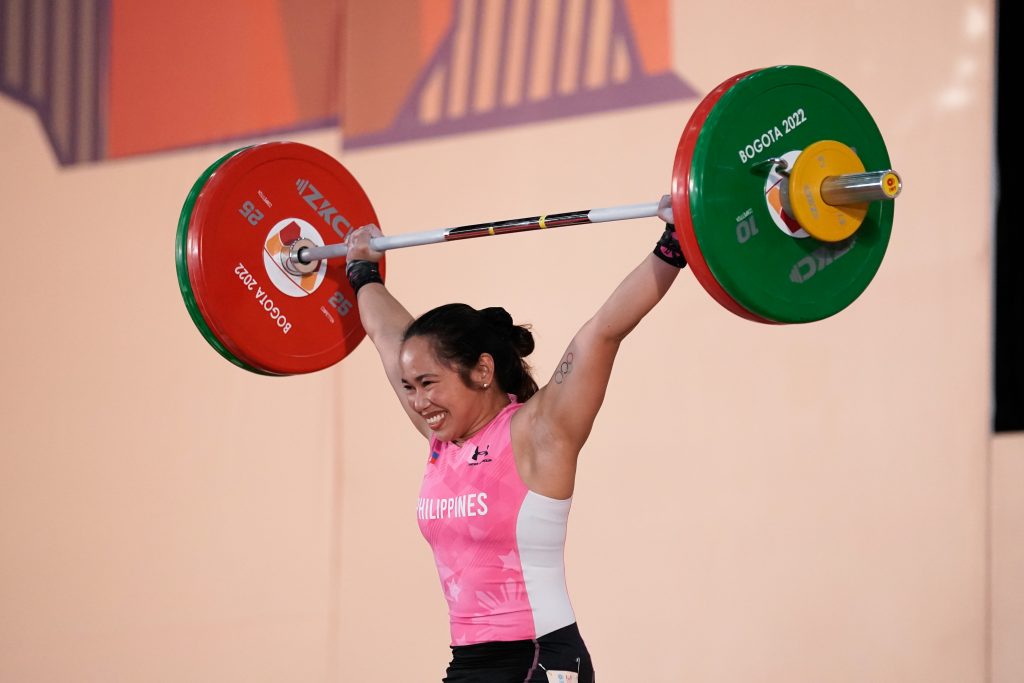 Hidilyn DIAZ (PHI) had won gold and silver medals at the Olympic Games but in her 15-year weightlifting career she had never won at the IWF World Championships until her victory last night in Bogotá, Colombia.
"Finally I win at the World Championships – I'm so happy with that," said Diaz, who became the Philippines' first Olympic champion in any sport in Tokyo last year.
She was a clear winner of the women's 55kg ahead of Rosalba MORALES (COL) and Ana LOPEZ (MEX) despite failing with her last two attempts.
Another Olympic champion, Li FABIN (CHN), won the men's 61kg, setting a clean and jerk world record and finishing ahead of the Tokyo silver medallist Eko Yuli IRAWAN (INA). Li's  20-year-old team-mate He YUEJI (CHN) was third.
The were more no-lifts than good lifts in both sessions, just the same as on Tuesday, perhaps because athletes are finding it difficult to cope with the altitude. Bogotá is 2,640m above sea level.
Diaz, 31, did not suffer because the Philippines team had prepared well, she said, first at a training camp in the United States, then a week of acclimatisation in Colombia.
She said, "It was good timing because that is the last time I will compete at 55kg." She  will have to move to one of the new Olympic weights for the Paris 2024 Olympic Games, either down to 49kg or, more likely, up to 59kg.
The fact that she is still on the platform, after all the demands on her time since her victory last year, is "absolutely amazing, it shows her incredible commitment" said Monico Puentevella, president of the Philippines Weightlifting Federation.
In the build-up to her victory in Tokyo, where she was the only weightlifter to finish ahead of a Chinese rival, Diaz spent months training in a remote village in Malaysia, having been stranded there because of Covid travel restrictions.
Her non-stop training there, without distraction, was a big help and there are times when she would like to be back out of the glare of public attention.
"It's really hard when you become so famous," she said. "I have been able to control it, but it's very hard with time management.
"There are so many opportunities. I do endorsements for a lot of products, I have a lot of events, I'm training hard and on top of that I'm studying."
"Just before we came here I had to defend my thesis," said Diaz, whose chosen subject was business studies at Saint Benilde, one of the top colleges in the Philippines.
"There are times when I wish I was back in Malaysia, in another country with all the time to focus on weightlifting, training all the time. I have had negative thoughts, doubts, and I have had a lot of injuries.
"But then I think no, I am so happy to be back in the Philippines, the country I love, and competing in weightlifting, the sport I love. I'm so grateful to the team."
Diaz was a clear winner on 93-114-207. Morales was clearly in pain throughout the clean and jerk but responded to the crowd's cheers to finish second on 89-110-199, ahead of Lopez on 90-108-198.
Lopez was second in the snatch but dropped to fifth in the clean and jerk, in which the bronze went to Shoely MEGO (PER).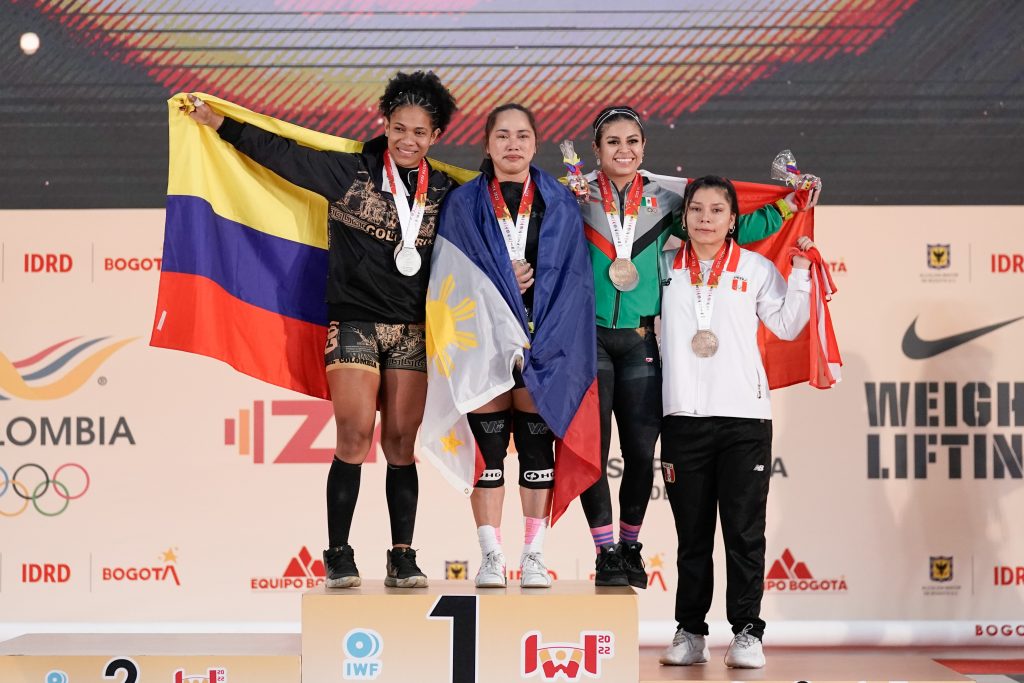 In the men's 61kg Li Fabin claimed a world record with his final lift. For the second time in two days the host nation Colombia won a medal from the B Group, and the three medallists from last year's IWF World Championships made only five good lifts between them from 18 attempts.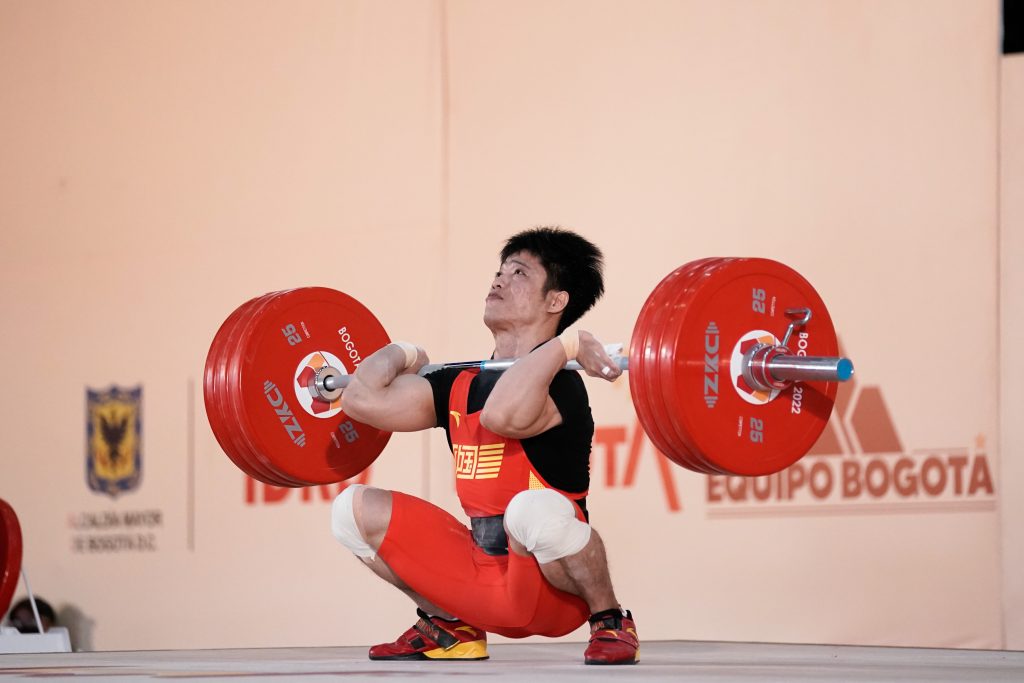 Li had already won when he came out on his second clean and jerk to try for the world record at 175kg. He failed that time but made it at the last attempt and finished 137-175-312.
His young team-mate He broke the junior world record on total, making 136-160-296 for third place overall.
Irawan made only two good lifts and lost his clean and jerk world record, but he held on to second place with 135-165-300.
Irawan was second in the clean and jerk ahead of two B Group lifters, Jhon Serna of Colombia who took bronze, and Teerapat Chomchuen of Thailand who was sixth on total, a place ahead of Serna.