Gold for China's Jiang – and Chanu earns cheers for great escape
By Brian Oliver
China and Thailand won gold on the second day of the 2022 IWF World Championships in Bogotá, Colombia, and Mirabai CHANU (IND) earned huge cheers from the crowd for performing a remarkable recovery to save a lift.
JIANG Huihua (CHN) defeated her team-mate HOU Zhihui (CHN), the Tokyo Olympic champion, and Chanu to win the women's 49kg. Jiang, who was winning her third world title, nearly bettered Chanu's clean and jerk world record too, but she just failed with her final attempt at 120kg.
Chanu earned the biggest cheer of the night from the crowd at the Gran Carpa Américas Corferias when she made a remarkable "save" from a seemingly impossible position on her third snatch attempt.
She appeared to have lost her balance and looked sure to hit the platform on her knees, yet somehow she kept her footing and made the lift. Some of the technical officials joined in the applause.
Another Olympic gold medallist, the Rio 2016 48kg champion Sanikun (formerly Sopita) TANASAN (THA), was seventh in the snatch on 85kg and failed to make a total after three failures in the clean and jerk.
Jiang, a world champion in 2015 and 2019, made 93-113-206, Chanu 87-113-200 and Hou was third on 89-109-198. Hou, whose four-year head-to-head score against Jiang now stands at 3-3, declined to take her final lift.
Hayley REICHARDT (USA) was fifth on total and won the clean and jerk bronze medal with 110kg.
Nina STERCKX (BEL) would have claimed the European snatch record with her 89kg third attempt, but Mihaela CAMBEI (ROU) came straight out and made 90kg to take that record and the snatch silver medal.
Cambei was fourth on total on 90-104-194, and Sterckx, who failed with her last two attempts, was fifth on 89-104-193 – the highest ever IWF World Championships finish by a Belgian female.
Sterckx won the junior world title at 55kg in May and, having weighed as much as 58kg earlier in the year, she had to lose 15 per cent of her body weight to compete in this category.
"You have to eat hardly anything – you don't want to know what I ate to get my weight down," she said.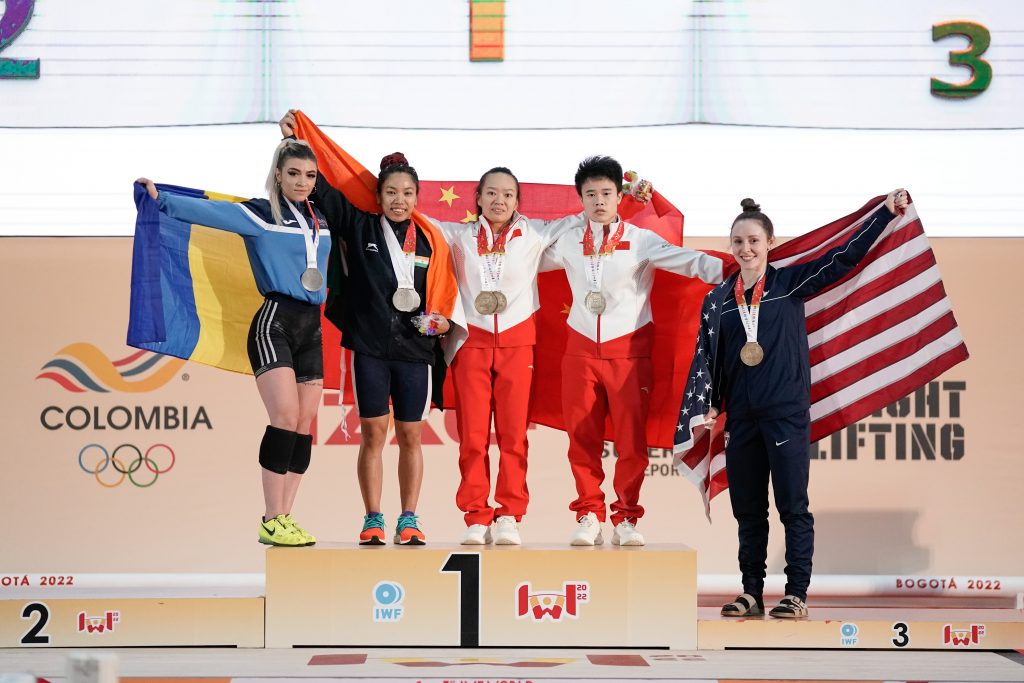 In the men's 55kg there were twice as many no-lifts as good lifts. Three of the eight athletes failed to make a total, there were six different medallists including a Colombian from the B Group, and 19-year-old Theerapong SILACHAI (THA) set a junior world record of 148kg in the clean and jerk.
The snatch gold medallist, the Asian champion LAI Gia Thanh (VIE), failed with all his clean and jerks.
Last year's world champion Arli CHONTEY (KAZ) was the only man to make two good snatches, which gave him the silver medal, but he dropped to fourth on total with only one successful clean and jerk, finishing 118-141-259.
NGO Son Dinh (VIE) was second on total with 117-143-260, ahead of KIM Yongho (KOR) in third place on 115-145-260.
Silachai made all three clean and jerks while his rivals had only four between them. Miguel SUAREZ (COL) was a clean and jerk bronze medallist from the B Group and was fifth on total with 105-143-248.