Antonio Urso, Secretary General of the IWF was awarded the highest honor conferred by CONI "the Golden Collar"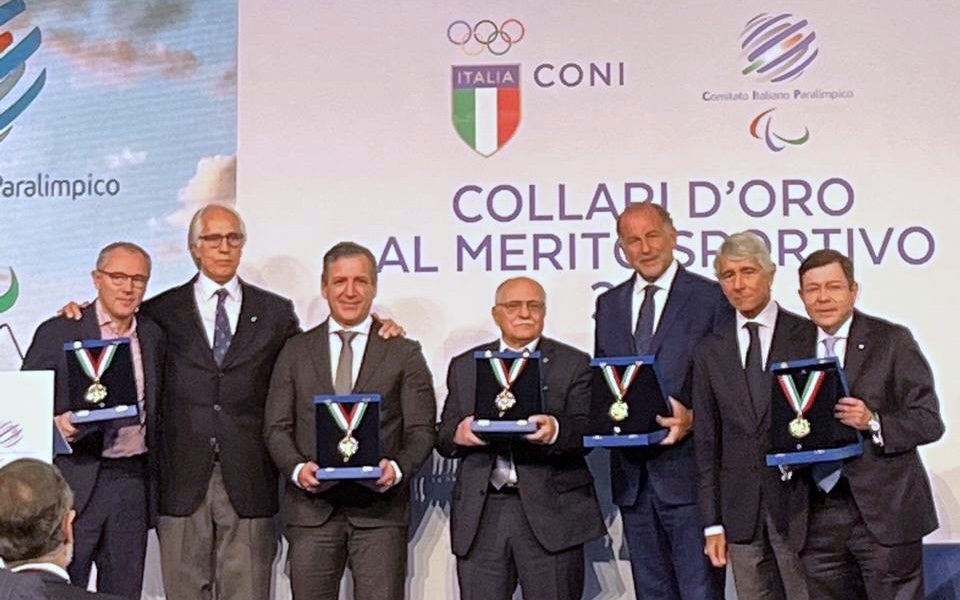 Antonio Urso, Secretary General of the IWF was awarded the highest honor conferred by CONI "the Golden Collar"
He received the Golden Collar from the President of Coni Giovanni Malagò. The Ceremony took place at the Monumental Gym of the Foro Italico University of sport, in the presence of the highest Italian sporting leaders.

The event was attended by the Minister for Sport and Youth, Andrea Abodi, the President of CONI, Giovanni Malagò and the President of the Italian Paralympic Committee, Luca Pancalli.

CONI President Giovanni Malagò IOC Member underlined in his opening speech: "Never has Italy won so many titles in history, thanks to technical athletes and sports federations that contribute to increasing the value of Italian sport"

A very special day therefore for the IWF Secretary General and FIPE President Antonio Urso who receives, in his already rich and vast palmares of awards and merits at national and international level, a recognition of such high and prestige that celebrates his tireless commitment, dedication and the results achieved both within the Italian Federation and in the international arena as well as in sport in general.

Antonio Urso said: "Today was a special day for me and for weightlifting. In Italy it is the first time that a gold collar has been recognized to a President of weightlifting and if I then think that just a few days ago the same recognition was given to the President of the IOC, I remain even more particularly grateful to the Italian Olympic Committee and to the its President Giovanni Malago for having valued all the great work done in these past years"

Also on this occasion, as has already happened in previous years, in addition to the world champions of the Olympic and Paralympic disciplines, the male and female athletes who boasted the world title in 2022 are awarded the prestigious award.

Among the personalities awarded together with the IWF Secretary General Antonio Urso, the following received the recognition: Stefano Domenicali, President and managing director of the Formula One Group, the Federal Presidents Luciano Rossi, Ugo Claudio Matteoli and the world president of sports doctors, Fabio Pigozzi.