Lesman and Meso – Champions of Day 8 of the 2022 Asian Championships
The program of 8th day at the 2022 Asian Championships included the Men 96kg and the Men 102kg categories, where in both categories an IWF Ambassador Athlete became the Asian Champion.
Men 96kg category
This was the first competition of Lesman Parades Montano current M96kg Snatch World Record holder under the nationality of Bahrain, after changing it from Colombian and also the first competition after a surgery.
His result couldn't have been better as he right away won the Snatch Gold with 182kg, which was just 5 kg below his record of 187kg and then became the Asian Champion in Total with 397kg. This shows great prospects regarding his performance for the 2022 IWF World Championships which will be held in December in Bogota, Colombia.
Silver Snatch medal went to Po-Jen Chen (TPE) with 177kg who placed 5th at the Tokyo Olympic Games. Finally Nurgissa Adiletuly (KAZ) finished the podium with his second lift of 172kg.
In Clean&Jerk Artyom Antropov (KAZ) proved to be the strongest with 219kg. Lesman collected a Silver medal with 215kg which was his personal best at international competition. The C&J podium was completed with Chen with his third lift of 206kg.
The Total Podium of the category was as follows:
Lesman Paredes Montano (BRN) – 397kg
Po-Jen Chen (TPE) – 383kg
Artyom Antropov (KAZ) – 377kg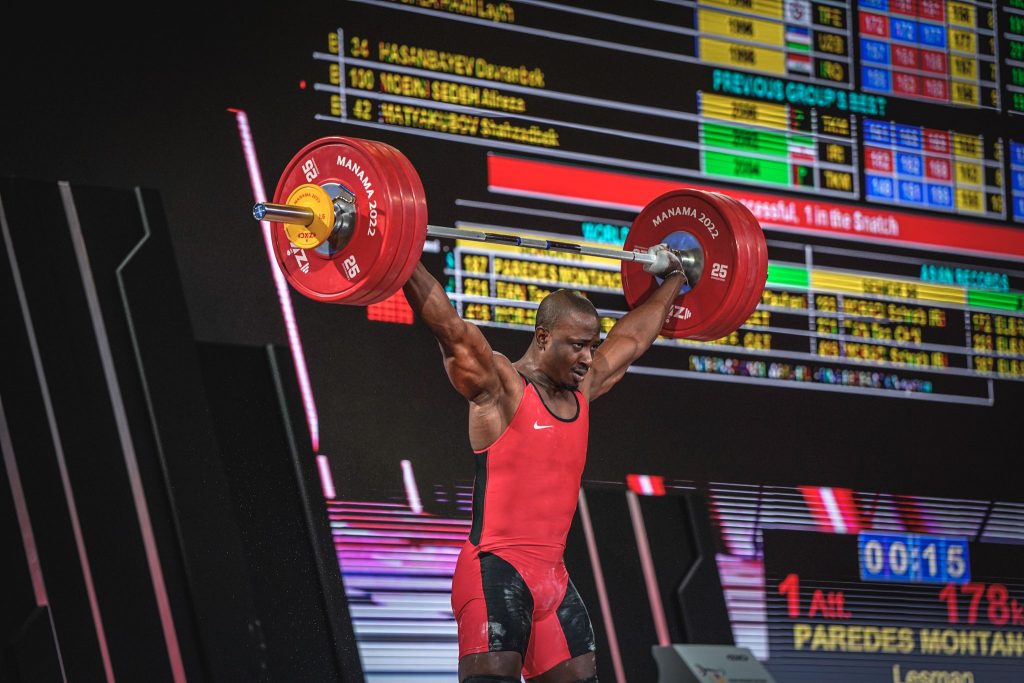 Men 102kg category
This category featured Tokyo 2020 Champion in M96kg, Fares Elbakh, who due to the new Olympic bodyweight categories went up to 102kg. 
The Gold medal in Snatch went to Sharofiddin Amriddinov (UZB), 2022 Junior World Champion in 102kg, with 172kg, Fares Elbakh (QAT) finished at 2nd place with 171kg, and Reza Dehdar took Bronze with 170kg.
In C&J Amriddinov added a Bronze medal to his collection with 196kg which he lifted on his second attempt. The competition between the two strongest in C&J became interesting after both Dehdar and Elbakh made a successful first lift (202kg and 215kg). Dehdar with his team decided to increase his next lift to 230kg for which the answer of the team of Elbakh was to increase to 235kg. Of course as they weights were to big for both as it was only a strategy, Dehdar had to decrease to 221kg which he tried to lift and then 222kg on his third attempt but both were unsuccessful. As Elbakh already won with his first lift he declined all his remaining attempts and collected the Gold medal.
Total Podium of the Men 102kg category:
Fares Elbakh (QAT) – 386kg
Reza Dehdar (IRI) – 372kg
Sharofiddin Amriddinov (UZB) – 368kg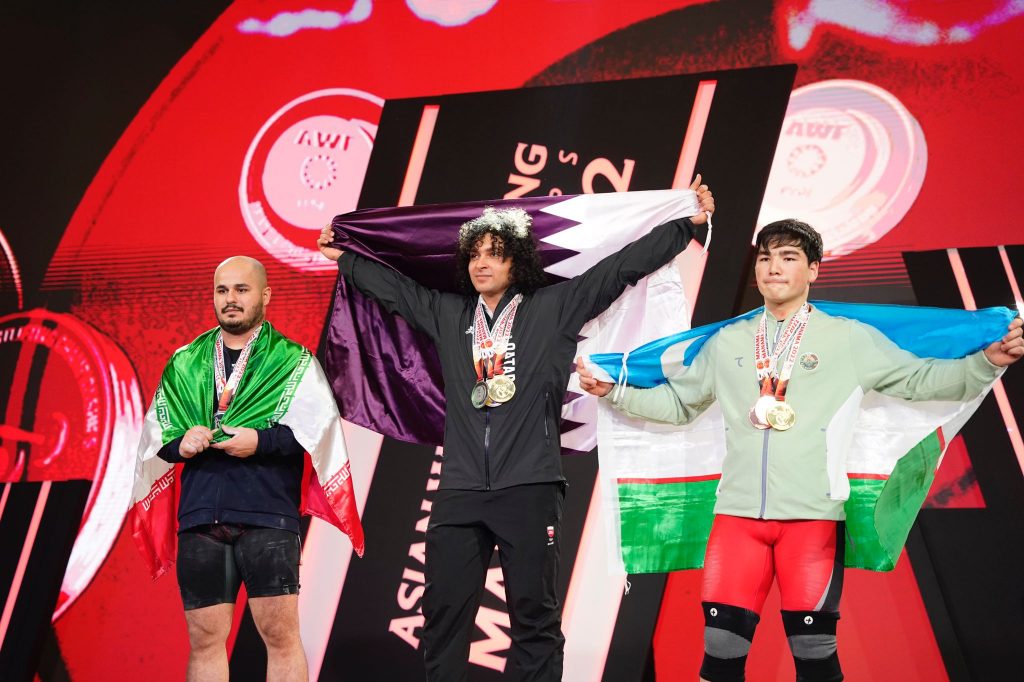 The last day tomorrow will feature the Men 109kg, the Women +87kg and the Men +109kg categories.