Day 7 – 2022 Asian Championship
The seventh day featured two female categories, the Women 81kg and Women 87kg categories.
Women 81kg category
In the Snatch portion of the Women 81kg category the medalist were as follows: Seyedehelham Hosseini (IRI) became the Asian Champion with 102kg, second place went to Motoka Nakajima (JPN) with 100kg and the last medal of Snatch was collected by Rigina Adashbaeva (UZB) with 97kg.
In Cleand&Jerk the competition was a close one between the medalist. Hosseini won another Asian Champion title with her second lift of 125kg, Aisha Omarova (KAZ) made a Silver medal finish with 124kg and Nakajima completed the podium with her lift of 123kg.
Total podium of the Women 81kg category:
Seyedehelham Hosseini (IRI) – 227kg
Motoka Nakajima (JPN) – 223kg
Aisha Omarova (KAZ) – 217kg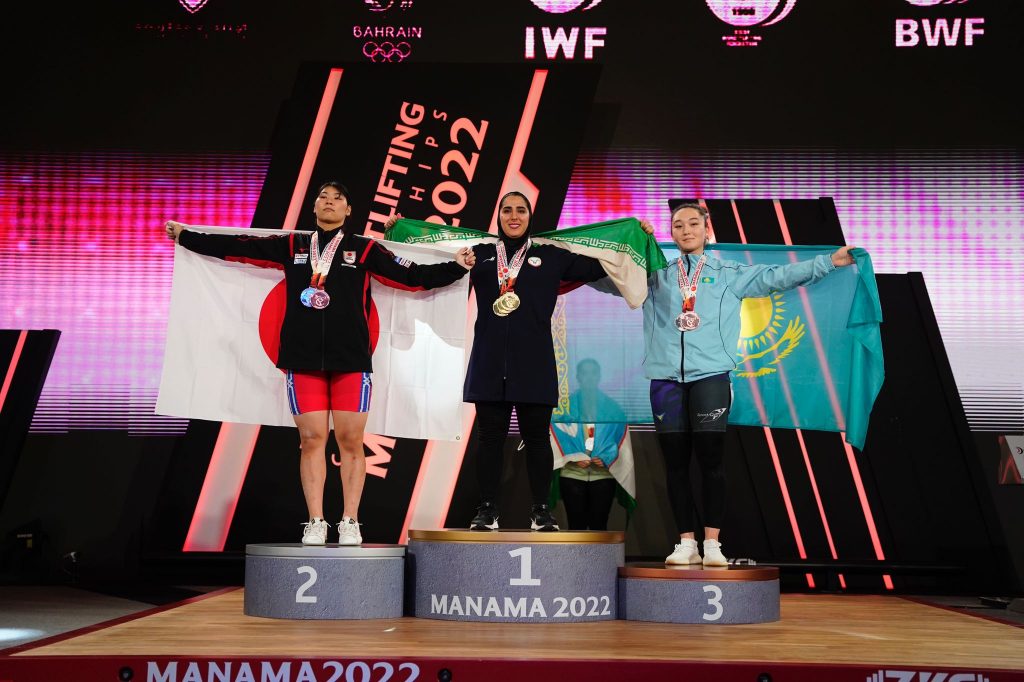 Women 87kg category
In the Women 87kg category, Ankhtsetseg Munkhjantsan from Mongolia became the overall winner as with her lifts of 114kg-135kg-249kg collected all three Gold medals. 
The other medalist in Snatch were Tursonoy Jabborova from Uzbekistan who placed 2nd with 112kg and Ying-Yuan Lo from Chinese Taipei who finished at 3rd place with 110kg.
In case of C&J the two teammates from Chinese Taipei, Lo and Chia-Hsin Tian made a podium finish with 133kg and 131kg. 
Women 87kg Total Podium was as follows: 
Ankhtsetseg Munkhjantsan (MGL) – 249kg
Ying-Yuan Lo (TPE) – 243kg
Tursunoy Jabborova (UZB) – 242kg