Day 6 – 2022 Asian Championships
On day 6 of the 2022 Asian Championships the action continued with Men 89kg and the Women 76kg categories.
Men 89kg category
The day started with the Men 89kg category where 15 Athletes were competing for the Asian Champion titles.
In Snatch, Emil Moldodosov (KGZ) won with 166kg, which was his all time best at international competition. Silver medal went to Assylzhan Bektay (KAZ) with 165kg. Mohammad Zarei (IRI) made the same best lift however as he did it later, he could only take the Bronze medal.
In C&J Bektay made a winning lift of 197kg, Masoud Chatrei (IRI) went home with a Silver medal with his lift of 196kg and Moldodosov collected a Bronze with 195kg.
The Total podium was as follows:
Assylzhan Bektay (KAZ) – 362kg
Emil Moldodosov (KGZ) – 361kg
Masoud Chatraei (IRI) – 358kg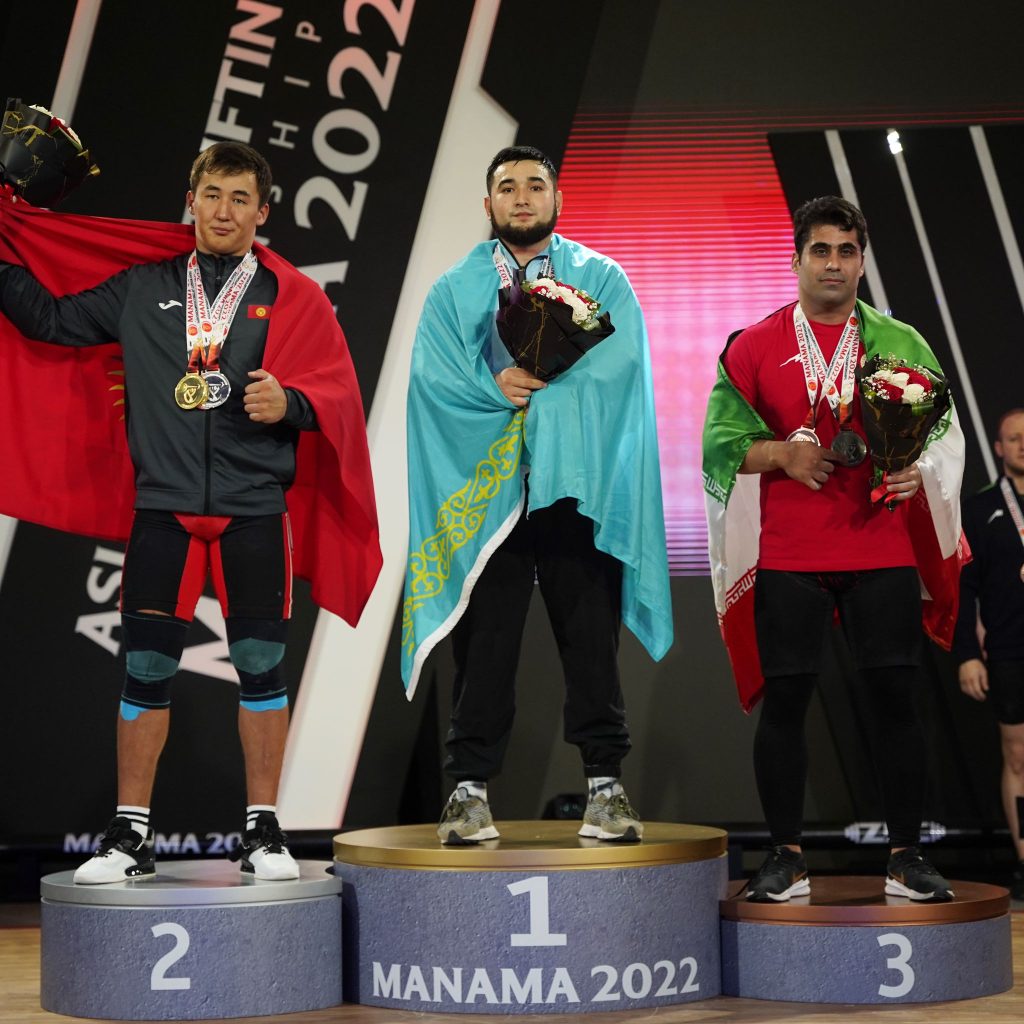 Women 76kg category
The last competition of the day was the Women 76kg category. 
In Snatch, the clear winner was Cuiting Peng (CHN) whose starting lift was 17kgs more than the Silver medalist's best lift, therefore she took Gold with her only good attempt of 115kg. Darkhijav Otgonbayar (MGL) placed second with 98kg and Aray Nurlybekova (KAZ) the third with 97kg.
In the C&J portion of the category once again Peng won Gold with 128kg, Silver went to Duangkamon Khongthong (THA) with 125kg, and Nurlybekova added another Bronze medal to her collection with 124kg.
Women 76kg Total medalists:
Cuiting Peng (CHN) – 243kg
Aray Nurlybekova (KAZ) – 221kg
Duangkamon Khongthong (THA) – 221kg