Gold Medal for China and Uzbekistan -Third Day at the 2022 Asian Championships
The third day of the 2022 Asian Championships featured the Women 59kg and Men 67kg categories.
Women 59kg category
The Women 59kg started the day in Manama on the third day of the competition where 9 athletes were competiting for the Asian Championships titles.
In the Snatch portion of the program Quang Thi Tam (VIE) with only one good lift (93kg) took Gold. Her best was 4kg more than what she lifted at this years Asian Junior Championships where she also won. Second place went to Enkhtamir Enkhbaatar (MGL) who went 3-from-3 with her best lift being 92kg. The Snatch podium was completed by Xue Long (CHN) who lifted 91kg at her first international competition.
In Clean&Jerk, Thi Tam won Bronze with 115kg. While she tried to lift 119kg on her third attempt – which lift would have brought her the Gold in both C&J and Total – sadly it was a no lift. Second place went to Natasya Beteyob (INA) with 116kg and the Asian Champion title went to Xue Long after on her last attempt she could manage 118kg.
Women 59kg Total Podium:
Xue Long (CHN) – 209kg
Quang Thi Tam (VIE) – 208kg
Natasya Beteyob (INA) – 205kg
Men 67kg category
The last category of the day was the Men 67kg one which started at 18:30 local time.
In this category the ranking of the medalist remained the same throughout the competition: Uzbek athlete Adkhamjon Ergashev won it all with 138-176-314kg, Mohammad Yasin from Indonesia took Silver with 137-166-303kg, while Anucha Doungsri from Thailand placed third with 136-165-301kg.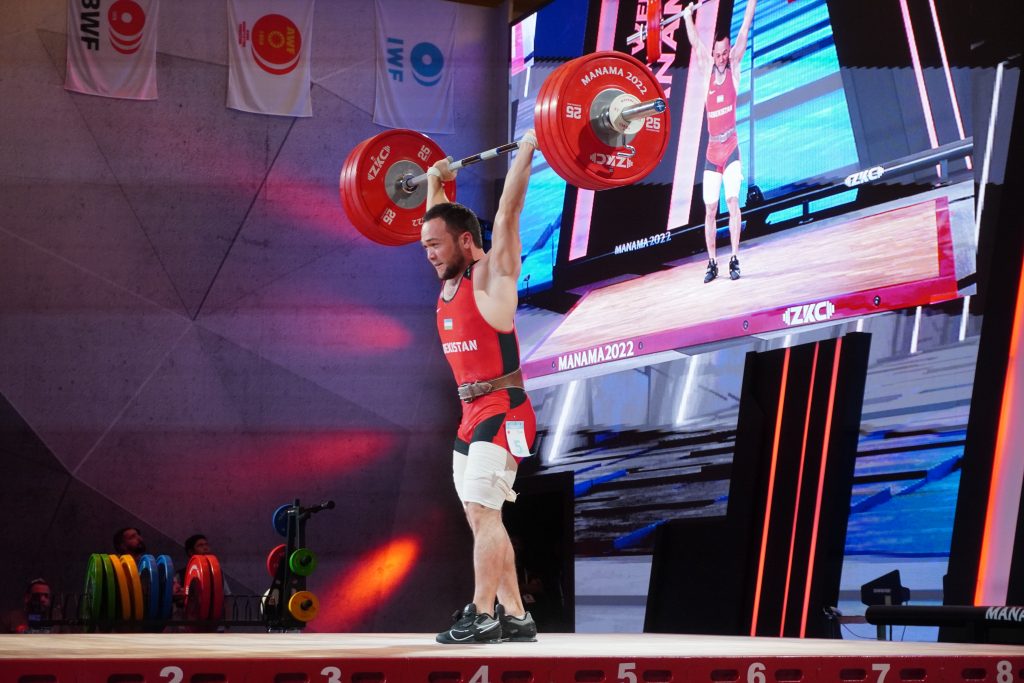 Tomorrow the action continues with the Men 81kg (Group B), the Women 64kg and Men 73kg categories featuring 2021 IWF World Champion Doston Yokubov (UZB) and current Junior World Record holder Rizki Juniansyah (INA).