Junior Asian Record for Malaysia – Day 2 of the 2022 Asian Championships
Day 2 of the Asian Championships featured the Men 55kg, Men 61kg and Women 55kg categories.
The day started with the Men 61kg Group B, where we could witness the first record of the competition. Mohamad Aniq Kasdan from Malaysia lifted a 160kg C&J and with that broke the Junior Asian Record of the category.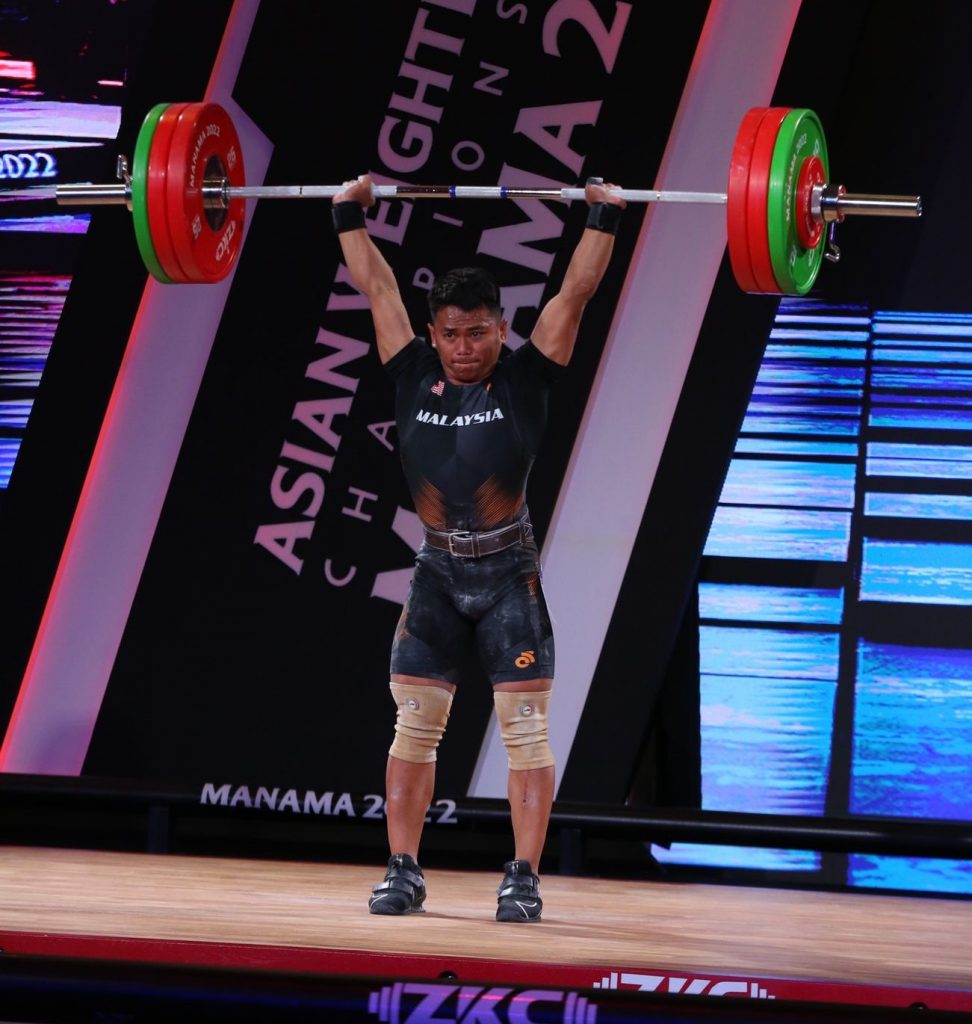 Men 55kg Category
The competition was on between 2021 World Champion, Arli Chontey (KAZ), this years SEA Games Champion, Lai Gia Thanh (VIE) and Mansour Al Saleem (KSA), 2019 IWF World Championships Bronze medalist.
In Snatch, Chontey placed 3rd with 116kg. Second place went to Al Saleem with 119kg, and Gia Thanh became Snatch Asian Champion with 120kg.
In C&J, the same athletes made the podium but in different order: Al Saleem won Bronze medal with 140kg, second place this time went to Gia Thanh with 142kg and Chontey won Gold with 144kg.
Total medalists of the category:
Lai Gia Thanh (VIE) – 262kg
Arli Chontey (KAZ) – 260kg
Mansour Al Saleem (KSA) – 259kg
Women 55kg Category
In Snatch, Linglong Yu (CHN) at her first international event since 2016 finished at 1st place. Even though Zulfiya Chinshanlo (KAZ) lifted the same weight (95kg), as Yu did it first, Chinshanlo could only get Silver. The Snatch podium was completed with Nigora Abdullaeva (UZB) with her third lift of 87kg.
In C&J, Tokyo 2020 Bronze medalist, Windy Cantika Aisah placed third with her last attempt of 106kg. Linglong Yu after her Gold medal in Snatch collected a Silver medal in C&J with her first lift of 115kg. Chinshanlo was the absolute winner of the category as with her second lift of 125kg she won by 10kgs. She also tried to beat the Senior World and Asian Record with 130kg but at the end it was a no lift.
The Total podium was as follows:
Zulfiya Chinshanlo (KAZ) – 220kg
Linglong Yu (CHN) – 210kg
Nigora Abdullaeva (UZB) – 193kg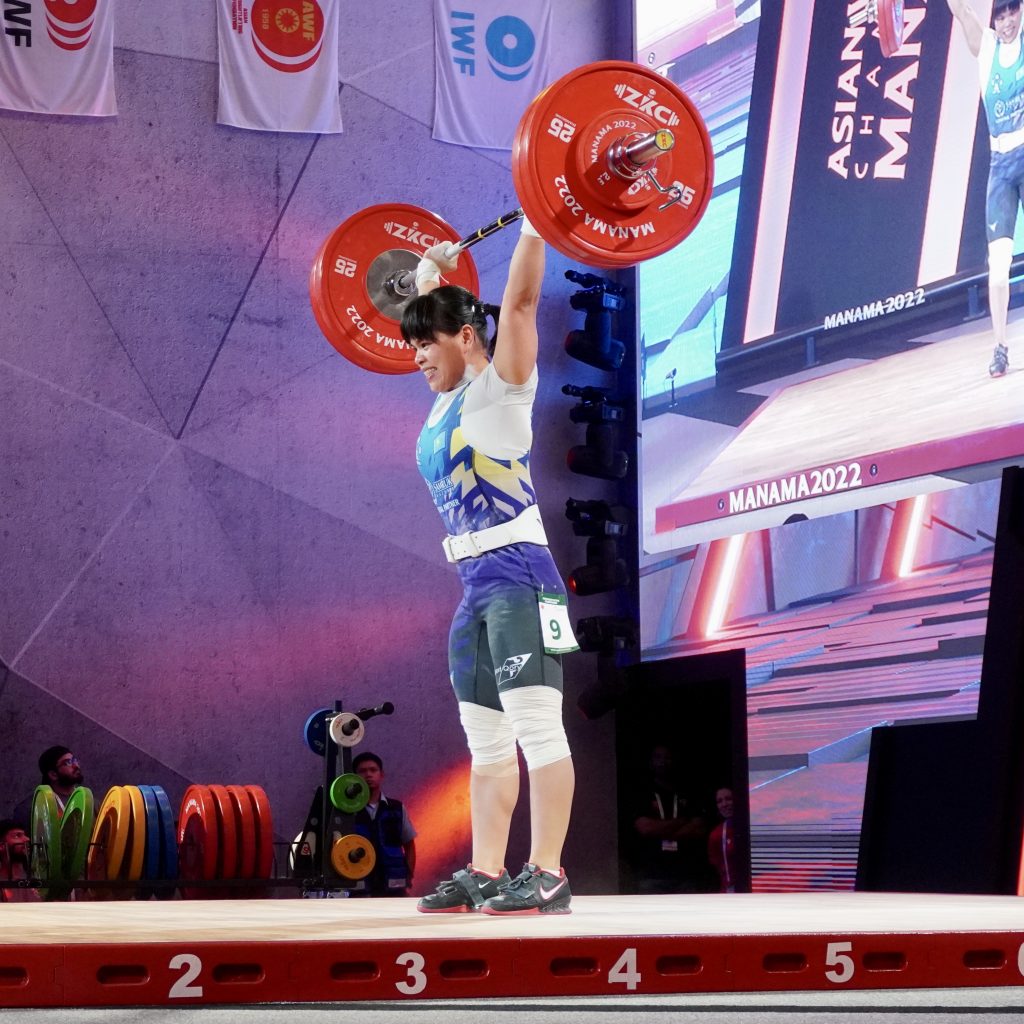 Men 61kg Category
The last category of the day was the Men 61kg. 
In the Snatch portion of the category, Bronze medal went to Ricko Saputra from Indonesia with 133kg and Silver to Nguyen Tran Ahn Tuan from Vietnam with 134kg. The strongest of the category was Xionghui Jia from People's Republic of China who took Gold medal with 140kg. He tried to break Fabin Li's record of 145kg but unfortunately he didn't manage his last attempt of 146kg.
In Clean & Jerk, Saputra collected his second Bronze of the night with 158kg. As the suprise of the day, Mohamad Aniq Kasdan not only broke the Junior Asian Record with 160kg, he also became Silver medalist from Group B. Finally Tran Anh Tuan placed first with his second lift of 161kg.
The last Total podium of the day was the following:
Xionghui Jia (CHN) – 296kg
Nguyen Tran Anh Tuan (VIE) – 295kg 
Ricko Saputra (INA) – 291kg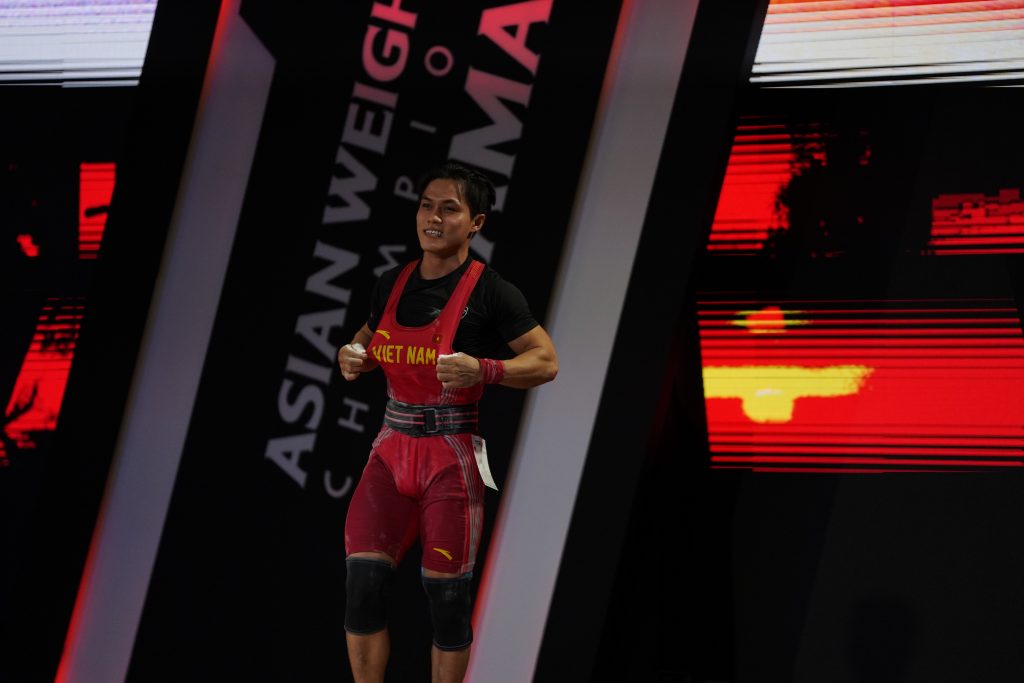 Tomorrow the action continues with the Women 59kg and Men 67kg categories.