Vietnam and China shine on the first day of the 2022 Asian Championships
The 2022 Asian Championships started today in Manama, Bahrain at 4PM local time. The first day featured the Women 45kg and Women 49kg categories.
Women 45kg Category
In Snatch the 2019 IWF Junior World Champion, Khong My Phuong (VIE) took Gold with 78kg, SEA Games Bronze medalist, Siti Nafisatul Hariroh (INA) won Silver with her second lift of 71kg and Harshada Sharad Garud (IND) finished at third place with 68kg.
In C&J, as Phuong couldn't make a successful lift on her third try, she won Silver with 88kg, while Nafisatul lifted 91kg on her third attempt and therefore took the Gold. The C&J podium was completed by Rose Jean Ramos (PHI) with 85kg, the same weight she lifted at this years IWF Youth World Championships in León, Mexico.
The Total podium was as follows:
 Khong My Phuong (VIE) – 166kg
Siti Nafisatul Hariroh (INA) – 162kg
Harshada Sharad Garud (IND) – 152kg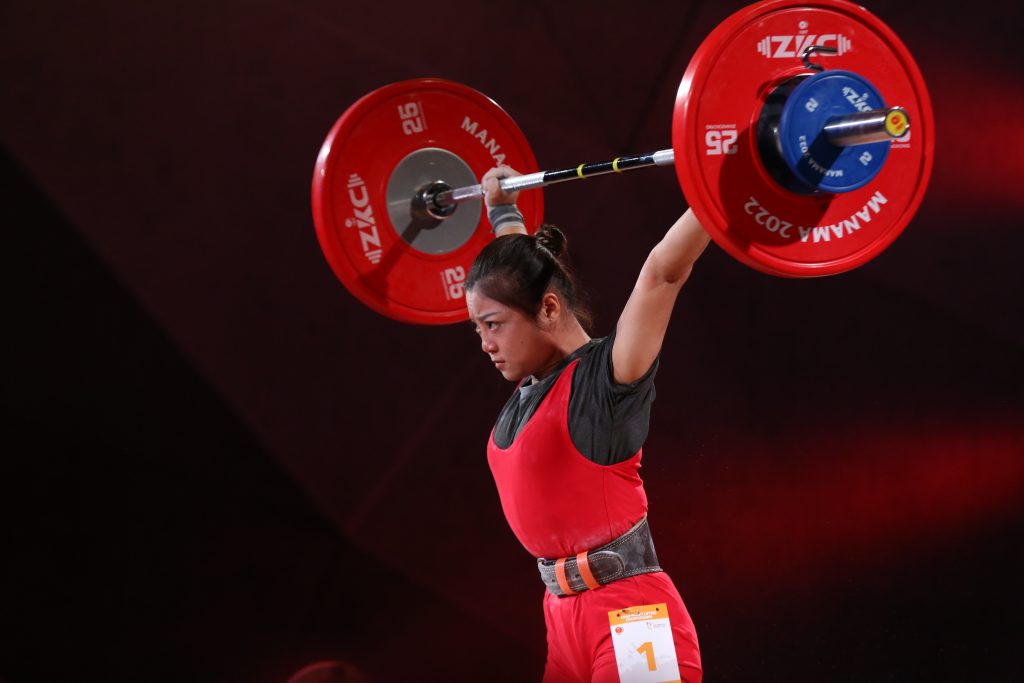 Women 49kg category
In the Snatch portion of the category, the Chinese and Vietnamese athletes, Jiali Wang and Tran Thi My Dung were both going for Gold based on their starting weights. At the end they both only had one good attempts and as Wang lifted 1 kg more (81kg) she placed first, and Dung the second (80kg). Bronze went to Asian Junior Silver medalist, Jamila Panfilova (UZB) with 79kg.
The biggest suprise of the C&J portion of the program was Snatch Silver medalist, Dung bombing out. With her not being a medal contender the field became open for others. In case of the Gold medal, there was no question, Wang with 3 good lifts won the category (105kg). Silver was won by Jing Lin Cheng (TPE) with also 3 good lifts, the best being 102kg and the last medal of the C&J went to 2018 World Champion in the W45kg category, Yulduz Jumabayeva (TKM) with 97kg.  
The last Total podium of the day was as follows:
Jiali Wang (CHN) – 186kg
Jing Lin Cheng (TPE) – 181kg
Yulduz Jumabayeva (TKM) – 172kg 
Tomorrow the competition continues with the Men 55kg, Men 61kg and Women 55kg categories at 11AM local time.