First World Champion Title for Malta – Third Day at the 2022 IWF Youth World Championships
The third day here in León, Mexico featured the Women 49kg, the Men 67kg and the Women 55kg categories.
Women 49kg Category
In the Snatch portion of the category Luluk Diana Tri WIJAYANA from Indonesia didn't leave a chance for the others in the group. She went 3-from-3 with 70-72-75kg and won Gold. Silver went to Oliwia Weronika DRZAZGA from Poland with 70kg, and Darya BALABAYUK from Kazakhstan clinched Bronze with he second lift of 69kg. 
In Clean&Jerk Wijayana continued where she left of in the Snatch and easily won first place in C&J with her second attempt of 95kg. She also tried to lift 100kg on her last but it was a no lift. Just like in Snatch Drzazga took the Silver medal with her second lift of 91kg and Bahar KIRAT (TUR) finished third with 86kg.
In Total, both Wijayana and Drzazga collected their third medal of the day (Gold and Silver respectively) and Joseline LOPEZ GONZALEZ from Mexico finished third with 153kg infront of home crowd.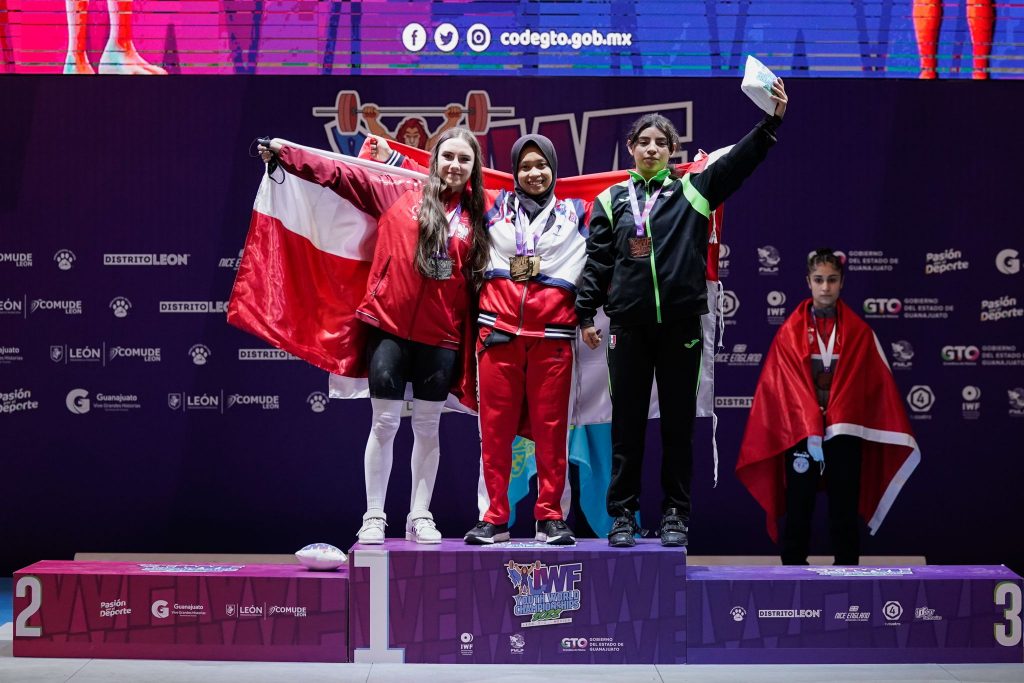 Men 67kg Category
The Men 67kg started at 15:00 local time with 9 athletes competing for the World Champion titles.
In Snatch, based on entry totals Yerassyl SAULEBEKOV (KAZ) had the highest chance to win Gold however after he missed his first two attempts it wasn't so sure anymore. On his last attempt however he showed to everyone that he is capable of lifting much more and with that lift placed first. Second and third place went to the two Turkish athletes in the group, Halil Ibrahim AKBULUT took Silver with 122kg and Alaaddin SAYIN the Bronze with 121kg.
In Clean&Jerk Bartosz BURSKI from Poland managed to get in between the Turkish athletes and clinched Bronze with his third attempt of 153kg. Sayin won Silver with 157kg, and with just 1kg more Saulebekov took Gold medal with 158kg.
The Total podium followed the C&j one, Saulebekov became Youth World Champion with 281kg, Sayin finished second with 278kg and Burski collected his second Bronze medal with 269kg.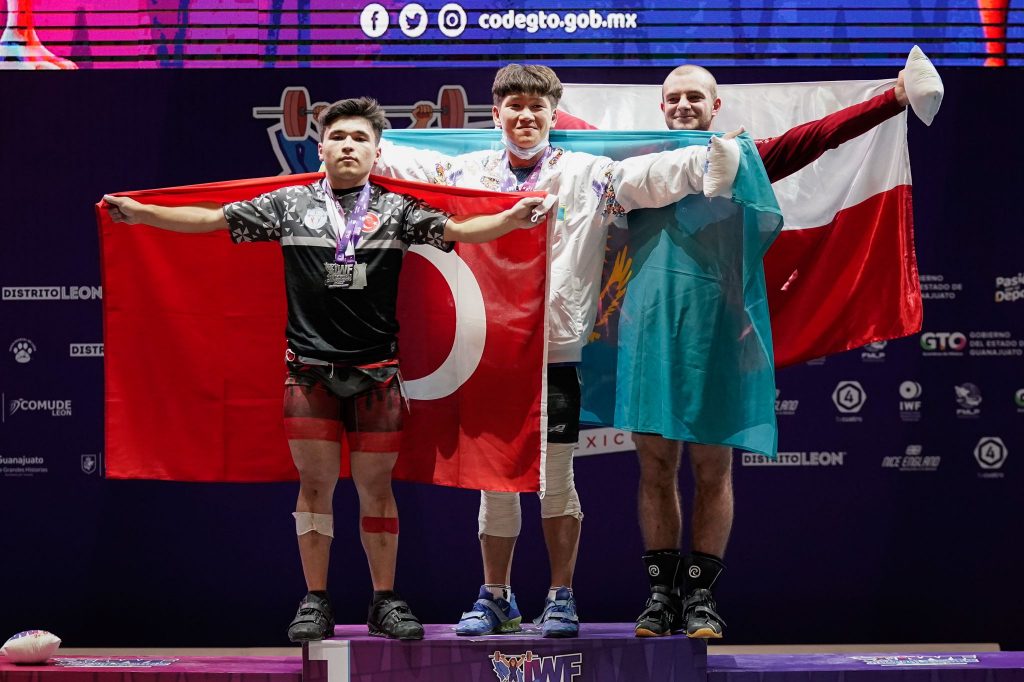 Women 55kg Category
In Snatch based on starting weights Tenishia THORNTON from Malta and Maria Jose HERNANDEZ VERDIN from Mexico had the highest chance of winning Gold. Maria Hernandez who is living in León, Mexico also celebrated her 17th birthday today. Hernandez successfully lifted 75kg on her first lift, while Thornton missed her first one of 76kg. Thornton tried 76kg once again which she managed on her second lift. Then came Noura Essam Helmi Abdelbari MOHAMED from Egypt who on her last attempt also lifted 76kg. Hernandez attempted 77kg on both her second and last lift but sadly couldn't perform another good lift so she won Bronze in the category. As Thornton did a good lift of 78kg, she ensured that she won in Snatch, while Mohamed finished second.
In C&J the same podium followed as in Snatch. Maria Hernandez won another Bronze medal with her first attempt of 93kg, Mohamed took Silver with her 2nd attempt of 95kg and Thornton once again won Gold with 100kg. 
The Total podium was as follows: Thornton was awarded as the Total Youth World Champion with 178kg, Mohamed took Silver with 171kg, and Hernandez finished third with 168kg. 
With winning the category, Tenishia Thornton also won the first ever World Champion title in the history of Malta.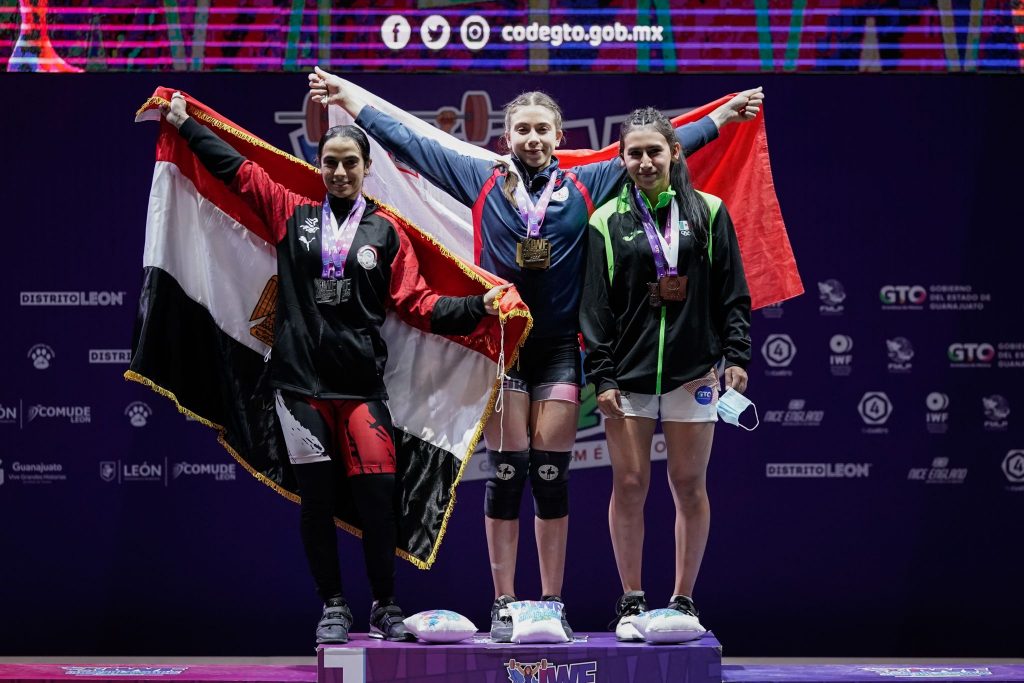 Tomorrow the program continues with the Women 59kg, the Men 73kg and Men 81kg categories. Follow the livestream on the IWF YouTube Channel.