Last lift = New Junior World Record for Yousefi – Last Day of the 2022 IWF Junior World Championships
The last medals were distributed on the 9th and last day of the 2022 IWF Junior World Championships in the Women +87kg and Men +109kg categories. The competition came to a excellent conclusion as the last lift of the event was a new Junior World Record.
Women +87kg Category
The last female category of the Junior World Championships started the day at 12:00 local time with 11 athletes competing for the medals.
In Snatch, Hyejeong PARK (KOR) at her first World Championships won Gold with 120kg, Aisamal SANSYZBAYEVA (KAZ) winner of the IWF Online Youth World Cup took Silver with 112kg and Abdeek Noemi RODRIGUEZ LUGO from Mexico finished third with 111kg.
In the Clean&Jerk portion of the program, Rodriguez collected her second Bronze medal with 141kg, Hyoeon KIM (KOR) went 3-from-3 with 135-141-145kg placed second, and Park won another Gold with 161kg.
The last female podium of the 2022 IWF Junior World Championships was as follows: Naturally Park won with 281kg, her teammate Kim collected her second Silver medal with 253kg and Sansyzbayeva won her second medal of the day, this time a Bronze with 252kg.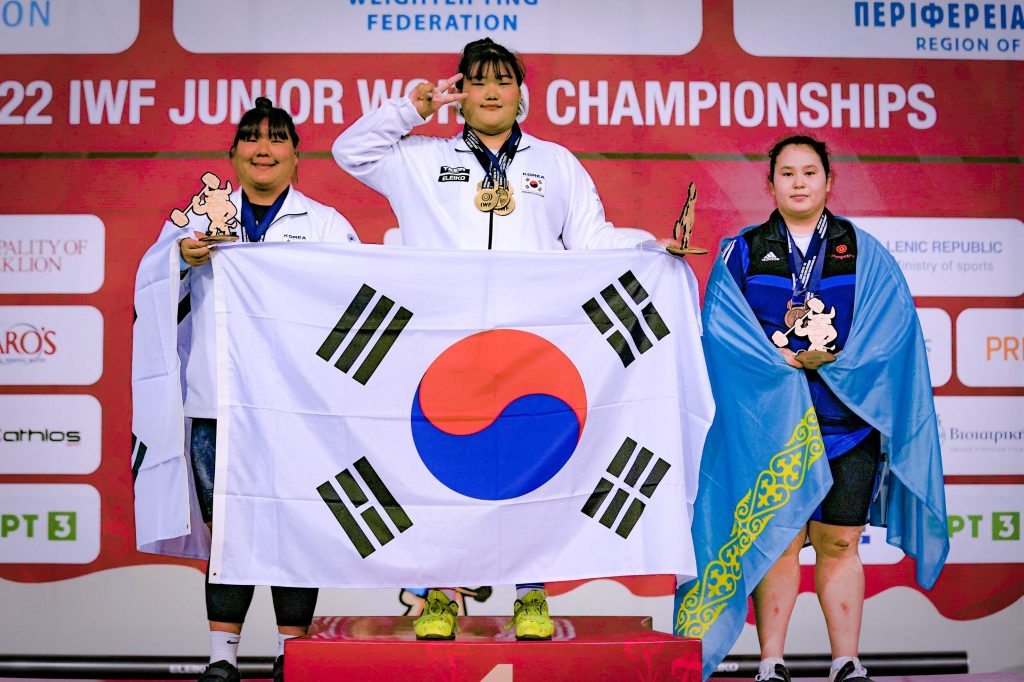 Men +109kg Category
Current Junior C&J World Record holder Alireza YOUSEFI was the biggest name of the category who repeated his performance from the 2021 IWF World Championships and broke the Junior C&J World Record of the Men +109kg category.
In Snatch, Bohdan TARANENKO from Ukraine got the Bronze with his third attempt of 167kg. The Gold and Silver medal was decided between Mirkhosil MIRZABAEV from Uzbekistan and Alireza YOUSEFI from Islamic Republic of Iran. They both went 3-from-3 but Yousefi could always keep the 1 kg advantage between him and Mirzabaev, therefore he won Gold with 177kg and Silver went to Mirzabaev with 176kg.
In C&J the difference between Yousefi and all the athletes were clearly shown as he started the C&J portion when all the athletes already finished their attempts. Atajan DAYIYEV (TKM) finished at third place with 208kg and Mirzabaev collected his second Silver medal with 212kg. The show however just started after they finished with their lifts. Yousefi started his attempts at 215kg and already on his second attempt increased to a weight which would have meant a new Junior World Record with 239kg. Even though he missed his second attempt, on his – and the Junior World Championships' last lift he broke his own previous record of 238kg.
In the last Total of the competition the medals were awarded as follows: Yousefi won it all with 416kg, the Silver was awarded to Mirzabaev with 388kg and the last Bronze medal went to Taranenko (UKR) with 374kg.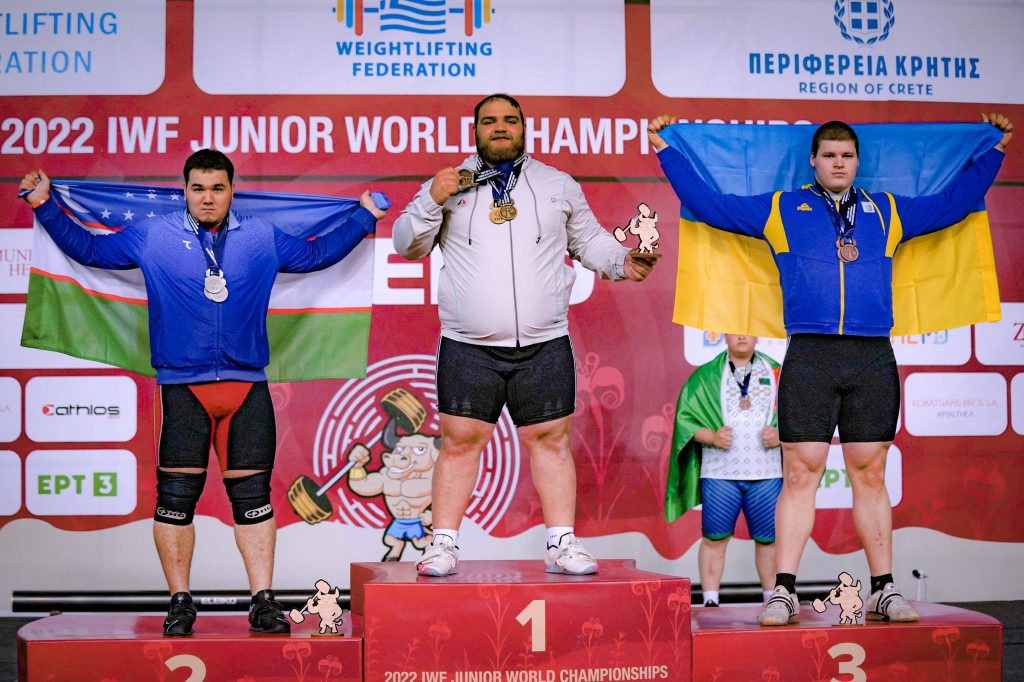 The footage of the entire 2022 IWF Junior World Championships is available on the IWF Facebook and YouTube Channel.