New Junior World Record for Ukraine – Day 8 at the 2022 IWF Junior World Championships
The second to last day of the 2022 IWF Junior World Championships featured the Men 102kg, Women 87kg and Men 109kg categories. In the last category of the day we experienced 2 new junior world records by Bohdan HOZA from Ukraine.
Men 102kg Category
In Snatch, Tokyo 2020 Olympian Hamada MOHAMMED (PLE) won Gold with 168kg which was an extraordinary best at international competition for him.  Sharofiddin AMRIDDINOV (UZB) finished second with the same weight just he lifted it later. Third place went to Mykyta RUBANOVSKY (UKR) with 163kg.
In Clean&Jerk four athletes were in competition for the medals. Mohammed the winner of Snatch on his second attempt lifted 197kg however the Jury decided to review his attempt and deemed it 'no lift'. Even though the Palestine team challenged the decision the final decision was an unsuccessful attempt. As he also wasn't successful in his last attempt he missed the medal in C&J. Bronze medal went to Rubanovskyi with 195kg, Silver to Petros PETROSYAN (ARM) with 202kg and the winner of the category became Amriddinov with 204kg.
The total medalist were as follows: Amriddonov took Gold, Silver went to Petrosyan and Rubanovskyi finished third.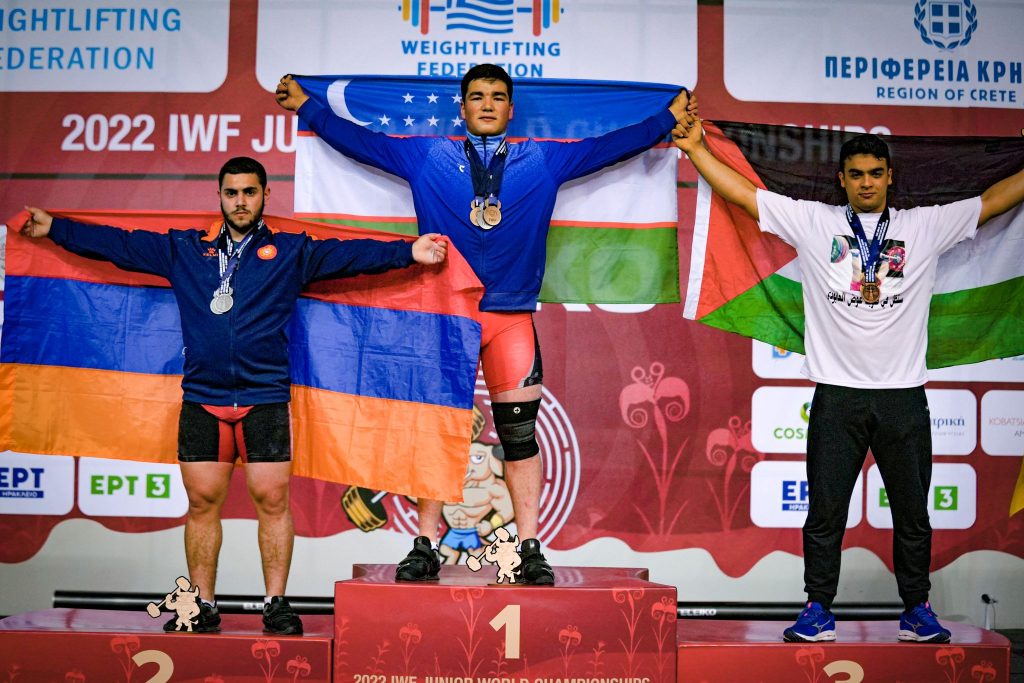 Women 87kg Category
In the Snatch portion of the program, Tursinoy JABBOROVA from Uzbekistan give it all and won Gold with her 109kg third attempt. This was 4kg less than what she lifted at last years Senior World Championships which then gave her the Gold medal. Two athletes in this session Yekta JAMALI GALEH (IRI) and Amanda ROBLES (USA) lifted the exact same three lifts – 94-98-100kg. However as Jamali lifted them first she got the Silver and Robles took the Bronze medal.
In Clean&Jerk, once again Jabborova won the World Champion title as she went 3-from-3 and with 129kg finished first place. This time the Silver went to Elizabeth Caridad REYES ENTENZA, a Cuban athlete who at her first international event lifted 127kg. The last medal of the C&J podium was won by Sara YENIGUN of Turkey with the same weight as Reyes but as lifted later she could only take Bronze.
In Total, Jabborova collected her third Gold medal at this years Junior World Championships with 238kg, Reyes won Silver once again after her C&J medal with 226kg and Avery OWENS (USA) finished third with 222kg.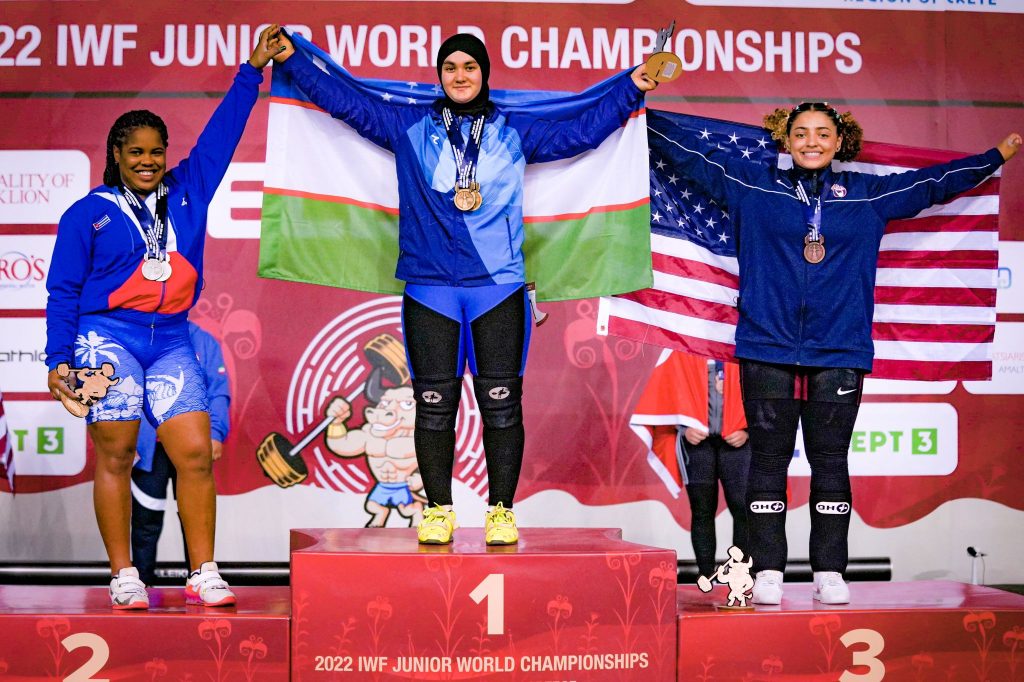 Men 109kg Category
After last years win and Junior World Record, Bohdan HOZA continued where he left of in Tashkent, Uzbekistan. He has not only won Gold after his first successful Snatch of 180kg, already on his second attempt broke his own Junior World Record by 1kg (191kg). He then decided to increase his last lift to 195kg by which he clinched his second Junior World Record of the day. Silver was won by Ammar RUBAIAWI ALI from Iraq with 168kg and Bronze medal of Snatch went to Seunghoon LEE (KOR) with 162kg.
In Clean&Jerk, once again Hoza won with 215kg which was 2kg more than he has ever lifted at international competition. After his 2nd attempt he declined his last attempt. Silver was won by Onur DEMIRCI (TUR) with 196kg and Colombia's Fernando BONILLA GRANJA ARLEY finished third with 195kg after his first two failed attempts.
Total medals were won as follows: Hoza was awarded as World Champion with 410kg, Ammar Ali placed second with 359kg. Between his and Hoza's Total there was a huge difference of 51kg. The last medal of the day went to Bonilla with 355kg.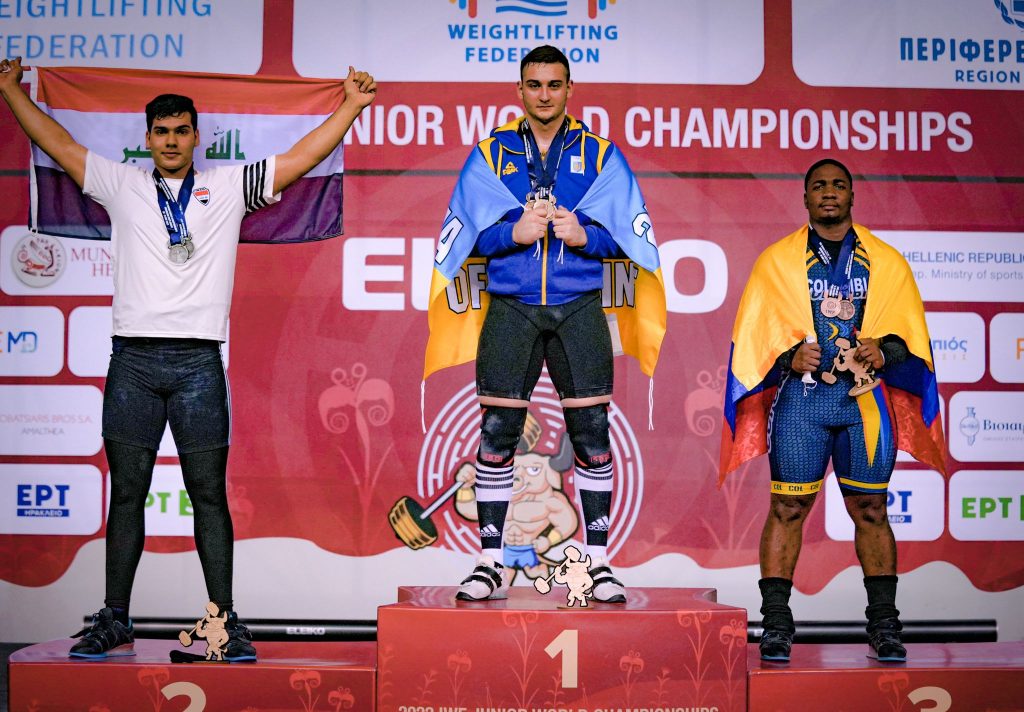 The last day of the 2022 IWF Junior World Championships will commence with the Women +87kg and Men +109kg Categories tomorrow at 12:30 local time.
The live broadcast is available on the IWF Facebook, IWF YouTube Channel and on the Olympic Channel.