Day 6 – 2022 IWF Junior World Championships
Day 6 of the 2022 IWF Junior World Championships featured the Women 76kg and Men 89kg categories.
Women 76kg Category
The Overall winner of the category was Bella Nancy PAREDES ARREAGA from Ecuador who previously won Silver at last years IWF Junior World Championships in 76kg. 
In Snatch Paredes went 3 for 3 and with 104kg easily won Gold medal. Duangkamon KHONGTHONG (THA) finished at second place at her first international event with 97kg and Dilara UCAN (TUR) completed the Snatch podium with 96kg.
In Clean&Jerk, just like in Snatch Paredes went 3 for 3 (125-128.-131kg) and with that collected her second World Champion title. Second place went to Daniela IVANOVA (LAT) with 127kg which was a personal best at international competition. Dilara UCAN,after her Snatch Bronze collected another one in C&J with 125kg.
In Total, Paredes collected her 3rd Gold of the day with 235kg, Ivanova took Silver with 222kg and Khongthong finished third with only 1kg less, 221kg.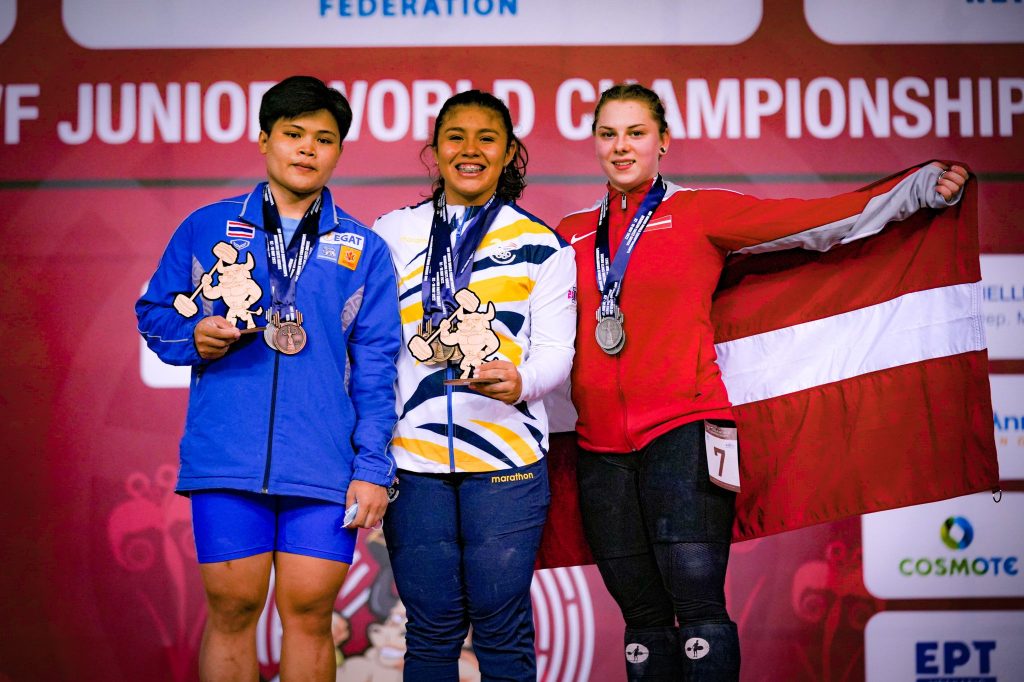 Men 89kg Category
In Snatch, with the victory of Mahmoud GAMAL MOHAMED ABDELAZIZ (EGY), Egypt won their first Gold medal in male categories at the 2022 IWF Junior World Championships. Gamal went 3-from-3 (147-151-154kg) and with only 1kg difference from the other 2 medalist, got the Gold. At second and third place the lifted weight was the same (155kg) however as Maksym DOMBROVSKYI (UKR) lifted it first he got the Silver medal and Suren GRIGORYAN (ARM) took Bronze.
In Clean&Jerk, almost all the athletes failed their last attempts. Suren GRIGORYAN (ARM) even though his last attempt was a no lift, finished at third place with 185kg. Khojiakbar OLIMOV (UZB), last years Bronze medalist in 81kg category finished second place with 188kg and Ukraine's first victory of the Championships was brought by Maksym DOMBROVSKYI with 190kg which he lifted on his first attempt and then declined the rest of his attempts.
The last podium (Total) of the day was as follows:  Dombrovskyi won Gold with 345kg, Grigoryan got Silver with 340kg and Gamal finished third with 339kg.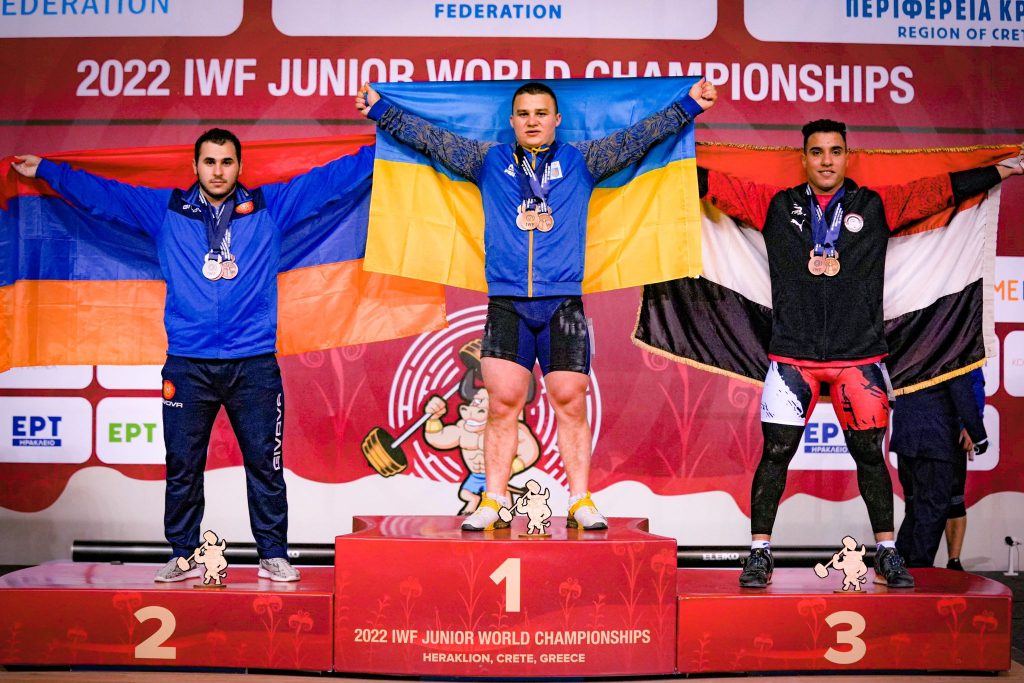 Tomorrow the program continues with the Men 96kg Category at 10:30 local time. Follow the competition live on the IWF YouTube Channel and on the Olympic Channel.