Day 3 – 2022 IWF Junior World Championships
The program of the day featured the Men 67kg (Group A and B) and Women 59kg (Group A and B).
Men 67kg Category
At the 15:00 local time the Men 67kg Group A started its competition.
The most prominent names in the category were Weeraphon WICHUMA (THA), 2021 IWF Youth World Champion, Gor SAHAKYAN (ARM) 2021 European Junior Champion and Fehmi Yusuf GENC (TUR), 2021 IWF Junior World Championships Bronze medalist. This also showed in the results as they won all the medals of the category.
In Snatch Weeraphon WICHUMA (THA) couldn't be beaten. Compared to his result from last years Youth World Championships, his lift improved by 12kg (140kg). Gor SAHAKYAN (ARM) took Silver with 137kg and Fehmi Yusuf GENC (TUR) finished third with 136kg.
In C&J there was an exiting competition between Whichuma and Genc. They both lifted successfuly on their first and second attempts, and they managed 171 kg respectively. Weeraphon tried for 175kg but wasn't successful in his attempt, therefore even though Genc also didn't manage his last attempt of 176kg he already won Gold as he lifted 171kg first. The only athlete who could come close to them was Sahakyan who with his second attempt of 165kg clinched the Bronze medal.
In Total Whichuma had an advantage from his Snatch result so he took the World Champion title with 311kg, Genc finished second with 307kg and Sahakyan competed the podium with 302kg.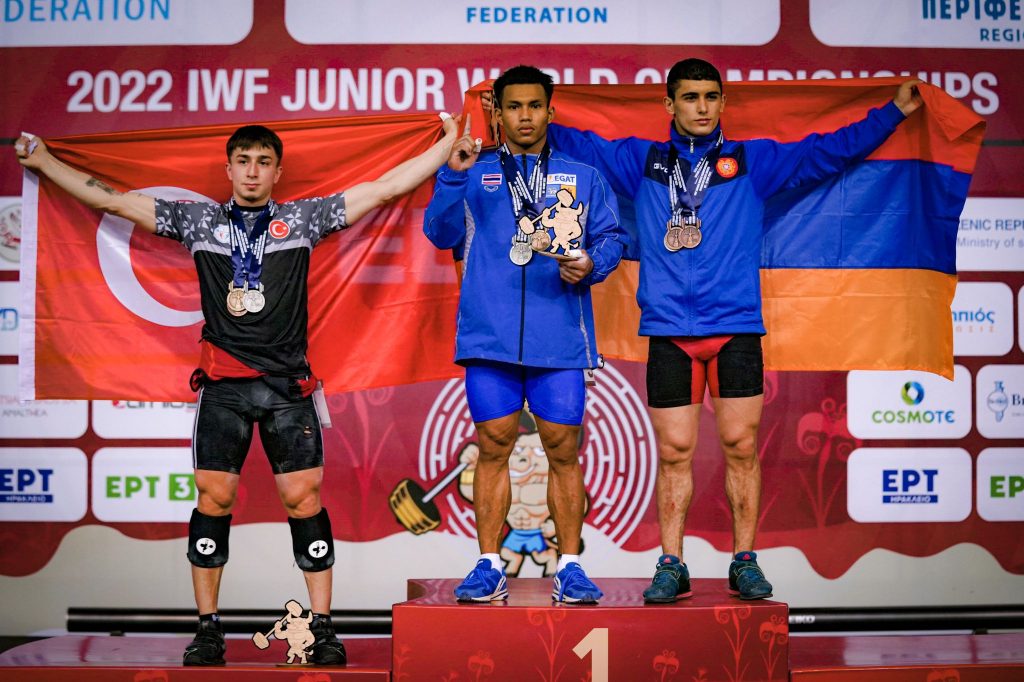 Women 59kg Category
The last competition of the day was the Women 59kg category where based on the entry totals all the athletes had chance to win the competition. 
In Snatch the current Youth World Record holder in W55kg, Katharine ESTEP (USA) won with 91 kg. To everyone's suprise Tatiana MOSQUERA CACERES KAREN (COL) from Group B took Silver with 90kg and Alina ZAKHARCHENKO (UKR) European Junior Silver medalist finished third with the same weight (90kg) as the Colombian, however as she lifted later on she could only clinch the Bronze.
In Clean&Jerk, three different athletes made the podium. Daphne GUILLEN VAZQUEZ (MEX), Pan American Junior Silver medalist, went 3 from 3 with 110-112-114kg and won Gold. Suratwadee YODSARN (THA) with only 1 kg less (113kg) took Silver and Jenifer Samanta BECCERA ROMERO (ECU) finished at thrid place with 111kg.
The Total podium was as follows: Daphne GUILLEN VAZQUEZ (MEX) finished first with 203kg, Katharine ESTEP won Silver with 200kg and Tatiana MOSQUERA CACERES KAREN (COL) – Group B – 199kg.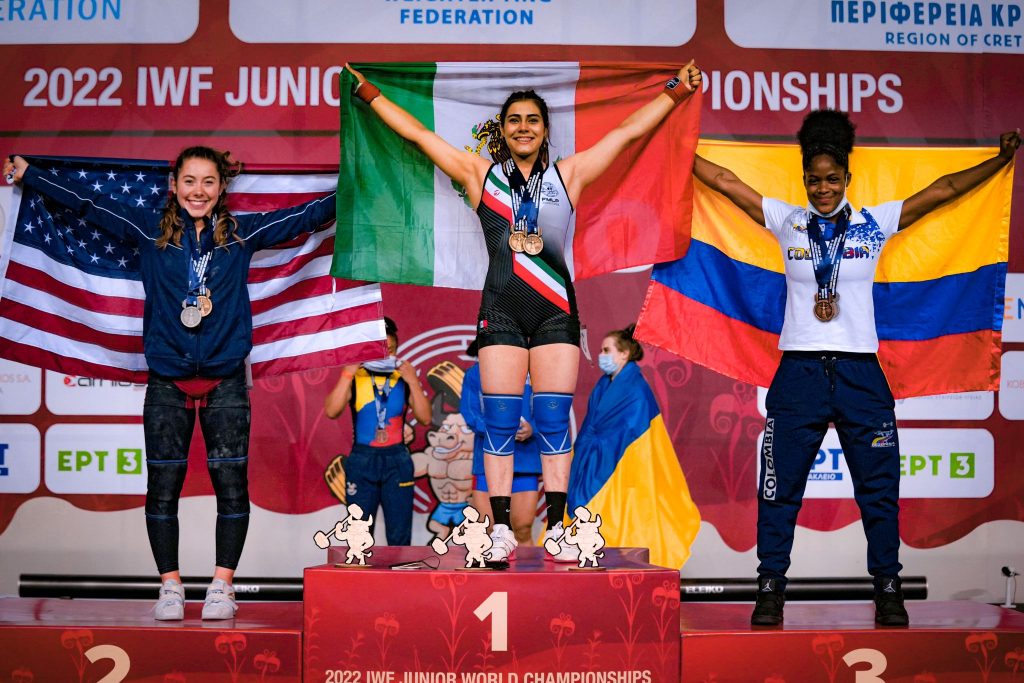 Tomorrow the program continues with the Women 64kg Group B at 10:00 local time.
Follow the competition live on IWF Facebook, IWF YouTube Channel and on Olympic Channel.