First Day – 2022 IWF Junior World Championships
On the first day of the 2022 IWF Junior World Championships in Heraklion Greece, three A finals were organized, the Women 45kg, the Men 55kg and the Women 49kg categories.
Women 45kg category
The day and the 2022 IWF Junior World Championships started with the Women 45kg category at 12:00 local time. The event saw 8 athletes competiting for the World Champion titles.
In the Snatch portion of the program the Bronze went to Teodora-Luminita HINCU (MDA) with only 1 good attempt of 67kg. THe Silver and Gold medal was contested by 2 athletes, Sharad GARUD HARSHADA from India and Marta GARCIA RINCON from Spain. They both had a good lift on their first attempt, with 64kg and 65kg. On their second attempts Sharad lifted 67kg, while Marta missed her second attempt of 68kg. The Spanish athlete decided to stay with 68kg which she successfuly lifted on her third try and therefore won Silver, while Sharad went and lifted 70kg and won Gold in Snatch.
In Clean&Jerk, last years Junior World Champion of the category Cansu BEKTAS (TUR) won Gold with 85kg which she lifted on her third attempt. Two more athletes attempted the same weight however none of them managed to lift it. Snatch Gold medalist Sharad won Silver in C&J with 83kg and Teodora-Luminita HINCU completed the podium with her first lift of 82kg.
The Total podium was as follow: Sharad GARUD HARSHADA from India won with 153kg , Silver went to Cansu BEKTAS from Turkey with 150kg and Teodora-Luminita HINCU from Moldova finished third with 149kg.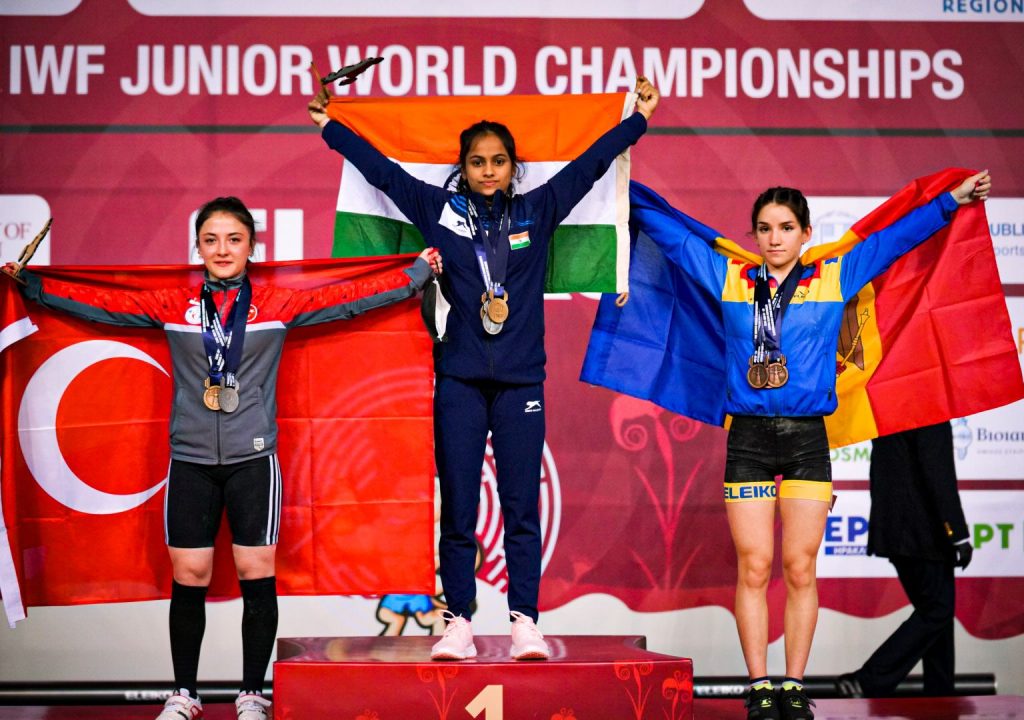 Men 55kg Category
The second category of the day was the Men 55kg which started at 15:00 local time. 
In Snatch, European Junior and Youth Champion, Garnik CHOLAKYAN (ARM) went 3 from 3 and won Gold with 108kg. Silver was won by Jostyn TORRALVO PENALOZA (COL) with his second good attempt of 103kg. He also tried to lift 107kg on his last attempt but sadly injured his elbow during the lift. The last medal of the Snatch went to Jose Manuel POOX PERALTA (MEX) with 103kg which was the same weight as Jostyn lifted but as he lifted it later he could only won the Bronze.
In Clean&Jerk, Garik CHOLAKYAN went once again 3 from 3 and won with 132kg. Jose Manuel POOX PERALTA missed Gold with only 1 kg and won Silver with 131kg, lastly Mustafa ERDOGAN clinched the third place with 127kg. 
In Total. the podium was exactly the same as in C&J. Garnik CHOLAKYAN (ARM) was the overall winner of the category and won all Snatch, C&J and Total (240kg). Jose Manuel POOX PERALTA (MEX) finished second with a 234kg Total, while Bronze went to Mustafa ERDOGAN (TUR) with 228kg.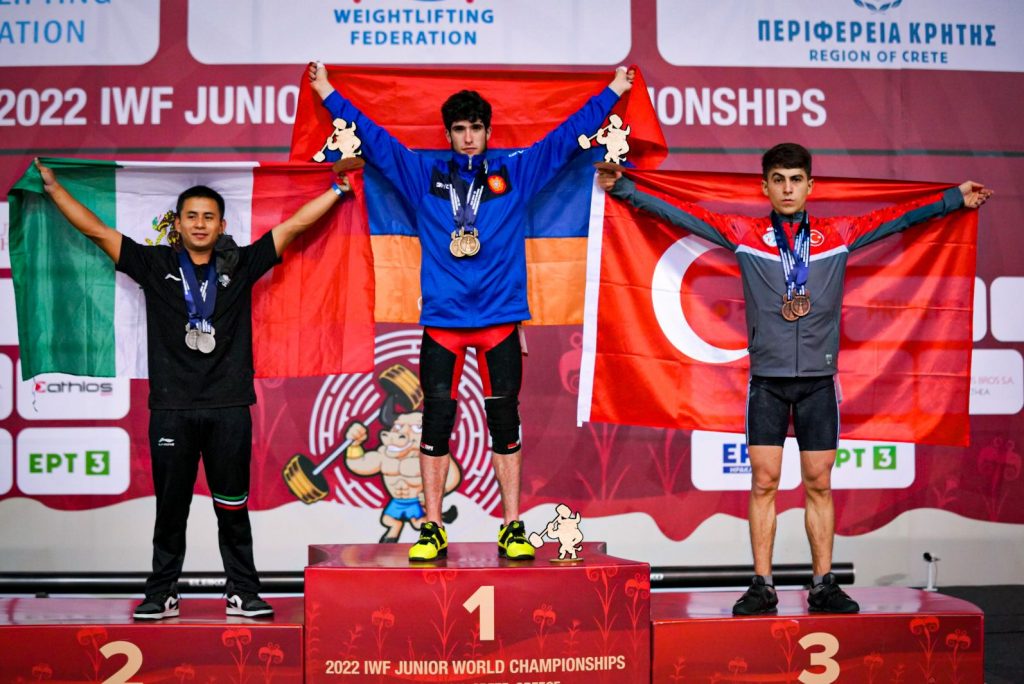 Women 49kg Category
The first day concluded with the Women 49kg Category. Among the athletes were Windy Cantika AISAH (INA), Tokyo 2020 Bronze medalist.
In Snatch Windy Cantika AISAH didn't give a chance to anyone. When all the others have already finsihed with their lifts, she just only started. She went 77-81-83 and easily won the category. With 83kg, she only lifted 1 kg less than in Tokyo which brought her the Olympic Bronze medal. Silver and Bronze were won by the two athletes from India, Gyaneshwari YADAV won Silver with 73kg and Bronze went to V RITHIKA with 69kg.
In Clean&Jerk in the case of the Gold medal, the same result was repeated. Windy Cantika AISAH (INA) went up to 102kg on her second attempt and since she already won with her first lift of 97kg, she declined her last attempt. Silver was won by Gyaneshwari YADAV (IND) with 83kg. Lastly the Bronze went to Maha FAJRESLAM (MAR) with her last attempt of 82kg.
In Total the Snatch podium was repeated: Windy Cantika AISAH won with 185kg, Gyaneshwari YADAV got Silver with 156kg and V RITHIKA finished the last podium of the day with 150kg.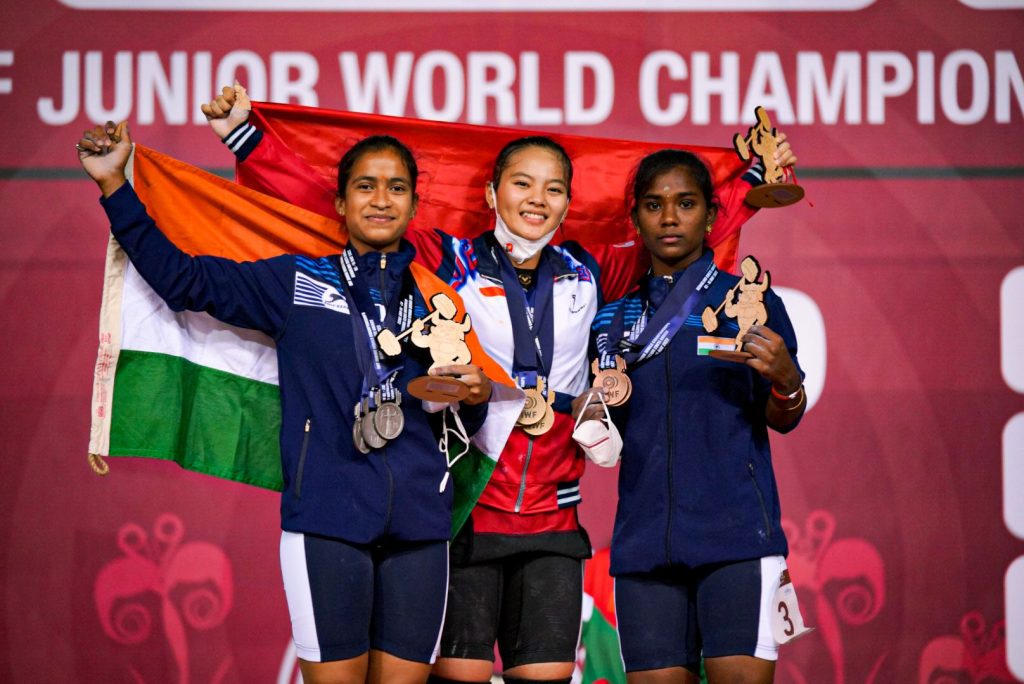 Tomorrow the official program starts at 11:00 local time with the Women 55kg B Group. Follow the competition live on the IWF Facebook and IWF YouTube Channel.