4 New World Records – Last Day at the 2021 IWF World Championships and Commonwealth Championships
The last day feautured the two heavyweigth categories, the Women +87kg and the Men +109kg categories and we couldn't have wished for a better ending to the World Championships as we could celebrate 4 new World Records.
Women +87kg Category
The afternoon started with the last female category of the 2021 IWF World Championships. 
All the medallist in Snatch made 3 from 3 which showed they were all in great condition for the World Championships. In Snatch Emily Jade Campbell (GBR) who placed second at the Tokyo 2020 Olympic Games in the category won Bronze medal with 121kg. Silver went to Younghee Son (KOR) with 123kg and Duangaksorn Chaidee (THA) proved to be the strongest with 124kg and therefore won the Gold medal.
In Clean&Jerk the medallist were the same only the order changed. Younghee Son won with 159kg, Emily Campbell cliched Silver with 157kg while Duangaksorn Chaidee lifted the same weight but on a later attempt and therefore she won the Bronze medal. 
In Total by a really small margin of 1 kg, Younghee Son (KOR) placed first with 282kg while Duangaksorn Chaidee (THA) won Silver with 281kg. Emily Jade Campbell (GBR) completed the podium with 278kg.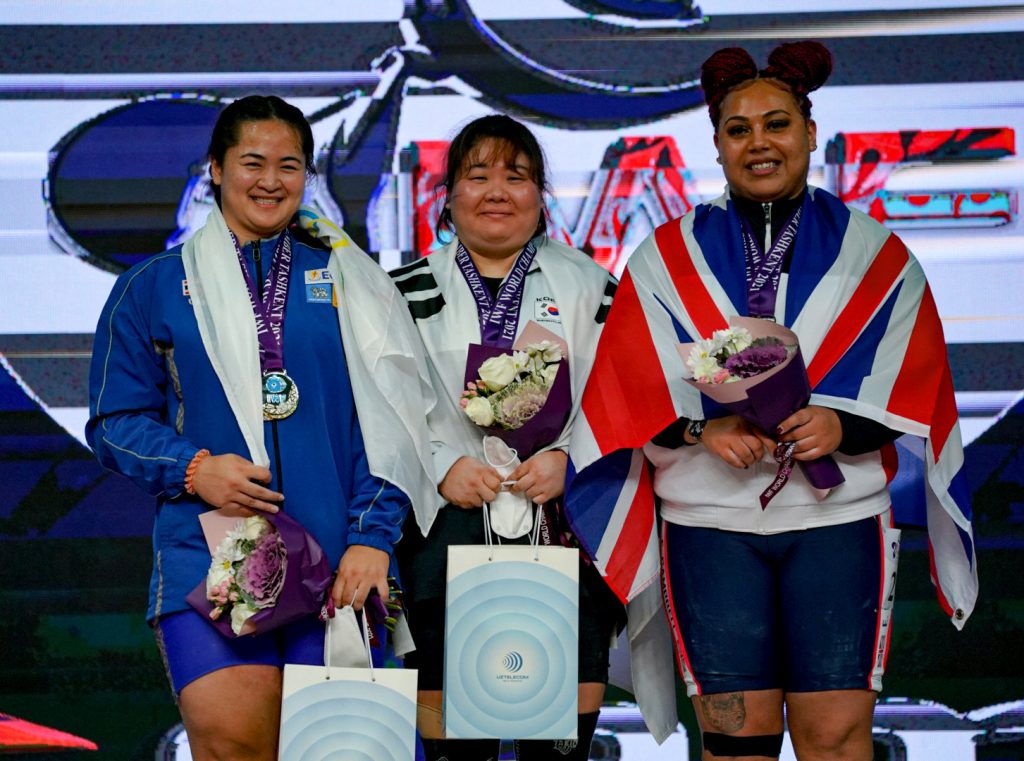 Commonwealth Championships
Purnima Pandey (IND) won the women heavyweight category with 229kg in Total, and Wiyannalage T N B J Haputhen Happuthenne (SRI) compeleted the podium with 187kg and took Silver.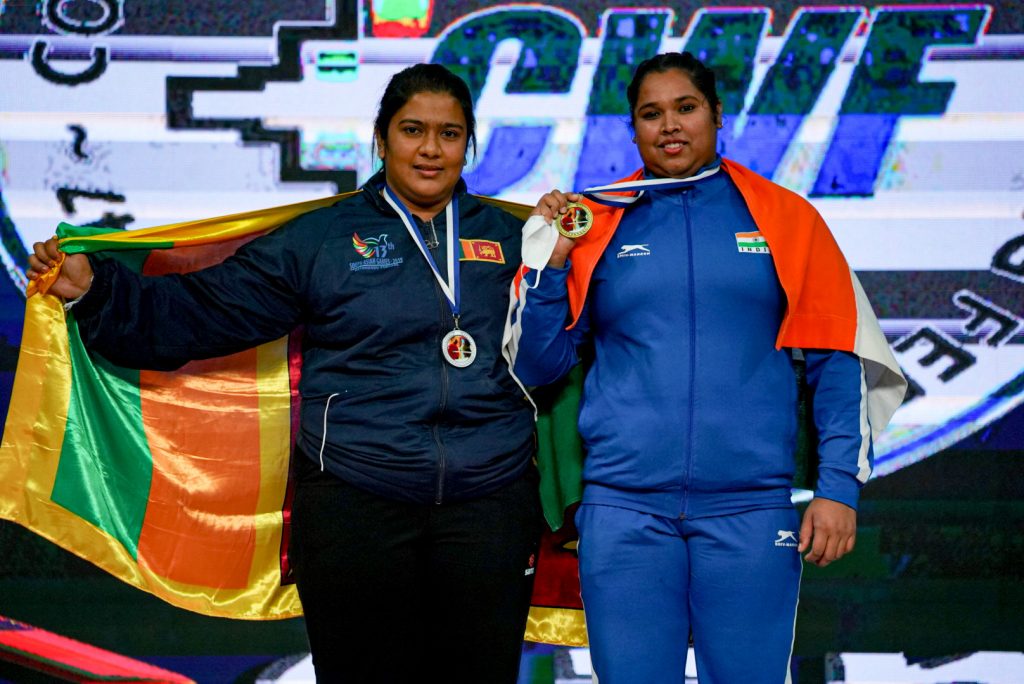 Men +109kg Category
Every time there is competition with Lasha among the athletes you can expect something great. This time was no different at the 2021 IWF World Championships as Lasha broke all his records once again.
Earlier in the day in Group B, Enzo Kuworge (NED), this years Junior World Champion and Tokyo 2020 Olympian, on his last C&J attempt tried to beat the Junior C&J World Record, but was unsuccessful in his attempt. However he was not the only one who competed among the seniors as a junior. Alireza Yousefi (IRI) also tried to beat the Junior C&J World Record, and with his second attempt of 238kg he succeded in it.
In Snatch Lasha already made his statement when with his last lift of 225kg broke his previous record of 223kg and won the Gold medal. Varazdat Lalayan from Armenia took Silver with 211kg and Eduard Ziaziulin (BLR) claimed the Bronze medal with 206kg.
 In Clean&Jerk the Bronze medal went to Gor Minasyan (ARM) with 243kg and Silver went to his teammate Varazdat Lalayan with 246kg. When all other athletes completed their lifts, Lasha just begin to start. He lifted 247kg on his first attempt, and with that he ensured the first place was his in C&J. But then came his 2 other lifts. He added 10kg extra to his second lift which he lifted impressively and set his last lift at 267kg which was a new World Record attempt. He completed his lift but the referees by decision declared it a 'no lift'. However the jury reviewed his lift and after the video replay they reversed the decision of the referees therefore with his last lift he set the new World Record of C&J at 267kg.
Of course as in Snatch and C&J, Lasha Talakhadze won the Total Gold with the World Record of 492kg. Varazdat Lalayan (ARM) finished second with 457kg and the last medal went to Gor Minasyan (ARM) with 448kg.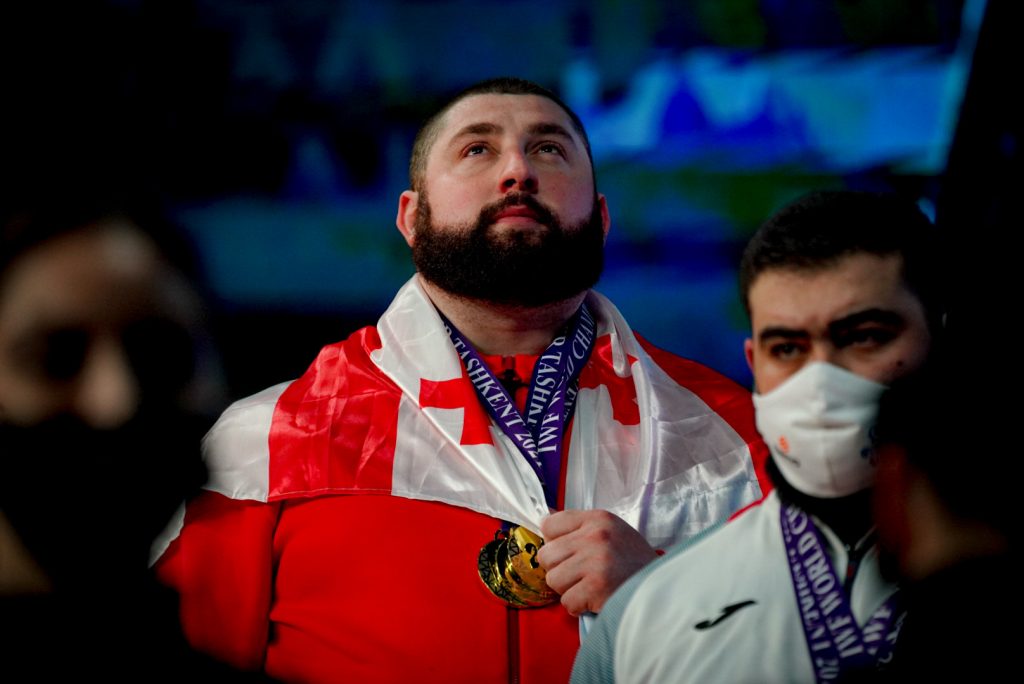 Commonwealth Championships
At the last event of the 2021 Commonwealth Championships, David Andrew Liti (NZL) won with 407kg in Total. Silver went to Muhammad Nooh Dastgir Butt (PAK) with 390kg and Singh Gurdeep finished at third place with 389kg.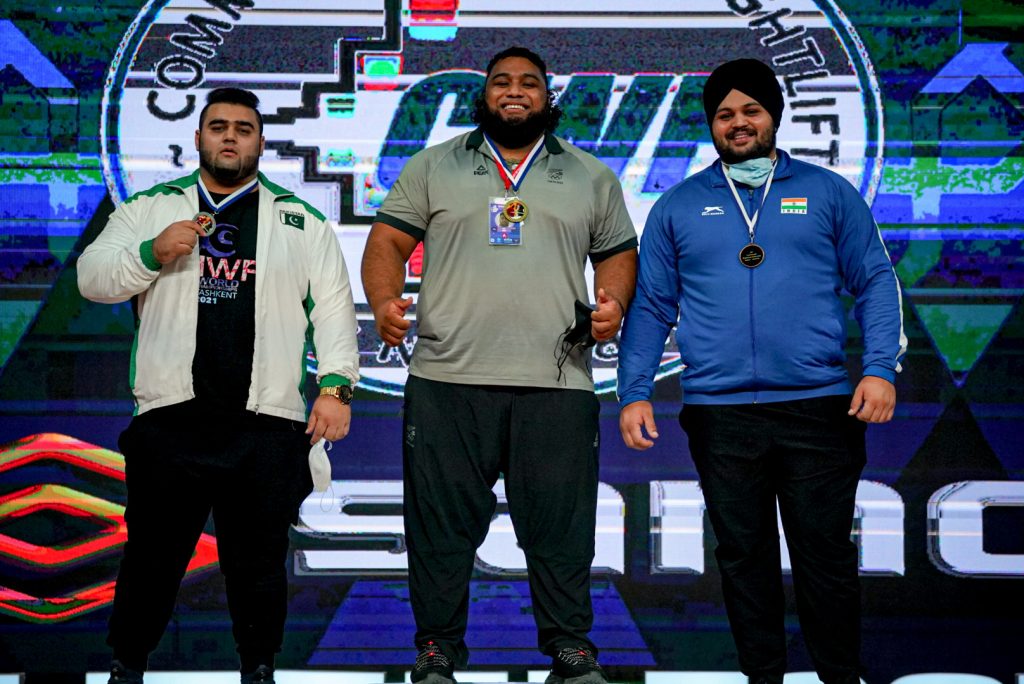 Thank you for following the competitions with us, these have been an amazing 11 days.