Uzbek Victory and Historical Gold for Norway- Day 10 at the 2021 IWF World Championships and Commonwealth Championships
The 10th day here in Tashkent featured the Men 109kg and Women 87kg categories.
Men 109kg Category
We experienced the first full house as the Men 109kg featured Akbar Djuraev, Tokyo 2020 Gold medallist and Ruslan Nurudinov, current World Record Holder in C&J in the category. Next to them Simon Martirosyan (ARM) Tokyo 2020 Silver medallist was also in the group and had the same chance at winning the competititon. It was clear from the beginning that these 3 athletes will be contenders for the medals, only the order was a question.
In Snatch. from the 3 athletes, Ruslan Nurudinov started at 185kg but he could only lift it during his second attempt. As this was his only successful lift he won Bronze. The Gold was decided by the Tokyo 2020 Gold and Silver medallists Akbar Djuraev and Simon Martirosyan (ARM). Djuraev started earlier at 187kg which he lifted successfully and Martirosyan also made a first good lift of 188kg. However as Martirosyan didn't make a further successful lift, the Tokyo results were repated. Martirosyan won Silver with 188kg and Djuraev who went 3 from 3 and won with 195kg.
In Clean and Jerk, the three Snatch medallist all started within 2kgs differences between each other and all made a first 'good lift'. The same happened with Martirosyan as in Snatch, after his first lift he could not manage another one so he won Bronze with 228kg. After that, it was all about the two Uzbeks. Both of them made successful lift on their second attempt (Djuraev – 232kg, Nurudinov-236kg) so it was up to their last lift to decide who will win. First came Djuraev with 238kg which he lifted successfully. Then Nurudinov and his team decided to put his last lift at 242kg which would have meant he would break his own world record. He almost made it but at the end it was a 'no lift'. Therefore Djuraev won Gold and Silver went to Nurudinov.
In Total the same order was upheld. Akbar Djuraev won with 433kg, Ruslan Nurudinov clinched Silver with 421kg and Simon Martirosyan finished the podium with 416kg.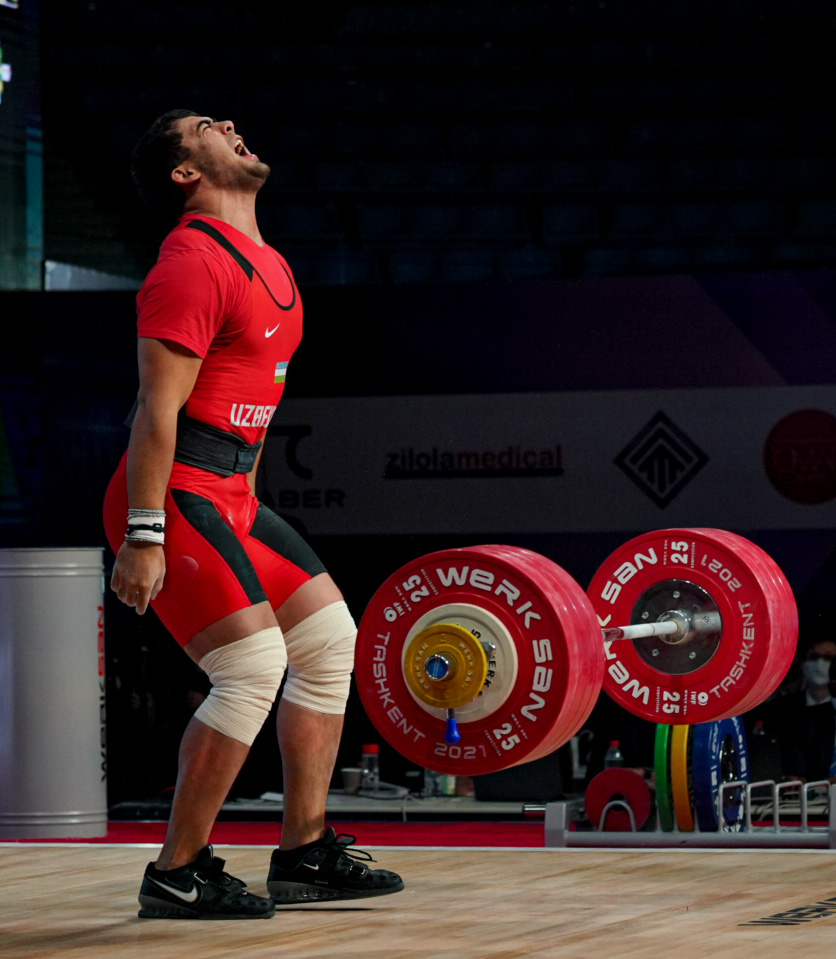 Commonwealth Championships
We saw the first Gold medal for Cameroon at the 2021 Commonwealth Championships when Junior Periclex Ngadja Nyabeyeu won with 360kg in Total. Silver went to Singh Lovepreet from India with 348kg and Jackson George Roberts-Young from Australia completed the podium with 337kg.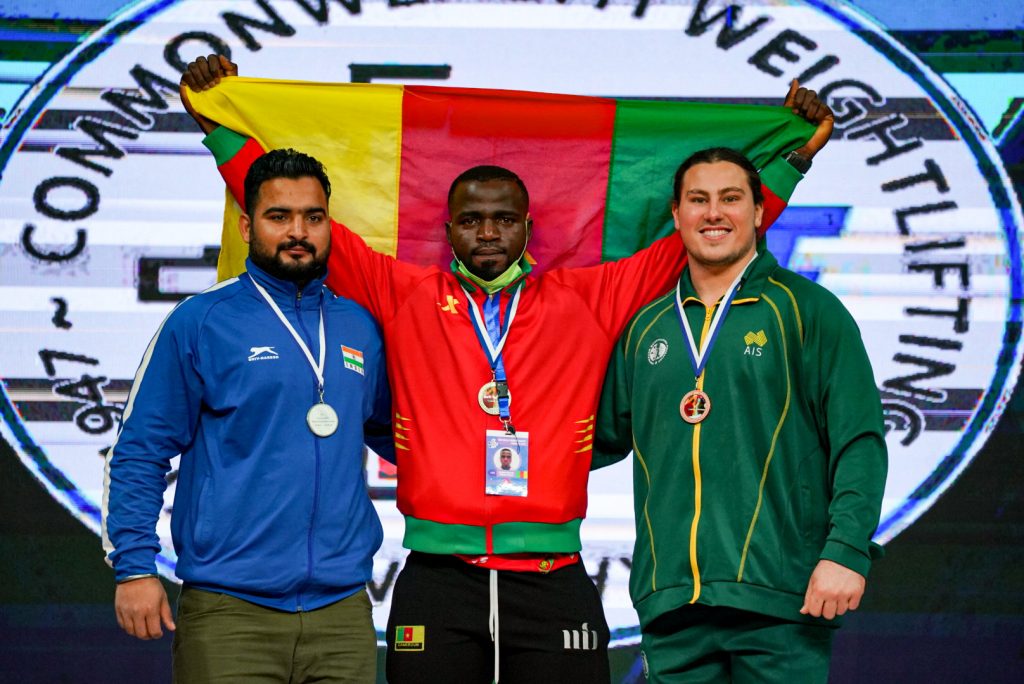 Women 87kg Category
In Snatch Schott Amanda Da Costa from Brazil won the Bronze medal at her first World Championships with her second attempt of 106kg. Tokyo 2020 Olympian Ankhtsetseg Munkhjantsan (MGL) who placed 4th at the Olympics won Silver with her only successful attempt of 109kg. The Uzbeks could continue their celebration as Tursunoy Jabborova won Gold with 113kg which she lifted on her last attempt.  
In C&J we experienced a historical Gold medal for Norway. Solfrid Koanda won Gold with her second lift of 141kg at her first World Championships. Silver went to Ankhtsetseg Munkhjantsan (MGL) with the same weight as Koanda only she did lift it on a later attempt. RWF athlete Dariia Akhmerova completed the podium with 135kg.
In Total Ankhtsetseg Munkhjantsan (MGL) won with 250kg, Tursunoy Jabborova (UZB) placed second with 244kg and Solfrid Koanda (NOR) finished at third place with the same Total as Jabborova.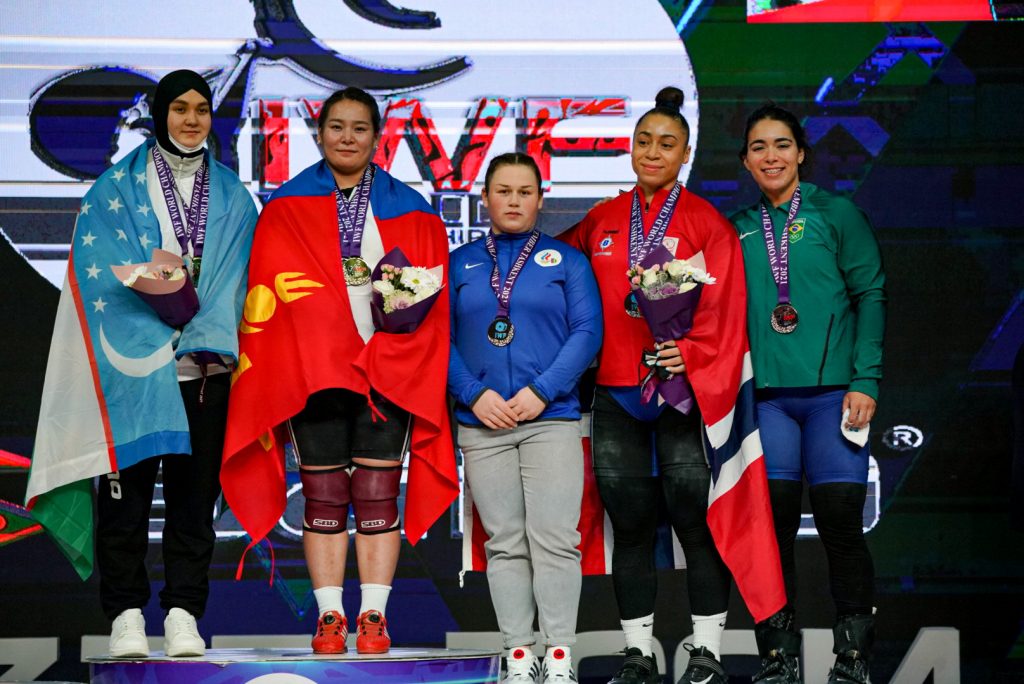 Commonwealth Championships
In the W87kg category, Kristel Ngarlem (CAN) finished at first place with 224kg, Clementine Meukeugni Noumbissi (CMR) took Silver with 212kg and Anuradha Pavunraj completed the podium with 195kg.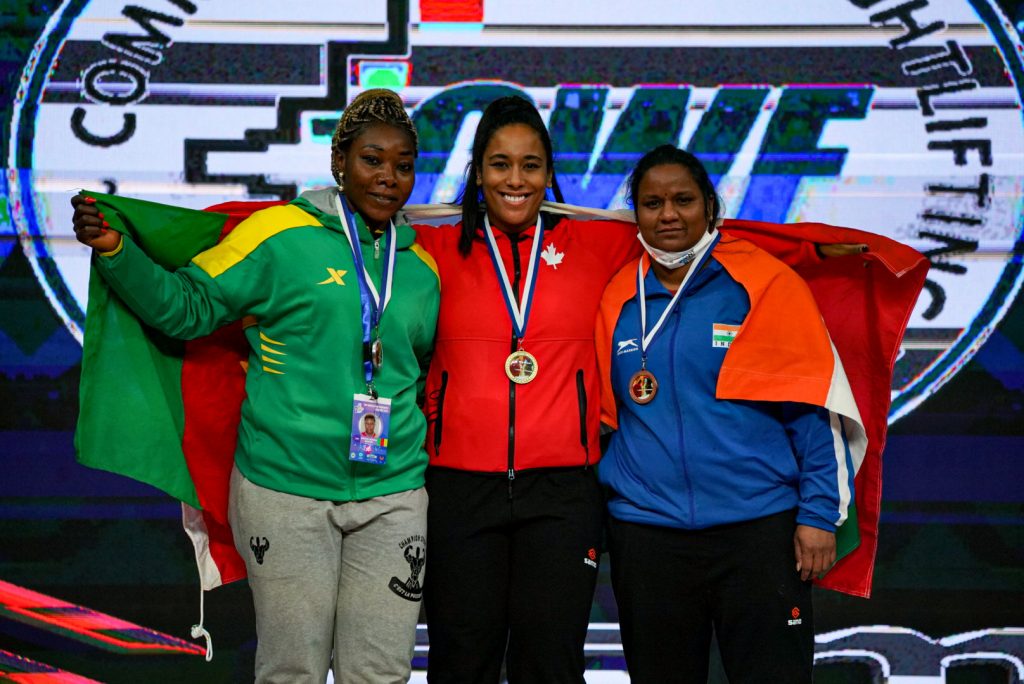 The last day of competition will conclude with the Women +87kg and Men +109kg categories. Follow the competition on the IWF Facebook page or check with your local broadcaster.