First Ever World Record for Nigeria – Day 7 at the 2021 IWF World Championships and Commonwealth Championships
Todays program featured the Men 89kg and Women 71kg categories here in Tashkent, Uzbekistan on the 7th day of competition of the IWF World Championships.
Men 89kg Category
In the first A session of the day we witnessed great performances and sadly injuries as well. 
In Snatch all medallist went 3 from 3 without any mistakes in their lifts. Gold went to Andrenik Karapetyan (ARM) with 167-172-175 and Revaz Davitadze won Silver with 165-168-171. For long, the local Sarvar Zafarjonov and RWF athlete, Roman Chepik were also in fight for the Silver medal but their last attempt of 169kg were 'no lifts'. At the end, Tokyo 2020 8th place athlete in M96kg, Dongju Yu (KOR) won the Bronze medal with 160-165-167.
In Clean&Jerk, the Snatch Gold medallist Andranik Karapetyan sadly got injured in his first attempt however he did not retire from the competition. He tried to do one good lift but he didn't manage to do so. Dongju Yu (KOR) just like in Snatch, won the Bronze medal with 204kg. To the hapiness of the home crowd, Sarvarbek Zafarjonov won Silver with 205kg, while Artem Okulov (RWF) lifted the same weight just before the Uzbek therefore won the Gold medal.  
In Total there was only 1kg difference between 1st and 3rd place athletes. Tokyo 2020 Olympian Dongju Yu (KOR) won with 371kg while Sarvarbek Zafarjonov (UZB) had the same total however as he lifted his C&J later than Yu, he placed second. Bronze went to Revaz Davitadze (GEO) with 370kg.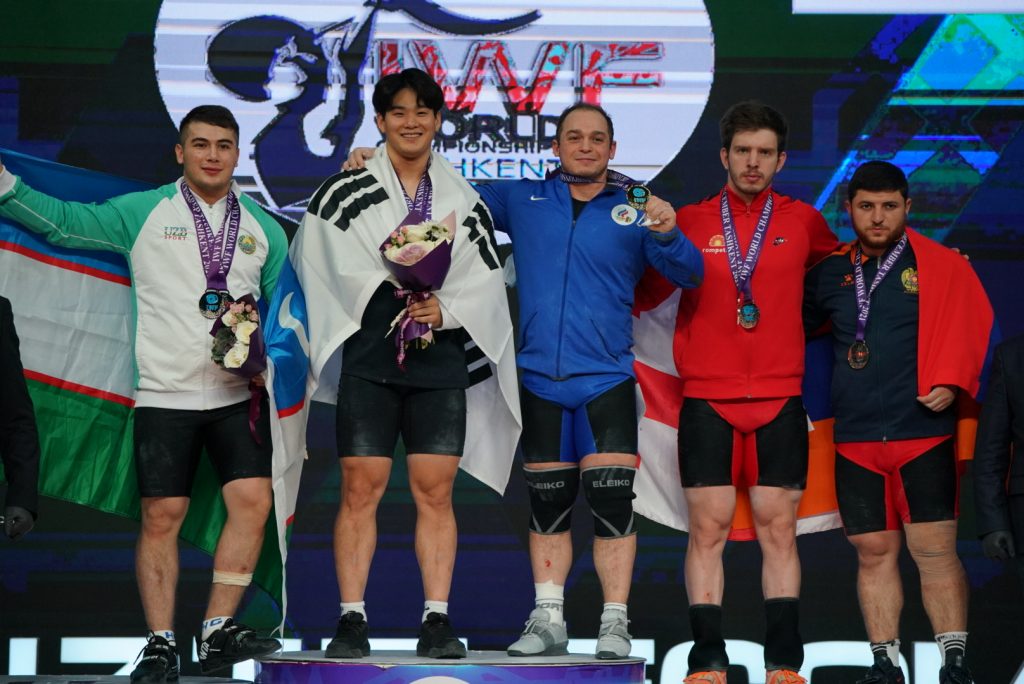 Commonwealth Championships
In the Men 89kg category Alex Bellemarre (CAN) won Gold with the Total of 350kg and directly qualified for the 2022 Commonwealth Games. His teammate Braydon Kennedy (CAN) won Silver with 335kg, while Beau James Garrett (AUS) completed the podium with a 301kg Total.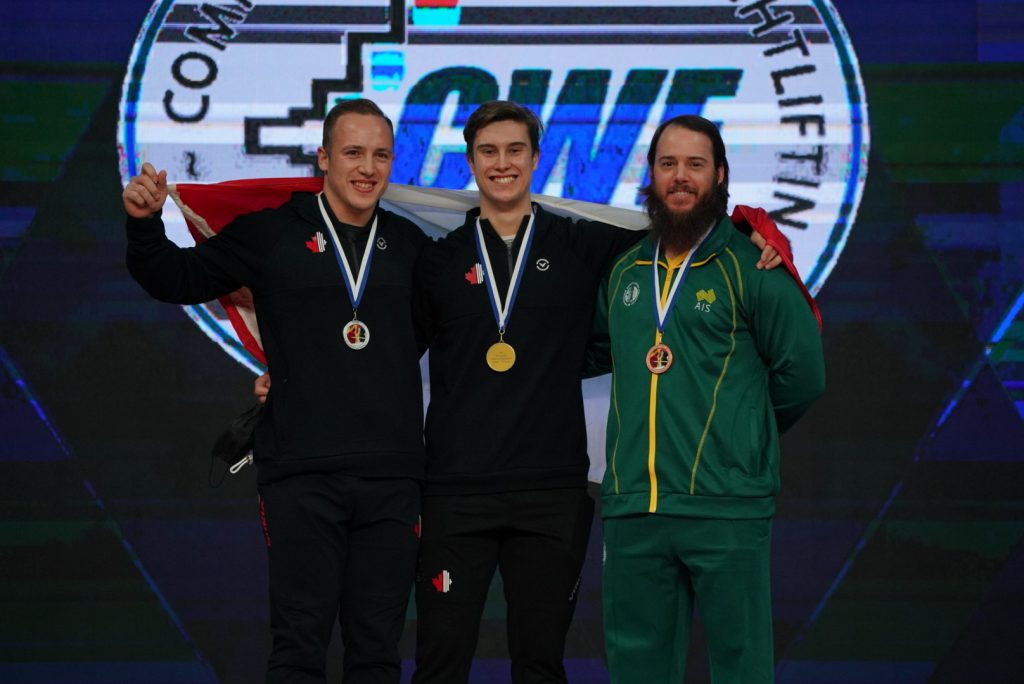 Women 71kg Category
Earlier in the day in Group B the crowd witnessed the very first Youth World Record of Nigeria in weightlifting by Joy Ogbonne Eze. She has already broken the C&J Youth World Record during her second attempt with 127kg however on her third attempt she lifted 130kg. With that lift she not only beat her own record in C&J but broke the Youth Total World Record as well.
In the Group A Session, in Snatch the athletes were going neck-to-neck which was also proved by the fact that all medallist lifted the same weight of 104kg as their best good attempt. Evgeniia Guseva (RWF) won Gold as she lifted 104kg first, then came this years Junior World Champion Olivia Lynn Reeves (USA) and won Silver. Patricia Caroline Strenius (SWE) completed the podium with the Bronze medal.
In Clean&Jerk, to everyones suprise Joy Ogbonne Eze (NGR) from Group B won Bronze with her Youth World Record C&J of 130kg. Sarah Davies (GBR) went 3 from 3 and with her last lift of 132kg clinched the Silver medal. Meredith Leigh Alwine (USA), this years Pan-Am Champion with a successful second attempt of  135kg won the Gold medal.
In Total Meredith Leigh Alwine (USA) won with 235kg, Sarah Davies (GBR), Tokyo 2020 Olympian took Silver with 234kg and Patricia Caroline Strenius (SWE) finished with 231kg and therefore won Bronze.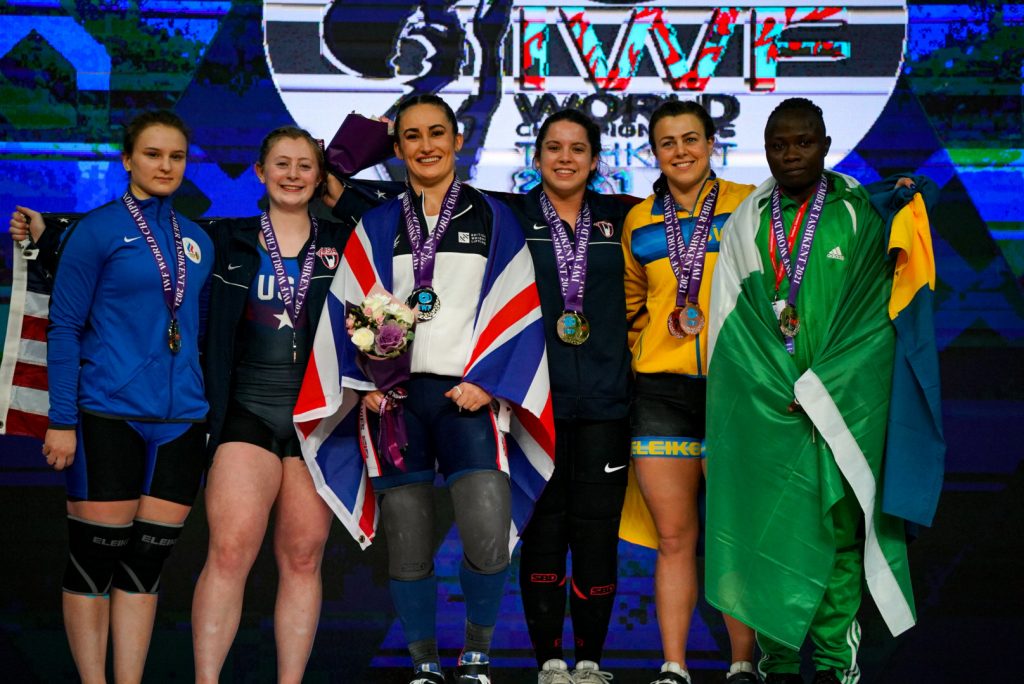 Commonwealth Championships
Joy Ogbonne Eze (NGR), the new Youth World Record holder in C&J and Total won with 230kg in Total and therefore qualified for next year's Commonwealth Games. Harjinder Kaur (IND) placed second with the Total of 211kg, while her teammate Lalchhanhimi won Bronze with 209kg.