Day 5 – 2021 IWF World Championships and Commonwealth Championships
The 5th day of the competition featured the Women 59kg (A/B/C) and the Men 81kg (C) categories.
Next to the Women 59kg, the Men 81kg category also started its competition with the 'C' Group. The 'A' and 'B' Group will compete tomorrow on 12 December 2021. 
Women 59kg Category
The Women 59kg category featured the Gold and the Silver medallist of the Tokyo 2020 Olympic Games, Kuo Hsing-Cun (TPE) and Polina Guryeva (TKM).
The Snatch program started with a surprise, when Polina Guryeva (TKM) the Tokyo 2020 Silver medallist of the category bombed out. She later also retired from the competition. The medals were decided between Olga Te (RWF), Mariia Hanhur (UKR) and the Tokyo 2020 Gold medallist, Kuo Hsing-Chun (TPE) hovewer until the last attempt of Yenny Fernanda Alvarez Caicedo (COL) she was also in fight for the medals. Olga Te (RWF) started at 95kg and then went 3 from 3 (95-98-100) and won the Bronze medal. We also witnessed the first upset of the competition. Mariia Hanhur (UKR) won Gold in Snatch with 101kg after Kuo's last lift of 102kg was unsuccessful and therefore she won the Silver medal.
From the Clean&Jerk session of the program Kuo took over the competition. She went 3 from 3 (125-128-130) and won Gold. Silver and Bronze were decided between the two Colombian of the group. After two unsuccessful attempt, Rosive Andrea Silgado Atencio lifted 120kg and secured the Bronze medal, after neither Olga Te (RWF) nor Ine Drablos Andersson (NOR) managed the same weight. Silver went to Yenny Fernanda Alvarez Caicedo with 127kg which she lifted on her last attempt.
In Total, Kuo Hsing-Chun (TPE) won Gold with 230kg, Silver went to Yenny Fernanda Alvarez Caicedo (COL) with 226kg and Olga Te (RWF) completed the podium with 218kg and won Bronze.
With Kuo's Gold she became the absolute winner of her category in 2021. She not only won all the big international events of the year but currently holds all senior world records in W59kg.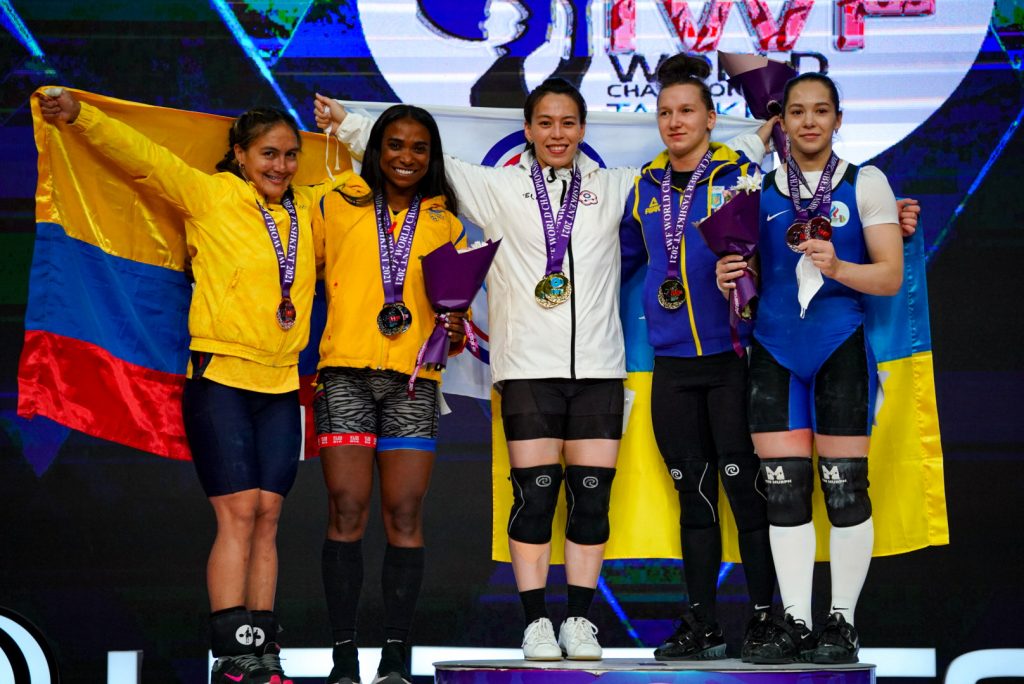 Commonwealth Championships – Women 59kg
In the Women 59kg category Rafiatu Folashade Lawal (NGR) won the Gold medal of the Commonwealth Championships, furthermore the qualifying spot for the 2022 Commonwealth Games with a 207 kg Total. Second place went to Popy Hazarika (IND) with 189kg in Total and third place went to Mudiyanselage N S Rajapaksha Rajapaksha (SRI) with the Total of 164 kg.