The First Sino-Europe Virtual Weightlifting Training Camp Successfully Concludes
The 1st Sino-Europe Virtual Weightlifting Training Camp organized by Chinese Weightlifting Association (CWA) and European Weightlifting Federation (EWF) successfully concluded on November 11, 2021.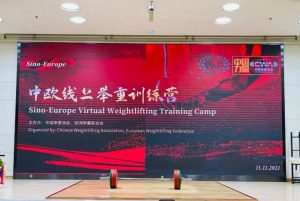 Coaches and athletes from CWA shared their technical knowledge and experience on competitive weightlifting to their counterpart from around 20 Member Federations of EWF. YU Jie, Head Coach of China's Men's Team, coach of Olympic Champions including LYU Xiaojun and a number of world champions, as well as DENG Huijie, coach of China's Women's Team participated in the event. Four World senior/junior Champions from China's national team made the demonstration of exercises.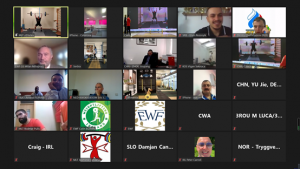 The training camp began with a millions-viewed video clip featuring how sport science team has been supporting Chinese coaches and athletes in their daily training (YouTube link of the video: https://www.youtube.com/watch?v=kFueIWmQzto&feature=youtu.be). In Tokyo Olympic Games, Chinese Weightlifting Team won 7 gold medals and 1 silver medal with participation of 8 qualified athletes, which is in large extent attributed to such scientific training philosophy and methods.
Following short opening speeches made by CWA President ZHOU Jinqiang, EWF General Secretary Milan Mihajlovic and EWF Chairman of the Coaching Research & Scientific Committee Colin Buckley, Chinese athletes demonstrated five technical exercises, snatch, clean & jerk, wide-grip panda pull, push press and front squat respectively, whose key points in practicing are also briefed by Chinese Coaches. Athletes from EWF Member Federations practiced the above-mentioned technical exercise with suggestions and instructions from Chinese Coaches.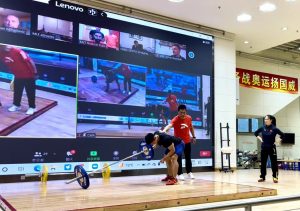 At the end of the event, Milan Mihajlovic thanked CWA for providing this valuable exchange and learning opportunity to the Member Federations of EWF during the COVID-19 pandemic and he hopes that both sides could strengthen cooperation and carry out more exchanges like this in the future.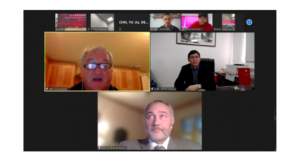 ZHOU Jinqiang concluded that this online training camp is just the first step. There will be more exchanges and cooperation between CWA and EWF in different forms. When Covid-19 Pandemic is mitigated, CWA will hold more international training camps and invite worldwide weightlifting enthusiasts to China to make exchanges and promote the development of weightlifting in the world together.
Late this month, the China & Pan-America Virtual Weightlifting Training Camp will be organized.
Source: Chinese Weightlifting Association