More than 200 lifters have competed in the 14th National Games in China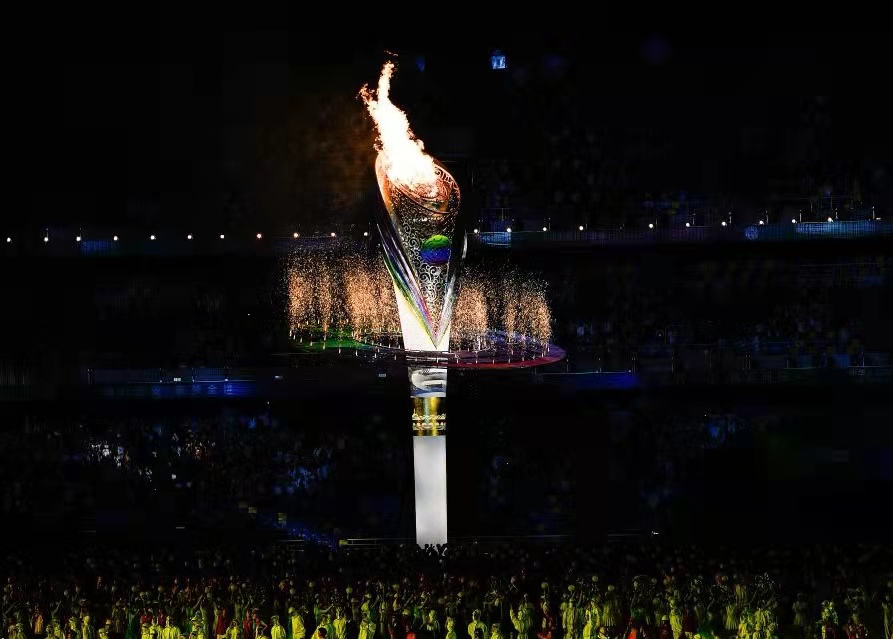 The Opening Ceremony in Xi'an City, Shaanxi Province on 15 September marks an official start for the 14th National Games of China, which is organized in every four years. The Chinese President XI Jinping presented in the Ceremony and announced commencement of the Games, with more than 12000 athletes participating in competitive sports and more than 10000 Sports-for-All athletes, which will close on 27 September.
A number of Chinese sport stars sparkled in Tokyo have run the torch relay before the Opening Ceremony and will compete in the 13-day National Games. Weightlifting, is one of the sports with the largest number of Olympic Champions competing in the Games, and altogether 9 Olympic Champions have participated, including 6 gold medalists in Tokyo and 4 Gold medalists in Rio. Weightlifting Competitions lasted for 8 days, with women competing from 16 to 19 September and men from 20 to 24 September. A total of 113 female athletes and 108 male athletes in 14 categories have competed in weightlifting competitions. During the 8-day competition, National Senior Records and National Junior Records were broken 7 times and 20 times respectively, and regarding the current World Senior Records and the current World Junior Records, they were surpassed 6 times and 25 times respectively.
Hou Zhihui, the Tokyo Champion, won with a total of 214 kg in Women's 49kg, 1 kg ahead of her rival Jiang Huihua and the current world record, which seems to have confronted a harder competition than that in Tokyo, when there was only a total of 202 kg of the Indian Silver Medalist. Women's 55kg was full of surprise. Su Tingting representing Sichuan Province won the title with a total of 225 kg, 1kg over the Gold Medalist of the category in Tokyo. Liao Qiuyun, the Silver Medalist in Tokyo only finished 9th, 10 kg behind Su. Yu Linglong, an 18-year-old teenager was second with a total of 223, equal to Liao's total in Tokyo.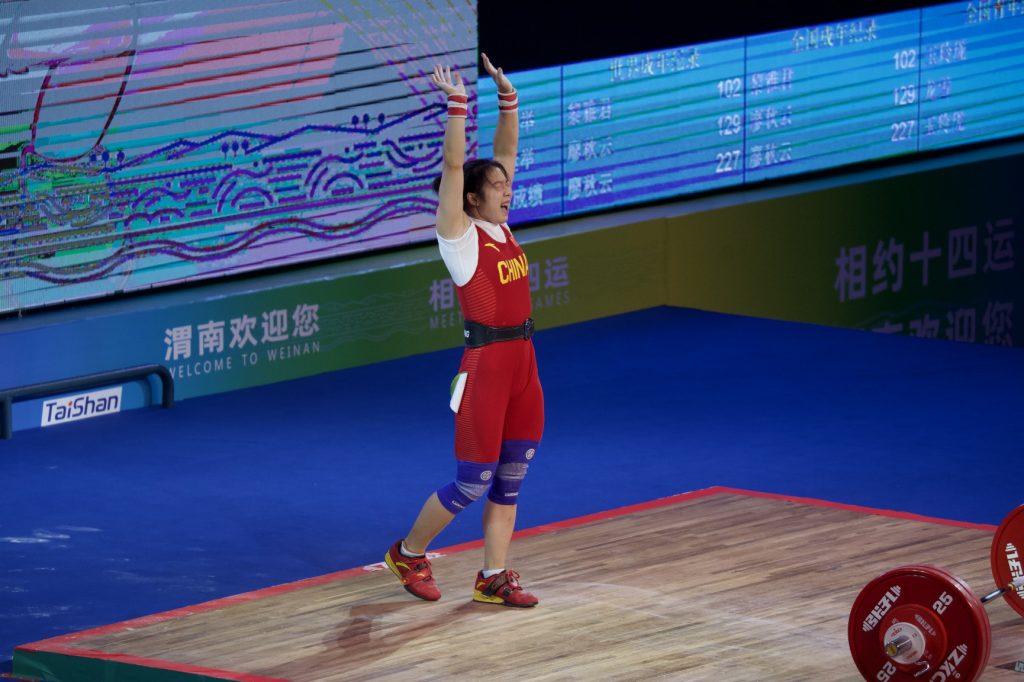 LUO Shifang, a 20-year-old promising youngster, claimed the title in Women's 59 kg, with a total of 241kg surpassing the current world youth record. In women's 76kg, the title went to the 29-year-old XIANG Yanmei, the Rio Olympic Champion, who did 118-157-275, with 1 kg over the current clean&jerk world record. It's also worth mentioning that PENG Cuiting's 125kg exceeds the current snatch world record, while another 19-year-old LIAO Guifang's 119kg surpassing the current world youth record. In women's 87kg, Tokyo Olympic Champion WANG Zhouyu who was not in her best after 21-day quarantine, won the title in a result of 118-155-273. Women's super-heavyweight was a battle between Tokyo Olympic Champion LI Wenwen and the Rio Champion MENG Suping. Not surprisingly, the hottest LI Wenwen won with a 144-176-320, 18kg ahead of MENG Suping in total. In Men's 61kg, despite confronting strong challenge from his rivals' world-record-breaking performance and a disadvantage of 6kg by the end of snatch session, LI Fabin showed his reign over the clean&jerk and brought back the gold medal in total, with a result of 141-170-311. And CHEN Lijun, another Tokyo Olympic Dhampion, won the Men's 67kg without facing much pressure, with 8kg ahead of silver and bronze medalists in total. As always, Men's 73kg was a solo show for double Olympic Champion SHI Zhiyong. 170-195-365 was the final result he handed, 1kg ahead of his own snatch and total world record, 12kg ahead of Silver medalist WEI Yinting in total.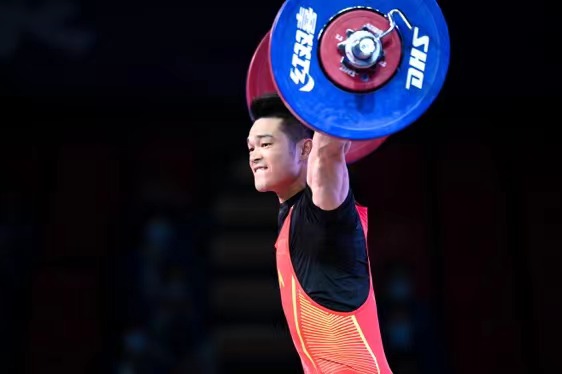 In Men's 81kg, with a total of 364kg, LI Dayin, a rising star in the category had an 1kg edge win over LU Delin, a Shaan'xi local Youngster. The winner of Men's 96kg was TIAN Tao, a current world record holder in Clean&Jerk and in total. He performed a result of 178-208-386.
Source: Chinese Weightlifting Association